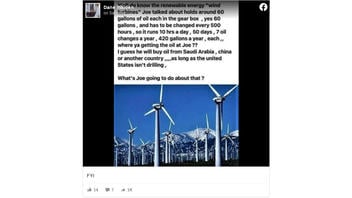 Do wind turbines need the oil in their gearboxes changed every 500 hours? No, that's not true: Based on model types and in what geographical areas the turbines are located, oil change intervals can range from three to 10 years.
The claim appeared in a post (archived here) published by Facebook on October 24, 2020. The posting took issue with Democratic presidential candidate Joe Biden's wind energy policy. It opened:
Y'all do know the renewable energy "wind turbines" Joe talked about holds around 60 gallons of oil each in the gear box, yes 60 gallons, and has to be changed every 500 hours ...
This is what the post looked like on Facebook at the time of writing:
(Source: Facebook screenshot taken on Mon Oct 26 18:42:06 2020 UTC)
The post continued:
so it runs 10 hrs a day, 50 days, 7 oil changes a year, 420 gallons a year, each,, where ya getting the oil at Joe?? I guess he will buy oil from Saudi Arabia, china or another country ,,,,as long as the united States isn't drilling, What's Joe going to do about that?
Frequent harsh weather conditions and fairly non-stop operation require that wind turbines undergo routine maintenance. And as the Power Engineering news organization notes:
Proper turbine lubrication is an important part of that maintenance.
But changing gearbox lubricants every 500 hours is not part of that routine maintenance.
Energy Central News reported on January 30, 2017, that gearbox manufacturers have improved equipment reliability, leading to longer intervals between lubricant replacement:
Currently oil drain intervals range from up to six years for onshore turbines and up to seven to 10 years for offshore installations. The average drain interval will extend gradually as operators try to optimize lubricant consumption while keeping in mind that the cost associated with downtime is much higher than the cost incurred for lubricants.
And while gear lubricant replacement intervals have increased through the years, the 500-hour requirement does not appear to have been valid for decades, if ever. Power Engineering, established in 1896, reported on May 1, 2013, that the replacement interval is measured in years:
In terms of the gear oil, customers want to use the gear oil and have that last anywhere from three to five years without change out, because there are some very significant costs involved in changing the gear oil out as well as in the event of failure of a gearbox and having to change the gearbox out.
And manufacturers are working to further reduce the need for gear lubricant, Energy Central News reported:
As gearbox failure can result in huge downtime costs for wind farm operators, gearless technology, also known as direct drive, has been developed. The technology completely eliminates gearboxes and problems associated with their failure. As direct-drive turbines do not consume gear oil, which constitute 70% of the global wind-turbine lubricants consumption volume, expansion of direct-drive technology will have profound impact on lubricant consumption.
Energy Central News recognizes, though, that this is a fairly incremental development:
However, in the near term, potential for increasing the share of direct drive is quite small because not all [original equipment manufacturers] offer this technology. This technology is more expensive as it requires usage of exotic materials to make permanent magnets, which increases the cost of installations.

The 500-hour figure may have come from a different gearbox maintenance requirement. Wind Power Engineering & Development (WPED) reported on January 11, 2019:
The oil filter in the gearbox should be changed after the first 500 hours of operation. After one year of operation, an oil sample should be taken to determine its viscosity, water content, acid number, contamination with particulate matter, and additive exhaustion. After two years, some recommend a complete oil change, even if its quality approximates the standards.
There are several different lubrication points and requirements for each wind turbine, WPED notes:
Gear oil is used in lubricating gearboxes; grease is used on the main rotor shaft bearing, yaw bearing, pitch drive gears, blade bearing and generator bearing. Hydraulic fluid is used in hydraulic systems for blade pitch control.
For the gearbox, synthetic oil is often used, Energy Central News said March 2019:
Gear oil, which accounts for 70% of lubricant consumption, is the most important lubricant category. A properly formulated gear oil increases the reliability of the gearbox unit and prevents failure. Therefore, usage of gear oils made from high-quality synthetic base oils is well-established in the wind-power sector.
In fact, WPED said in its January 11, 2019, issue, synthetic oil is preferred:
Synthetic oils have a reputation for improved performance over conventional mineral-based oils. For example, synthetics have a lower pour point than mineral oils, which let the gearbox operate more efficiently in colder ambient temperatures. Synthetic oil also has (a higher) viscosity index -- its viscosity changes less with temperature compared with that of mineral oil.
Although synthetic lubricants have better efficiency, they still rely on the extraction of fossil fuels from the Earth, as noted by Car and Driver magazine:
Synthetic oils are typically created from chemically modified materials such as petroleum components, but the base material is almost always distilled crude oil.