STORY UPDATED: check for updates below.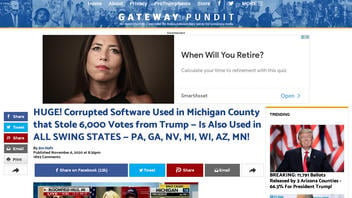 Was corrupted voting system software used in Michigan to steal 6,000 votes from President Donald Trump and was that software also used in seven U.S. swing states? No, there is no evidence for the first claim, the second claim is false, while the third is true: According to the Michigan Department of State, there was no equipment or software malfunction. The issue had to do with user human error. It was corrected and did not impact final vote totals. It is true that Dominion, the software system used in parts of Michigan, is also used in Nevada, Arizona, Minnesota, Michigan, Wisconsin, Georgia and Pennsylvania, but the company said there is no evidence of software errors in Michigan.
The claim appeared in an article published by The Gateway Pundit on November 6, 2020 titled "HUGE! Corrupted Software Used in Michigan County that Stole 6,000 Votes from Trump -- Is Also Used in ALL SWING STATES -- PA, GA, NV, MI, WI, AZ, MN!" (archived here). It opened:
A so-called computer 'glitch' fix in one of Michigan's counties has led to 6,000 votes switching from Joe Biden to President Trump. The Head of the Republican Party has asked for an additional 47 counties be recounted after the fix since these 47 counties also use the same Dominion software.
Users on social media only saw this title, description and thumbnail:
Dominion Software is used in 47 US states including ALL OF THE BATTLEGROUND STATES. The Dominion software "glitch" ONLY took votes from President Trump and Republicans. Dominion is used in 30 different states. Dominion is used in EVERY SWING STATE! ☑️Nevada ☑️Arizona ☑️Minnesota ☑️Michigan ☑️Wisconsin ☑️Georgia ☑️Pennsylvania Via Kyle Becker reported: The election software system...
Similar claims appeared on NOQ Report, TrendingPolitics, RF Angle and Law Enforcement Today.
One also appeared on Facebook: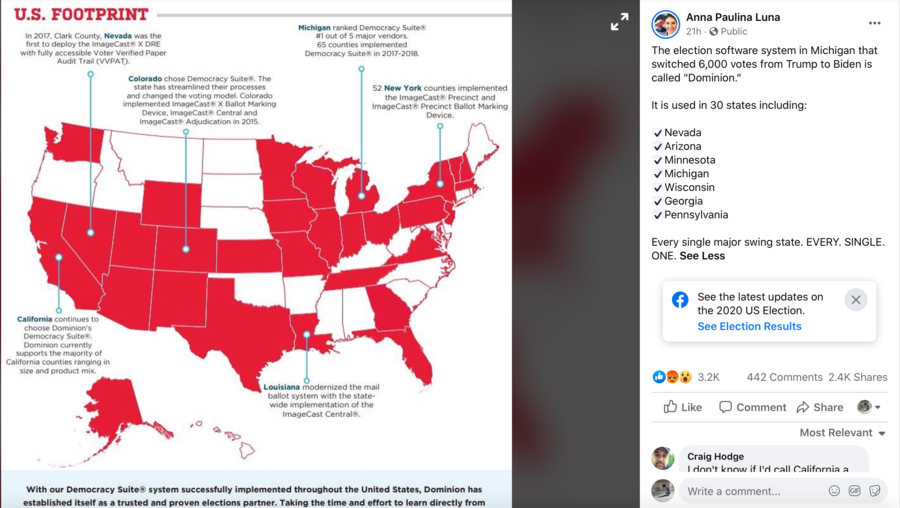 Another one appeared on YouTube: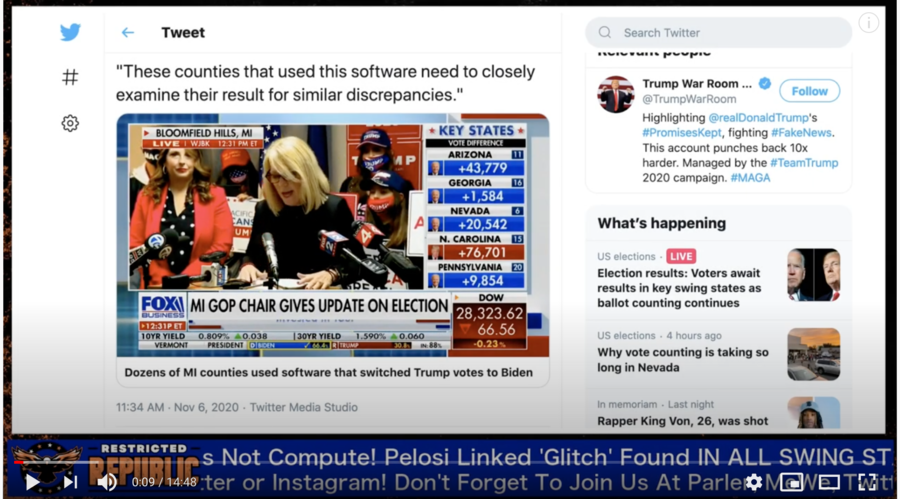 The article's claim appears to be based on a statement made by Michigan GOP Chairwoman Laura Cox during a press conference on November 6, 2020. She said that in Antrim County, "ballots were counted for Democrats that were meant for Republicans, causing a 6,000-vote swing against our candidates."
She added:
The county clerk came forward and said, 'tabulating software glitched and caused a miscalculation of the votes.' Since then we have now discovered that 47 counties used this same software in the same capacity. Antrim County had to hand count all of the ballots. And these counties that used this software need to closely examine their result for similar discrepancies.
The Michigan Department of State released a statement on its website that same day and a second one on November 7, 2020 following the Bureau of Elections' preliminary review of the issue, explaining that there was no equipment or software malfunction in Antrim County and all ballots have been correctly tabulated. The "erroneous reporting of unofficial results" did not impact vote totals and took place after a county clerk made the unintentional mistake of not updating the software that's needed to collect voting data and thus report unofficial results, the statements explained.
The second statement also said:
Because the county did not update the media drives for the tabulators that did not have changes to races, those tabulators did not communicate properly with the County's central election management system software when the county combined and reported unofficial results. Every tabulator recorded ballots correctly but the unofficial reports were erroneous.
The error was caught and corrected because all tabulators print a hard-copy showing how ballots for each race have been counted, according to the department.
The second statement added:
After discovering the error in reporting the unofficial results, the clerk worked diligently to report correct unofficial results by reviewing the printed totals tape on each tabulator and hand-entering the results for each race, for each precinct in the county.
Dozens of counties in Michigan use Dominion, and Tracy Wimmer, director of media relations for the Michigan Secretary of State, told Lead Stories in a phone call on November 7, 2020 that there have been no glitches reported in those counties related to the software.
It is also worth noting that in most of the counties that use Dominion, their vote totals leaned Republican.
The Department of State's first statement explained that:
The correct results always were and continue to be reflected on the tabulator totals tape and on the ballots themselves. Even if the error in the reported unofficial results had not been quickly noticed, it would have been identified during the county canvass. Boards of County Canvassers, which are composed of 2 Democrats and 2 Republicans, review the printed totals tape from each tabulator during the canvass to verify the reported vote totals are correct.
The department's statement also addressed Cox's claim that the county had to hand count ballots, saying this is completely false. It explained:
The ballots were properly counted by the tabulators. The county had to review the printed tabulator results from each precinct, not each individual ballot.
According to its website, Dominion Voting Systems was founded in 2003 and currently provides election technology in 28 U.S. states, including such swing states as Pennsylvania, Nevada and Arizona.
Some of these states use the software across all or some counties, while others only use it in one. The software is also not necessarily the only voting system being used. In states such as Pennsylvania, there are a variety of voting systems in use, including one's through Unisyn Voting Solutions and Clear Ballot.
And of course, simply because a state or county uses Dominion, does not mean they experienced a glitch in the software.
A statement released by Dominion Voting on November 7, 2020 and sent to Lead Stories said,
There are no credible reports or evidence of any system software errors in Georgia or Michigan, including erroneous reporting of unofficial results from Antrim County, Michigan.
In Arizona, Maricopa County is the only county that uses Dominion voting software. Megan Gilbertson, communications direction with the Maricopa County Elections Department, told Lead Stories during a phone call on November 7, 2020, that there have been no reports of glitches with the software or voting systems.
Public Information Officer with the Nevada Secretary of State Jennifer Russell also told Lead Stories in a November 7, 2020 email that they haven't experienced any glitches with Dominion during the 2020 election.
Public Information Officer with the Wisconsin Elections Commission Reid Magney told Lead Stories in a November 11, 2020 email that Dominion is used in Wisconsin "but their products are used by significantly fewer voters than ES&S voting equipment." Magney added:
We have no concerns about Dominion voting systems. In the coming weeks we will be conducting our voting equipment audit.
"Data corruption" is a programmer's term for unintended changes to data caused by reading, storage or transmission systems. Computer systems use a number of measures to prevent data corruption and to check for any unintended changes.
Computer users are familiar with error messages saying "file corrupted" when trying to save or retrieve a file. In those cases, a program encounters file names or files not in the expected format and cannot process them.
Election officials in Michigan and Nevada said their vote counters reported no instances of computer glitches, such as data or filename corruption, that changed vote tallies.
Lead Stories also reached out to the other four swing states included in the article's claim about glitches with the software, and will update, if appropriate, when they respond.
Breitbart published an article on November 7, 2020, claiming two counties in Georgia were also using this software and have encountered glitches during the 2020 election.
Lead Stories reached out to the press office for the Georgia Secretary of State about this, and will update, if appropriate, when an official responds.
NewsGuard, a company that uses trained journalist to rank the reliability of websites, describes thegatewaypundit.com as:
A partisan conservative website that regularly publishes hoaxes, conspiracy theories, and unsubstantiated claims, including those related to the COVID-19 pandemic.
According to NewsGuard the site does not maintain basic standards of accuracy and accountability. Read their full assessment here.
2020-11-11T19:09:56Z

2020-11-11T19:09:56Z

Updated to include a response from Wisconsin Elections Commission's Public Information Officer.

2020-11-08T19:04:59Z

2020-11-08T19:04:59Z

Updated to include a paragraph about the semantics of the term "corrupted."

2020-11-08T11:12:48Z

2020-11-08T11:12:48Z

Correction: Headline changed from "Fact Check: Corrupted Software Was NOT Used In Michigan And Thus 6,000 Votes Were NOT 'Stolen' From Trump" to "Fact Check: NO Evidence Corrupted Software Was Used In Michigan; 6,000 Votes NOT 'Stolen' From Trump", first paragraph updated to note there is no evidence of software corruption.