STORY UPDATED: check for updates below.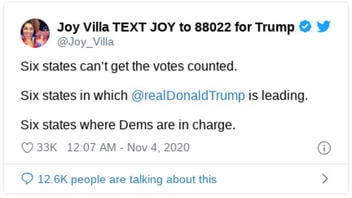 Is it true that as of November 4, 2020, there were six Democratic-controlled states that showed President Trump in the lead over Joe Biden? No, this is not true. While Trump was ahead in seven (not six) uncalled states on Wednesday, November 4 -- Wisconsin, Nevada, Arizona, Michigan, Pennsylvania, Georgia and North Carolina -- not all are states with Democrats in charge. Two of them have Republican governors and two have Republican secretaries of state.
The claim appeared in a tweet (archived here) published by Trump supporter and celebrity Joy Villa to Twitter on November 4, 2020 and titled "Joy Villa TEXT JOY to 88022 for Trump on Twitter" which opened:
"Six states can't get the votes counted. Six states in which @realDonaldTrump is leading. Six states where Dems are in charge."
This is what the post looked like on Twitter at the time of writing:
(Source: Twitter screenshot taken on Sat Nov 7 19:55:02 2020 UTC)
The tweet was also posted to Instagram:
The posts by Joy Villa, a singer-songwriter, actress and staunch Trump-supporting conservative activist who has also made a presence on YouTube, are false.
Here is the breakdown of political power in each state, according to Ballotpedia's rosters of each state senate and house (or assembly):

Here is the breakdown of Trump's status, by state, on November 4, when Villa made the claim:
Trump was up in North Carolina, Georgia, Pennsylvania and Arizona as of November 4.
But he was losing in Michigan (which Biden overtook that day and where he was later declared the winner on November 4), Nevada and Wisconsin (where Biden was declared the winner that day).
2020-11-08T18:55:50Z

2020-11-08T18:55:50Z

Updated to replace list of state officials with a chart.