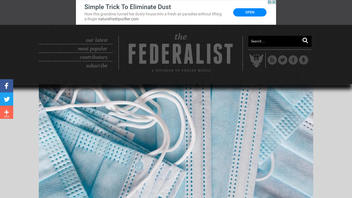 Do many studies find that cloth masks don't stop viruses like COVID? No, that's not true: An article making that claim does not cite any recent or specific studies showing masks don't work. To the contrary, the Centers for Disease Control and Prevention cites several studies as the basis for recommending the "community use of masks, specifically non-valved multi-layer cloth masks, to prevent transmission" of the novel coronavirus. New studies, including one by the Mayo Clinic in Rochester, Minnesota, continue to support that masking up is a highly effective way of reducing exposure to COVID-19.
The claim appeared in an article (archived here) published by thefederalist.com on November 23, 2020 under the title "Many Studies Find that Cloth Masks Do Not Stop Viruses Like COVID"
Under the title, the article poses a question:
A thorough marketing campaign for the use of low-quality masks has convinced millions of people that masks will reduce COVID-19 spread, but do they really?
This is what the post looked like on thefederalist.com at the time of writing: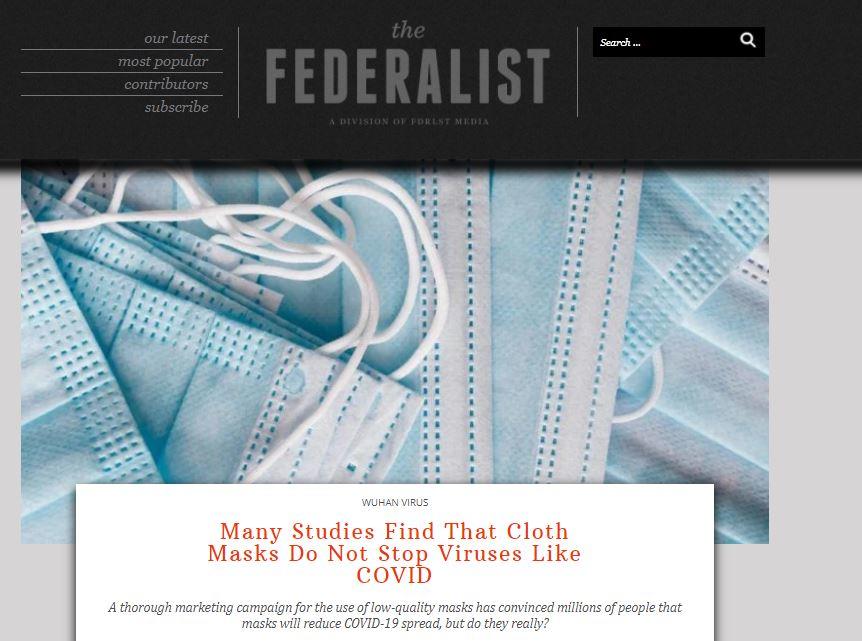 (Source: Thefederalist.com screenshot Tues October 24 17:15 UTC)
Though the title of thefederalist.com article suggests the article will focus on "many" studies that find cloth masks don't stop the coronavirus, that point is never developed. Instead, the article finds fault with published research often cited as proof that mask wearing reduces the spread of infection from the coronavirus.
The article's author is Lisa Mair, who is identified as having a Master of Science degree in food science and nutrition, and as being "an advocate for natural health for decades."
Among the studies she questions is one that the CDC offers as support for community mask wearing. The study is based on the case of two Springfield, Missouri, hairstylists with the coronavirus, who appear not to have infected their clients. Clients and hairstylists all wore masks. The study's authors were able to investigate the cases of 67 of the 139 clients the symptomatic hairstylists had contact with during an eight-day period. None of those clients got infected. Mair's reasons for questioning the research, which received much media attention, include the fact that many of the clients declined to participate in the study.
This is the conclusion The Federalist reaches about this and the other studies:
Abundant research demonstrates masks cannot help prevent the spread of coronavirus, while much recent research claiming to support masks is weak and poorly designed. Frequent mask use by the general population increases bacteria and dust in our mouth and airways. A government mandating that everyone wear a mask based on such low-quality evidence is reckless and potentially harmful.

For now, let's stick with the measures that do help: social distancing, hand hygiene, and avoiding chronic disease. Only don a fresh, clean N95 mask for short periods of time when you're unavoidably close to others indoors.
The article's conclusion goes against what the CDC says about the effectiveness of wearing masks, even cloth ones. This is what the federal agency states in its "Scientific Brief: Community Use of Cloth Masks to Control the Spread of SARS-CoV-2," which was updated November 20, 2020. COVID-19 is caused by a coronavirus called SARS-CoV-2.
Cloth masks not only effectively block most large droplets (i.e., 20-30 microns and larger)9 but they can also block the exhalation of fine droplets and particles (also often referred to as aerosols) smaller than 10 microns; which increase in number with the volume of speech and specific types of phonation Multi-layer cloth masks can both block up to 50-70% of these fine droplets and particles and limit the forward spread of those that are not captured. Upwards of 80% blockage has been achieved in human experiments that have measured blocking of all respiratory droplets, with cloth masks in some studies performing on par with surgical masks as barriers for source control.
In the brief, the CDC says that the research, on which it bases its mask-wearing recommendation, is sound -- including the hairstylists and clients' study.
Seven studies have confirmed the benefit of universal masking in community level analyses: in a unified hospital system, a German city, a U.S. state, a panel of 15 U.S. states and Washington, D.C., as well as both Canada and the U.S. nationally. Each analysis demonstrated that, following directives from organizational and political leadership for universal masking, new infections fell significantly. Two of these studies and an additional analysis of data from 200 countries that included the U.S also demonstrated reductions in mortality. An economic analysis using U.S. data found that, given these effects, increasing universal masking by 15% could prevent the need for lockdowns and reduce associated losses of up to $1 trillion or about 5% of gross domestic product.
New research adds to the case for wearing face masks to stop the spread of infection. This includes a Mayo Clinic study released November 24, 2020, whose "findings strongly support the protective value and effectiveness of widespread mask use and maintaining physical distance in helping to stop the spread of the COVID-19 virus." The experimental study "emulated the production of respiratory droplets by using mannequins, that were masked and other mannequins that were unmasked and measured the spread of those droplets at various distances."
This is what Matthew Callstrom, M.D., Ph.D., chairman of the department of radiology at the Mayo Clinic, said in a news release about the study he co-authored with Elie Berbari, M.D., chair of the department of infectious diseases at the institution.
We found the most important measure for reducing the risk of exposure to COVID-19 is to wear a mask. We found that both disposable paper medical masks and two-layer cloth masks were effective in reducing droplet transmission and we did not find a difference between mask types in terms of how well they blocked aerosol particles emitted by the wearer.
Lead Stories has published several debunks of claims that masks do not work or damage health, including past articles by TheFederalist.com:
Fact Check: New Mask Study Did NOT Prove 'Mask Wearing Basically Doesn't Do A Damn Thing'
Fact Check: America's Frontline Doctors Did NOT Prove Their Claims That Masks Don't Work
Fact Check: CDC Report Did NOT Say Masks Are Ineffective In Preventing Spread Of COVID-19
NewsGuard, a company that uses trained journalist to rank the reliability of websites, describes thefederalist.com as:
An anonymously owned website that has repeatedly published false or misleading information in significant news and opinion stories.
According to NewsGuard the site does not maintain basic standards of accuracy and accountability. Read their full assessment here.