STORY UPDATED: check for updates below.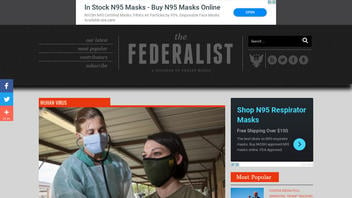 Did a U.S. Centers for Disease Control and Prevention report conclude masks are not effective in preventing the spread of COVID-19? No, that's not true: The study concluded new safety measures are needed at dining establishments because even mask-wearers who went out for drinks or meals were twice as likely to be infected as those who did not.
Plus, an independent professor not involved in the study said the claims are a classic mistake by a non-scientist: failing to put the findings in the context of the way the study was designed.
The misreading of the study originates in an article in TheFederalist.com (archived here) where it was published October 12, 2020, under the title "CDC Study Finds Overwhelming Majority Of People Getting Coronavirus Wore Masks." It opened:
A Centers for Disease Control report released in September shows that masks and face coverings are not effective in preventing the spread of COVID-19, even for those people who consistently wear them.

A study conducted in the United States in July found that when they compared 154 "case-patients," who tested positive for COVID-19, to a control group of 160 participants from health care facilities who were symptomatic but tested negative, over 70 percent of the case-patients were contaminated with the virus and fell ill despite "always" wearing a mask.

"In the 14 days before illness onset, 71% of case-patients and 74% of control participants reported always using cloth face coverings or other mask types when in public," the report stated.
This is what the item looked like on TheFederalist.com at the time of writing:
The 400-word TheFederalist.com article overlooks the stated findings of the CDC's 2,200-word report about the elevated risk of restaurant, bar, and coffee shop patrons, who must of course remove their masks in order to partake. TheFederalist.com writer claiming to know better the contents of the study is a 2020 graduate of Baylor with a bachelor's degree in political science, disputing the findings of lead CDC author Kiva Fisher a Ph.D. epidemiologist with a master's degree in public health.
A University of Washington Professor of Public Health said TheFederalist.com error is a common one among people unfamiliar with research methods. "Context is key to understanding the data and it's hard to swallow seeing data taken so egregiously out of context," said Prof. Jennifer Balkus, who holds a PhD in epidemiology.
They definitely don't have it right. What their claim is missing is the main context.
Their claim, that masks don't protect against COVID really misses the point that the study asked about mask-wearing in the community, which was high. The majority of cases came from individuals who were exposed to a family member, where mask wearing is not going to be happening in households.
Balkus said TheFederalist.com misused the data provided by the CDC in its publication to reach a false conclusion.
Again, when individuals are going to restaurants, they have to take their masks off to eat. While the study can't pinpoint time of infection, you do see more cases reporting they were at restaurants where there were few to no mask coverings or social distancing.
Fisher's study was based on interviews with hundreds of people who had tested positive for COVID-19 and hundreds of "control" interviewees, adults who had not tested positive. The survey was designed to identify the risks of going out in public: shopping, dining, drinking, etc.
The false claim that the CDC concluded that a high percentage of mask wearers got COVID-19 was picked up and exaggerated by President Trump in a campaign speech on October 15, 2020, when he said the CDC reported "85% of the people wearing the masks catch it, okay?"
Here's what the study's authors reported finding:
Adults with confirmed COVID-19 (case-patients) were approximately twice as likely as were control-participants to have reported dining at a restaurant in the 14 days before becoming ill. In addition to dining at a restaurant, case-patients were more likely to report going to a bar/coffee shop, but only when the analysis was restricted to participants without close contact with persons with known COVID-19 before illness onset.
The authors said the reason for the difference is obvious:
Masks cannot be effectively worn while eating and drinking, whereas shopping and numerous other indoor activities do not preclude mask use. Implementing safe practices to reduce exposures to SARS-CoV-2 during on-site eating and drinking should be considered to protect customers, employees, and communities and slow the spread of COVID-19.
As is the case with any scientific study, the authors conceded there are complex questions to be solved by further research: "...Direction, ventilation, and intensity of airflow might affect virus transmission, even if social distancing measures and mask use are implemented according to current guidance."
A CDC spokesman, in an October 15, 2020, email to Lead Stories, said TheFederalist.com has repeated a common error:
CDC guidance on masks has clearly stated that wearing a mask is intended to protect other people in case the mask wearer is infected. At no time has CDC guidance suggested that masks were intended to protect the wearers. https://www.cdc.gov/coronavirus/2019-ncov/prevent-getting-sick/cloth-face-cover-guidance.html
CDC Press Officer Scott Pauley said both people who were confirmed infected and non-infected "controls" in the study had high levels of mask use. "They were likely achieving sufficient protection within their social network. However, in restaurants and other places where food and beverages are consumed, masks cannot be used." He said the study was designed to measure impact of various public activities, not mask use, so TheFederalist.com article is mis-reading the data.
Pauley said the more scientists measure mask use, the more convincing is the proof that mask-wearing slows or prevents the spread of COVID-19:
There are laboratory studies, animal studies, community and epidemiological studies, as well as policy studies that show masking reduces transmission in communities by blocking exhaled respiratory droplets.
Lead Stories has reached out to several university experts in public health and to the author of the study and will, if appropriate, update this report with their additional comments about TheFederalist.com description of the study.
NewsGuard, a company that uses trained journalist to rank the reliability of websites, describes thefederalist.com as:
An anonymously owned website that has repeatedly published false or misleading information in significant news and opinion stories.
According to NewsGuard the site does not maintain basic standards of accuracy and accountability. Read their full assessment here.
2020-10-16T01:46:30Z

2020-10-16T01:46:30Z

Updated to include a University of Washington Public Health professor's analysis of the nature of the erroneous conclusions of TheFederalist.com and to correct a typo in the word "individuals"