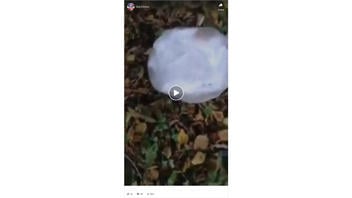 Is it true that about 80 official election ballots cast for President Trump in Virginia Beach, Virginia, were torched to undermine the president's chances of winning there? No, that's not true. The burning papers shown in a viral video, according to election officials, were self-printed sample ballots or samples picked up at an election office. They were not actual ballots, an assistant registrar in Virginia Beach told Lead Stories.
The claim can be found in a post (archived here) published to Facebook on November 4, 2020, by user Rob Christie. The short video clip features a man saying:
Yeah, Donald Trump. You gotta do what you gotta do. F**k Trump. I've got around 80 ... I'm a worker at the mail...or polling place. You gotta do what you gotta do...Yeah, f**k Trump."
This is what the post looked like on Facebook at the time of writing:
(Source: Facebook screenshot taken on Thu Nov 5 14:14:15 2020 UTC)
The video, about 1:40 long, then shows the man burning the supposed ballots in a plastic bag while flipping off the fire with a hand gesture. The claim is fake, but an official in Virginia Beach said they saw the post on Election Day, and officials there have notified law enforcement about a possible investigation.
"I can tell you that they were sample ballots, either printed by the individual or gathered from our one of our sites," said Assistant Registrar Christian Logan. "We just saw [it] on Election Day ... I do know that the director has already done something. I'm not sure exactly what."
Asked to explain the office's efforts further, Logan said officials with the Virginia Beach office have contacted law enforcement to notify them of the fake video and possibly investigate. Here is a news release by the office about the video, in which officials point out that official ballots have a bar code around the edge, while sample ballots do not. The papers being burned do not have bar codes around the edge, as noted in this image included in the news release: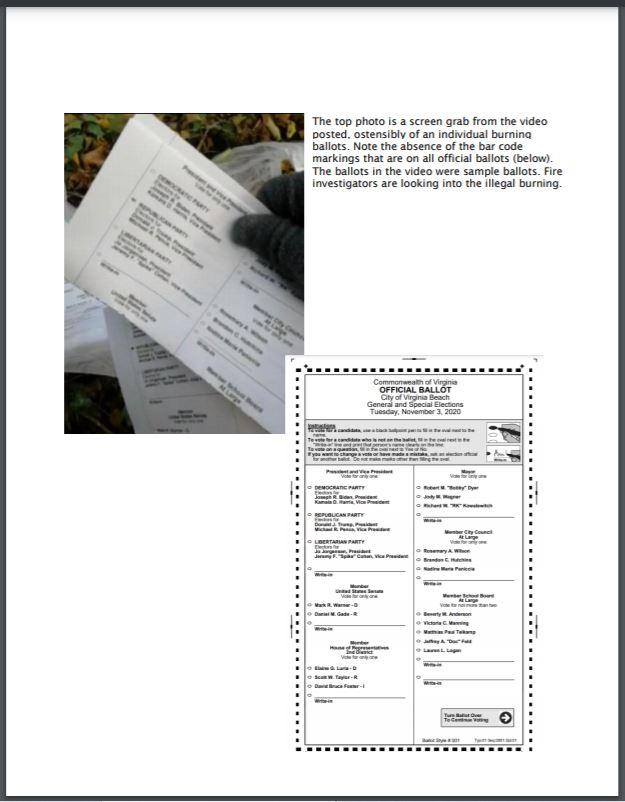 Still, the claim got wide attention, even with Trump's son, Eric Trump, who retweeted out the allegations by a now-suspended account. Here is an archive of the tweet, which makes clear how much it spread -- and quickly. Also, Eric Trump tweeted it himself, drawing a quick rebuttal tweet from Virginia Beach officials:
Those were sample ballots. Addressed this yesterday. https://t.co/yprxQ7Icqn.

-- Virginia Beach (@CityofVaBeach) November 4, 2020
Here is a screenshot of the now-deleted Eric Trump retweet: