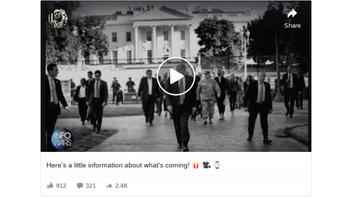 Did The Department Of Homeland Security craft an election fraud sting by printing watermarked ballots? No, that's not true: The design, printing and auditing of ballots are processes managed by state and local election officials.
One of many versions of this rumor appeared when it was uploaded to Facebook in a post (archived here) published on November 5, 2020, with the caption, "Here's a little information about what's coming!"
This is what the post looked like on Facebook at the time of writing:
(Source: Facebook screenshot taken on Fri Nov 6 22:09:21 2020 UTC)
This video shows an interview that Dr. Steve Pieczenick made with host Owen Shroyer on the InfoWars.com show, "The War Room," where Pieczenik, wearing a Hawaiian shirt, speaks as if he has inside information about a secret Department of Homeland Security plan. Another version of this rumor originated with an article published by the website Tree of Liberty which also sells Boogaloo merchandise. Many followers of Qanon have developed their own theories about this watermarked ballot sting from things they pieced together from various Qdrops.
A collection of screenshots of various ways this rumor has appeared on social media
Several variations of this false narrative are circulating on social media in both English and Spanish language. The basic structure of the plot is that the Department of Homeland Security undertook an election fraud sting by printing ballots with secret watermarks. Depending on the version of the rumor, these watermarks use a radioactive isotope or non-radioactive isotope, and in some cases have a type of individually traceable blockchain code as part of the watermark's embedded information. Some versions of the rumor have neither President Donald Trump or Democrat candidate Joe Biden aware of the plan, and in other versions, the watermark plan is credited to Donald Trump.
The theory is that these watermarked ballots from the Department of Homeland Security are the official ballots. It then relies on fraudsters to fall into the trap. They would print additional ballots to use for election fraud, unaware that their fake ballots could be detected due to the lack of watermarks. The Department of Homeland Security then swoops in to arrest everyone involved with the election fraud.
CISA is the Cybersecurity and Infrastructure Security Agency. The agency has a "Rumor Control" page on the website designed to combat disinformation that might undermine public confidence in the electoral process, as well as in American democracy. The website is updated to address current concerns. This watermarked ballot DHS sting rumor is addressed by CISA:
Reality: The Department of Homeland Security (DHS) and the Cybersecurity and Infrastructure Security Agency (CISA) do not design or audit ballots, which are processes managed by state and local election officials.

Rumor: DHS or CISA printed paper ballots with security measures and is auditing results as a countermeasure against ballot counterfeiting.

Get the Facts: While DHS and CISA assist states and localities with securing election infrastructure, DHS and CISA do not design, print, or audit ballots. State and local election officials manage ballot design and printing, as well as the auditing of results.

Local election offices have security and detection measures in place that make it highly difficult to commit fraud through counterfeit ballots. While the specific measures vary, in accordance with state and local election laws and practices, ballot security measures can include signature matching, information checks, barcodes, watermarks, and precise paper weights.

DHS and CISA operate in support of state and local election officials, and do not administer elections or handle ballots. CISA's role in election security includes sharing information, such as cyber threat indicators, with state and local election officials, as well as providing technical cybersecurity services (e.g. vulnerability scanning) upon the request of those officials.
Lead Stories reached out to Runbeck Election Services and spoke with the company president, Jeff Ellington, to understand the feasibility of such a plan. Located in Phoenix, Arizona, Runbeck Election Services prints millions of ballots for customers in several states. Ellington said his company had been getting calls from concerned citizens who heard this rumor.
One of the main points he emphasized is that ballots are printed all the way down to the local level. Even two people who live right across the street from each other might have different ballots because of a difference in school district. In Los Angeles County for example, he said that there are 230,000 different potential ballot styles, representing all the districts and races as well as a number of different languages. He receives a file with the orders for the ballots which are printed individually. Without having those very specific files, it would be impossible for someone else to print the ballots of all the voters in all the local districts across the country.
Another question that is not thought through in this secret sting conspiracy theory is that the "watermarked DHS ballots" would need to be delivered to the districts and delivered to the people voting by mail. All the standard locally-issued ballots (which would be lacking the special watermark) that had come from the suppliers who were filling orders to print would need to be retrieved and swapped without anyone noticing the swap.

Lead Stories wrote about an information laundering operation that includes this rumor: Fact Check: Mainstream Media Is NOT Censoring 'AP OneWire' Press Release About 'Obvious Election Fraud' -- This Is A Hoax.
There are some authentic documents circulating that are being used to support this false theory. It is true that some states do use a watermark as part of their election security measures. The California Secretary of State published a PDF file with the specifications for their California poppy watermark and CISA published a Risk Assessment document about mail-in voting that mentions watermarks on page 10.