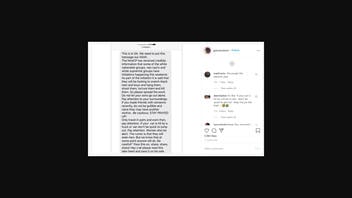 Did the NAACP issue a warning in Georgia that white supremacists and other fringe groups will be targeting black men for violent acts this weekend? No, that's not true: The national leadership of NAACP and its Georgia chapter said separately the civil rights organization did not issue any such statement.
The claim appeared in a post (archived here) published on Instagram on November 5, 2020. It opened: "This is in GA. We need to put this message out ASAP." It continued:
The NAACP has received credible information that some of the white nationalist groups, neo nazi's and white supremist groups have initiations happening this weekend. As part of the initiation it is said that they will be looking to snatch black men and boys and hang them, shoot them, torture them and kill them.
This is what the post looked like on Instagram at the time of writing: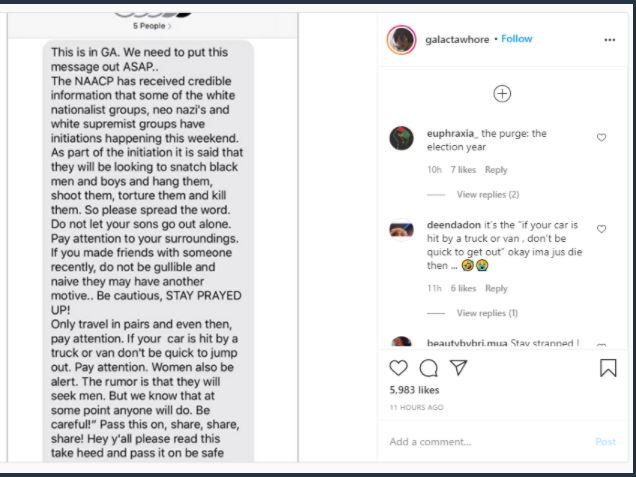 (Instagram screenshot Friday Oct 6, 2020)
The NAACP, the largest civil rights organization in the nation, said in separate releases November 5, 2020, that it did not issue a warning seen on Instagram and other social media that white supremacist groups would be violently attacking black males in this weekend.
Trovon Williams, vice president of marketing and communications for the national NAACP, issued the denial in a 1-minute video posted on his Twitter account and the organization's web page. Written comments published along with the video on the NAACP website included this denial:
In recent days, several social media platforms have posted statements purporting that the NAACP has received information about white nationalists groups initiations during the weekend after the election, and previously during the fourth of July weekend. The National NAACP has not released any such statement. While we take all matters of racial discrimination and racial hatred seriously, these statements are not from the NAACP.
Likewise, the organization's Georgia chapter denied the post's veracity, saying on its website:
We have received information about messages reportedly from NAACP that white nationalist, neo-Nazis, and white supremacist groups have initiations happening this weekend and warning Georgians about this threat. This information is false and not credible.
"We are calling on all Georgians to remain calm as election results surface throughout the week. We are getting numerous reports of misinformation that is being used to invoke fear in our communities as a distraction to our huge success in Black voter participation," said Rev. James Woodall, state president of Georgia NAACP. "The counting process is going to take some time, but we will not let misinformation nor any other attempt at intimidation distract us. We remain thankful for our diligent election workers that are working around the clock to #CountEveryVote," concludes Rev. Woodall.
The fake warning was made in at least one other city. Detroit TV station WXYZ published a story November 5, 2020, that said:.
The Detroit Chapter of the NAACP is debunking of a false social media post warning of potential violence from white supremacist groups in Detroit this weekend.