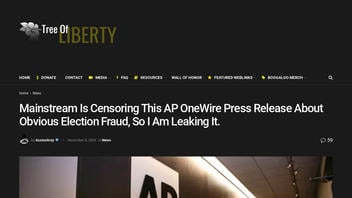 Did the Department of Homeland Security issue a private "press release" through "AP OneWire" that was then leaked through the website treeofliberty.me? No, that's not true: The AP (Associated Press worldwide news organization) does not have a product called OneWire. The DHS could not have issued a press release through an Associated Press service that does not exist.
The claim appeared in an article published by Tree of Liberty on November 5, 2020, titled "Mainstream Is Censoring This AP OneWire Press Release About Obvious Election Fraud, So I Am Leaking It." (archived here)
Here's how the article appeared at time of writing: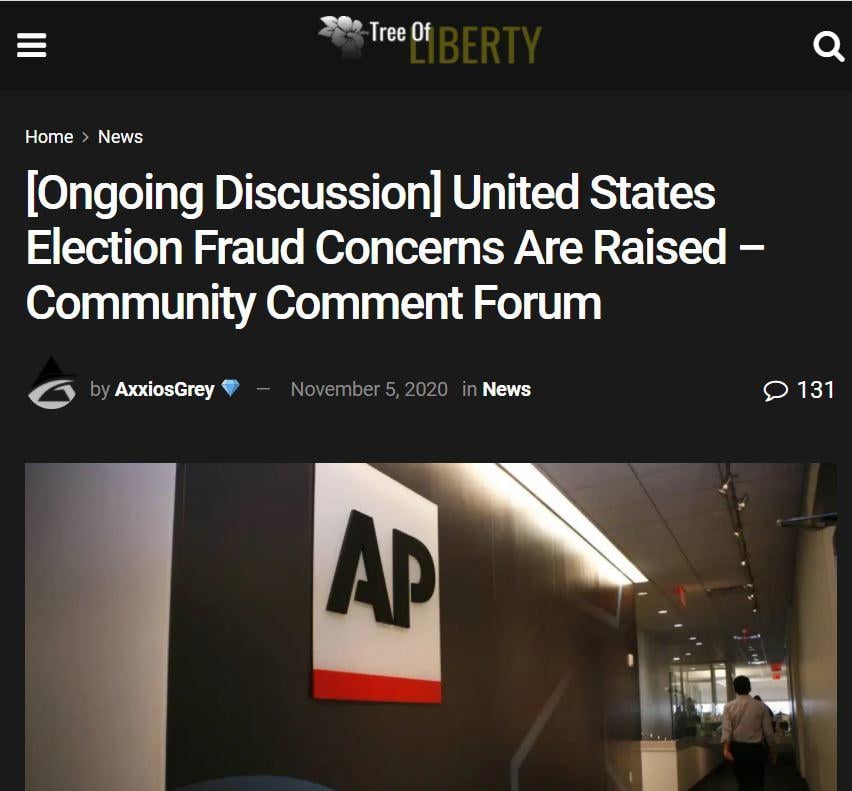 The article's complicated set of links operates as an information-laundering fabrication to present a complex false narrative to the public with a readymade excuse for why a curious reader would be unable to verify the information for themself.
The structure of this article has two parts. The foundation introduces and explains the workings of the fictitious "AP OneWire content accumulation service." The second part is an image of the fictional private press release from the purportedly verified account of the Department of Homeland Security.
The setup, which makes multiple false statements about the AP and OneWire (an actual company, but not connected to the AP), is presented here:
I WILL BE UPDATING THIS ARTICLE AS I FIND MORE As seen in the clipping below, the Verified Department of Homeland Security's Account in the Associated Press's "OneWire" content accumulation service speaks about the DHS's Election Audit and how it determined sharp inaccuracies in the election in favor of Joe Biden. Before we dive into the post on OneWire, we need to discuss a few things.

What Is AP News's OneWire?

OneWire is the name of a service that connects agencies and reporters from across the planet together. Their job is simple. Make a platform that makes it easy to share information between verified sources in order to cut down on misinformation. Hence the name "Associated Press" and "OneWire". OneWire can only be accessed by content providers and sharing partners in the news networks in the United States and abroad.

Can I Read AP OneWire Articles?

The general public cannot read AP OneWire press releases until a provider or other journal agency releases the text of that article for public viewing. Once that occurs, it is called a "lead off". A lead off will act as a source for the information. Sometimes, these articles are leaked before they are shared by content providers, such is the case as I will allow you to see it.

DHS's Press Release

Notes:

This release is not public. I can share the link all I want, and unless you have an AP OneWire account through your employer, you simply will not be able to view it. Nobody else will allow this to go public either, so I decided to leak it. We deserve to know what's going on.
Users on social media only saw this title, description and thumbnail:
The image that was made to represent the purported November 4, 2020, private press release from the "Verified- Department HS" account is pictured below. The setup that would prevent a reader from being able to independently verify this is that only accounts with special access can view this 'locked' private press release. That is not how a press release works. Other than time-embargoed releases, a statement released for press use is given wide media distribution, not locked down.
Lead Stories has defaced this image to prevent it from being used to circulate disinformation.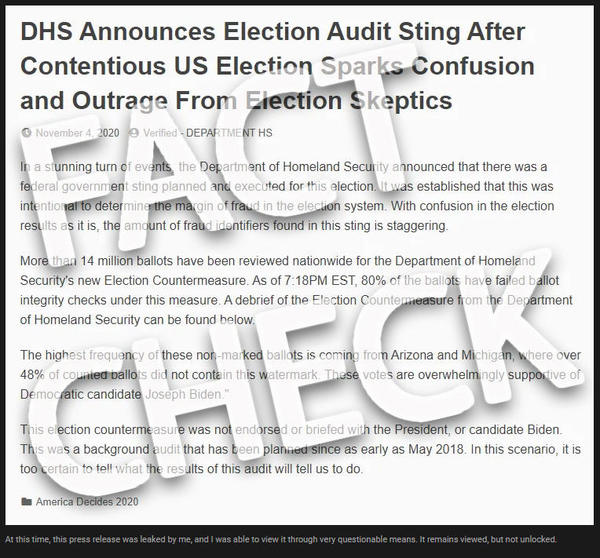 The storyline of the false press release is that the Department of Homeland Security conducted its own sting operation without the knowledge of either President Trump or Democratic presidential candidate Joe Biden. The purported sting involved the printing of ballots with secret watermarks which could later be used to differentiate "real" ballots from fakes. The fake press release says that when ballots in highly contested states were inspected, there was a very high proportion of non-watermarked ballots and that the fraudulent ballots without the watermark overwhelmingly supported Joe Biden.
The whole thing is made up.
There is no common term in the media or news publishing world known as a "content accumulation service." A Google search for the term brings up only six results, two are copies of this TreeofLiberty article. Likewise a search on Google and on DuckDuckGo for "AP OneWire" only brings up duplicates and links to this disinformation article. There is no such thing as a private press release, that would defeat the purpose of a press release.
OneWire, a recruiting service, does not offer the news release distribution described in the conspiracy theory on TreeofLiberty.
The article and fake press release does not explain how the secret ballots were coordinated state-by-state and introduced into the piles of carefully controlled ballots printed by commercial printers for each jurisdiction conducting elections. Multiple mainstream media stories detailed the massive printing contracts and security measures for ballot production.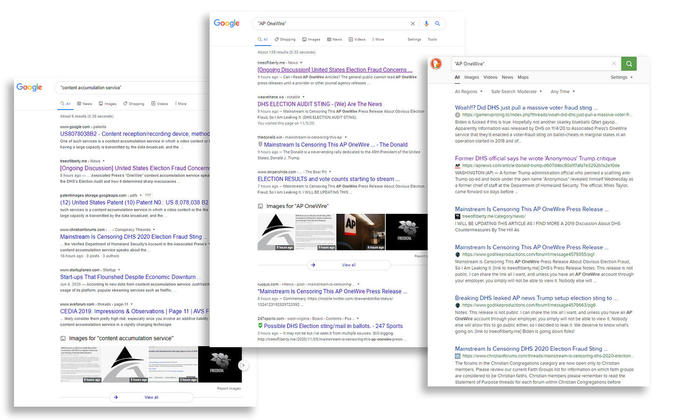 Lead Stories has reached out to The Associated Press and the Department of Homeland Security for comment and will update this report, as appropriate, when they reply.