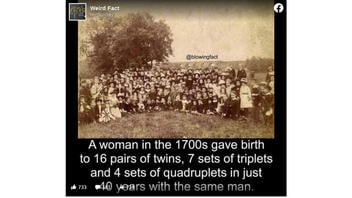 Did a woman in the 1700s give birth to 16 pairs of twins, seven sets of triplets and four sets of quadruplets (a total of 69 children) in just 40 years, with the same man fathering all the children? And is this a photo of the very large family? Although part of the highly dubious story could be true, this photo, or any other photograph of the family cannot possibly be real as it would not be until the mid-1800s that photography would even be developed.
The centuries-old claim reappeared as a post (archived here) where it was published by Weird Fact on November 8, 2020. The text accompanying the photo reads:
A woman in the 1700's gave birth to 16 pairs of twins, 7 sets of triplets and 4 sets of quadruplets in just 40 years with the same man.
This is what the post looked like on Facebook at the time of writing:
(Source: Facebook screenshot taken on Wed Nov 11 19:17:13 2020 UTC)
This amazing story has circulated on the internet for years with various photos attached to it. The story itself has documentation that goes back centuries, but is still regarded as highly questionable. The documentation was sufficient for the "Guinness Book of World Records,1998" to name Mrs. Feodor Vassilyev with this historical record:
Most children born to one mother In a total of 27 confinements, the wife of Feodor Vassilyev, a peasant from Shuya (near Moscow), Russia, gave birth to a total of 69 children, comprising 16 pairs of twins, seven sets of triplets and four sets of quadruplets. The case was reported to Moscow by the Monastery of Nikolskiy on February 27, 1782. Only two of the children born to Mme. Vassilyev in the period of 1725-65 died in infancy.
While this story alone is almost unbelievable, and even the guinnessworldrecords.com article expresses some doubt, Feodor Vassilyev allegedly went on to a second marriage (it's not known what happened to his first wife) and fathered another 18 children with his second wife -- six pairs of twins and two sets of triplets. This story was relayed 237 years ago in The Gentleman's Magazine (Vol. 53 p. 753, London, 1783) from an English merchant in Saint Petersburg, Russia, to a relative back in England, and the tale has been circling the globe ever since.
Photography was not invented in an instant but advanced over decades. This makes it difficult to pinpoint an exact year for the start of photography but in 1839 the process to produce the daguerreotype, developed by Louis-Jacques-Mandé Daguerre, was sold to the French government and published. Even if this photo could not have been taken in the mid 1700s and does not show a the Russian Vassilyev family -- does the photo show what a family that size might look like?

Photo by James Pike, Edinburgh
This photo, marked on the back by photographer James Pike from Edinburgh, Scotland, shows a well-dressed group of 162 people, mostly children. To illustrate the size of the Vassilyev family, 69 children in this group plus two additional people to represent the parents, have been outlined in blue by Lead Stories. There has been a discussion on edinphoto.org.uk (here) to try to identify the location by the viaduct, the year, and for what occasion this photo was taken, but there is no possibility that this is a large Russian peasant family from the mid-1700s.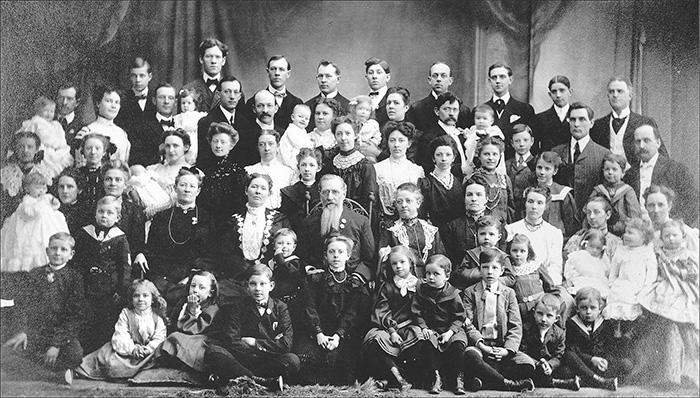 Joseph F. Smith Family
1904 Public Domain
Another photo that has been frequently reproduced to illustrate the story of the Vassilyevs actually shows the family of Joseph F. Smith, the sixth president of The Church of Jesus Christ of Latter-day Saints. Joseph F. Smith had six wives and fathered a total of 48 children with five of them. He also adopted children. This photo shows 66 people, some may be grandchildren.
Below is an international collection of internet memes repeating the story with a variety of photos. One photo has even highlighted one of Joseph F. Smith's wives with a yellow box as if she is Mrs. Vassilyev. Another picture shows a May Day celebration from what appears to be the 1920s.
A collection of photos presented with this story, including captions in Filipino, Arabic and Portugese
Lead Stories reached out to Ally Avery, the Scientific Operations Manager of the Washington State Twin Registry who said it seems unusual that none of the births were single children. It was also quite amazing that almost all of the Vassilyev babies survived, when higher-order multiple pregnancies would be considered high risk even today, but she did mention that there is a modern case of a woman in Uganda who has given birth to three sets of quadruplets, four sets of triplets, and six sets of twins, and also has eight single-birth children for a total of 44 children.
Mirror.co.uk wrote an article about Mariam Nabatanzi titled, "World's most fertile woman had 44 kids by 36 - and she's raising them alone"