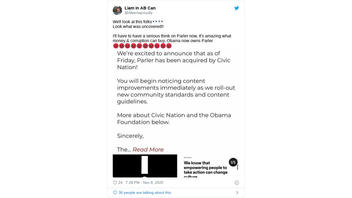 Has social media site Parler been sold? No, that's not true: Co-owner Dan Bongino said on his verified Twitter account that rumors of the sale are false, and another co-owner is reported to have said the same in a Parler post.
The claim appeared in a post (archived here) published on Twitter on November 8, 2020. It opened:"Well look at this folks👀👀Look what was uncovered!!"
The post continued:
I'll have to have a serious think on Parler now. It's amazing what money & corruption can buy. Obama now owns Parler.
This is what the post looked like on Twitter at the time of writing:
(Source: Twitter screenshot taken on Tue Nov 10 00:27:31 2020 UTC)
Dan Bongino, a conservative commentator and co-owner of Parler, denied the sale on his Twitter account November 8, 2020:
Parler has NOT been sold. I assure you, as an owner of the company, that if we sold it, I would know! Parler has exploded. We're adding thousands of users per minute & were working out the glitches as a result. But don't buy internet BS rumors from hoaxsters. I own Parler.
Parler CEO and co-owner John Matze also denied the rumors. The news site heavy.com quoted a Matze posting on Parler denying the sale:
Parler has NOT been sold. These are malicious lies intended to damage and malign the brand of Parler. Anyone claiming otherwise is a hoaxer and most likely acting from malice.
Matze said in his post that Parler is owned by him, a group of close friends and employees and strategic investors Bongino and Jeffrey Wernick.
Parler, the social media site that has become popular with President Trump and the U.S. conservative movement, has experienced tremendous growth in the days following the election. That has led to growing pains in the form of glitches and slowdowns. And that, apparently, has led to rumors that the site had been sold.
In addition to the @Albertaproudly tweet, there were others, including this tweet that said Parler had been sold to a private company.
Started in September 2018, Parler had a reported 2.8 million users in summer 2020. But the user count has grown exponentially since the November 3, 2020, election, The Verge news site reported on November 9, 2020. Said The Verge:
Conservative angst over President Trump's loss has resulted in a surge of downloads for Parler, a conservative social network founded as an ideological alternative to Facebook and Twitter. According to data from SensorTower, Parler's app saw 980,000 downloads in total between November 3rd (Election Day) and November 8th, with more than half of those downloads (636,000) coming on Sunday alone. (The totals represent both Google Play Store and iOS App Store downloads.)

That surge in downloads has also pushed Parler to the top of the app store rankings. It is currently the #1 free app in the iOS App Store, up from #1,023 on November 2nd. It's also #1 in the Google Play rankings, up from #486 the previous week. The app has been downloaded approximately 3.6 million times in the US so far, per SensorTower.
The Verge also pointed out why Parler became so popular almost literally overnight:
Parler has been a central hub for many of the conservative protests against recent election results, including the ongoing "Stop the Steal" campaign. A number of prominent conservative pundits have urged followers to join the network in recent days, out of frustration with moderation on Twitter and Facebook.

It has also become a haven for the kind of right-leaning conspiracy theories that are discouraged on the larger networks -- particularly regarding the election. In a digest email on Monday, Parler listed its top post as a report from the Falun Gong-aligned NTD News, alleging supposed "statistical anomalies" in recent vote counts.

In recent months, Twitter and Facebook both adopted strict policies against voting-related misinformation, and those policies were strictly enforced in the confusion following Election Day. The enforcement was particularly strict against President Trump, who has used both networks to raise spurious doubts about mail-in voting, call for vote counts to be halted, and prematurely announce his campaign's victory in the state of Pennsylvania. (Pennsylvania was later called for Joe Biden.) As a result of those and other infractions, a total of 16 tweets from the president faced some kind of restriction from Twitter in the days following Election Day.
Parler did not reply to two emails from Lead Stories on November 9, 2020, asking for comment on the sale rumors.