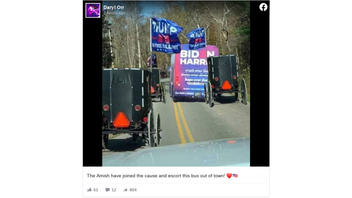 Did a group of horse-drawn buggies flying American and Trump flags surround the bus of the Biden-Harris campaign on a country road? No, that's not true: This is a photoshopped image made from a photo that really does show about 10 buggies flying flags going down the road.
The photoshopped picture appeared on Facebook in a post (archived here) on November 3, 2020, with the caption:
The Amish have joined the cause and escort this bus out of town!
This is what the post looked like on Facebook at the time of writing:
(Source: Facebook screenshot taken on Tue Nov 3 15:20:26 2020 UTC)
The source photo of the line of buggies flying Trump flags began appearing on Facebook around November 1, 2020, and has been widely shared. One post (here) identified the location as Four Mile Road in Jackson County, Ohio. Several other Facebook posts from Jackson County show buggies of this style with American flags and Trump flags. (here and here).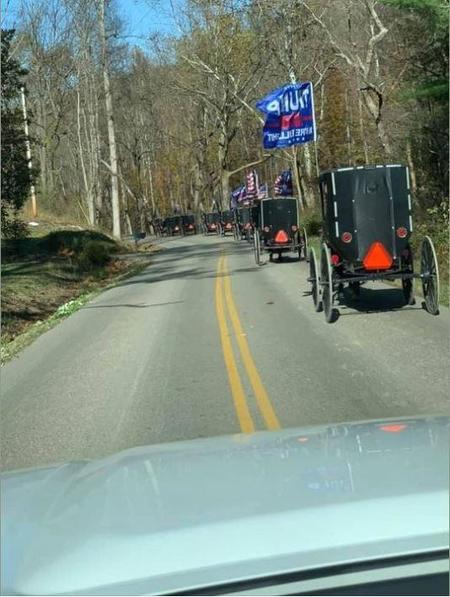 The altered photo added the Biden campaign bus onto the country road and positioned the horse-drawn buggies to give the appearance that it was surrounded. This refers to an incident that happened on Interstate 35 in Texas on Friday, October 30, 2020. As the Biden-Harris campaign bus was traveling from San Antonio to Austin it was surrounded by a group of vehicles with Trump flags. Videos of that incident on the Texas interstate went viral on social media over the weekend.
Still frame from a video of the Biden campaign bus surrounded by Trump supporters in Texas