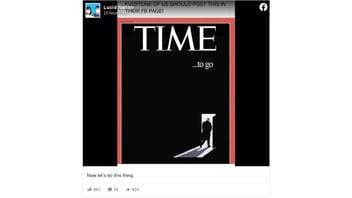 Did Time magazine publish a cover showing Donald Trump and the text "Time to go"? No, that's not true: This cover is not shown on the Time magazine website. It is a fake.
The claim began circulating online around Election Day. Among the places the meme appeared was on the Facebook page of Lucid Nation in a post (archived here), titled "Now let's do this thing," which posted on November 3, 2020.
A sentence, all in capital letters, appeared above the purported Time cover:
EVERYONE OF US SHOULD POST THIS IN THEIR FB PAGE!
This is what the post looked like on Facebook at the time of writing: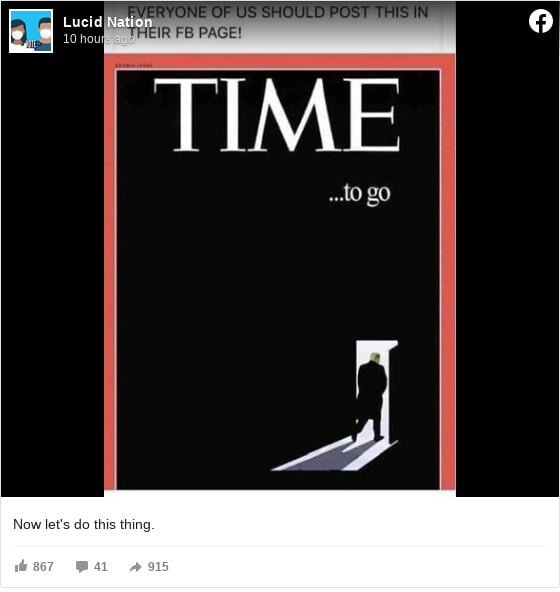 (Source: Facebook screenshot taken on Tue Nov 3 23:01:24 2020 UTC)
Under the iconic Time logo appears "...to go." Near the bottom of the page is what seems to be a rear view image of Trump walking through a doorway.
A variation of this meme was popular online back in May and June. Election Day seems to have refueled interest, including for Lucid Nation, whose Facebook page says, "our main goal is to provide clear-headed analysis and insights that help cut through the clutter of today's politcal and cultural news."
The comments under the post suggested that several viewed the doctored magazine cover as satire. One commenter posted what he described as a "tweaked" version of the cover. "Time to Go" was followed by "to prison."
An archive of Time covers appear on TheVault page of time.com. The meme is not included among them. The meme does not contain a date of the supposed issue, offering another clue that it is a fake.