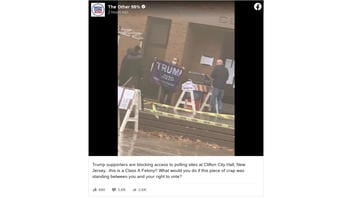 Is this Trump supporter blocking a polling site at City Hall in Clifton, New Jersey, and would doing so be a "Class A Felony"? No, neither claim is true: The voter holding the Trump flag up was not blocking any polling site. And if he were, it would not be a "Class A Felony" because in the state of New Jersey felonies are categorized by degrees, not letters.
The claim appeared in a Facebook post (archived here) where it was published by the page "TheOther98" on Election Day, November 3, 2020. The caption read:
Trump supporters are blocking access to polling sites at Clifton City Hall, New Jersey...this is a Class A Felony!! What would you do if this piece of crap was standing between you and your right to vote?
This is what the post looked like on Facebook at the time of writing:
(Source: Facebook screenshot taken on Tue Nov 3 16:42:59 2020 UTC)
This photo was taken on Sunday, November 1, 2020, not two days later on Election Day, according to Clifton City Hall administrators and local authorities. What's more, the location where the man took this photo is not a voting location or an early voting location, it's a ballot drop box location. On Sunday, the man in the photo voted at the drop box and then snapped a photo with his "Trump 2020" flag, according to Detective Lt. Bobby Bracken of the Clifton police department. Bracken said his department also verified those details with City Hall surveillance footage that told the same story.
The man in the photo was reported to police by a woman in her car at City Hall at the time. "A female witness observed a male party holding a Trump flag in front of a ballot box, never exited her vehicle, did not approach the person," said Bracken.
If this man were doing what the Facebook post wrongly claims -- standing in front of a voting location with a Trump 2020 flag blocking access -- it would not be a "Class A felony." In New Jersey, "Class A" felonies do not exist. "We don't have a category known as Class A," said Stuart Green, a professor of criminal law at Rutgers Law School in New Jersey. Rather, felonies are categorized by degrees, such as "first degree."
If someone were to block the entrance to a polling station it would fall under Title 19 and likely be classified as a third-degree crime in New Jersey. NJSA 19:34-6 reads:
Prohibited actions in polling place on election day; exception for simulated voting

a. If a person shall on election day tamper, deface or interfere with any polling booth or obstruct the entrance to any polling place, or obstruct or interfere with any voter, or loiter in or near the polling place, or, with the purpose to obstruct or interfere with any voter or to unduly delay other voters from voting, spend an inordinate amount of time in the polling booth, or do any electioneering within any polling place or within one hundred feet thereof, he shall be guilty of a crime of the third degree.


If the person is waving partisan items near the polling station it could be tried as a "disorderly persons offense," a misdemeanor that carries up to 6 months in prison or fine of up to $1,000, according to NJSA 19:34-15:
Electioneering within or about polling place; disorderly persons offense

If a person shall distribute or display any circular or printed matter or offer any suggestion or solicit any support for any candidate, party or public question within the polling place or room or within a distance of one hundred feet of the outside entrance to such polling place or room, he shall be guilty of a disorderly persons offense.
The report remains under investigation as a "suspicious act," according to police. But there's no indication that the man in the photo will be charged with any of the above crimes, as he was not blocking a voting location.