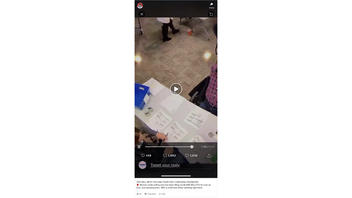 Do viral videos shot in Delaware County, Pennsylvania, show election workers committing voter fraud by filling in blank ballots? No, that's not true: Workers were copying information from damaged ballots onto clean ones to make sure the votes could be counted correctly, according to local election officials. They said the video "does not give the full picture of the process."
The video appeared in a Facebook post (archived here) on November 5, 2020. The post read:
THE HELL WITH YOU AND YOUR FACT CHECKING FACEBOOK!




Woman inside polling area has been filling out BLANK BALLOTS for over an hour, and stamping them. With a uniformed officer standing right there.
This is what the post looked like at the time of writing:
(Source: Facebook screenshot taken on Fri Nov 6 15:34:07 2020 UTC)
The video in the post was edited from a livestream of the counting of ballots. It was cropped to exclude observers, according to a statement provided by Delaware County election officials. The statement read:
Manipulated video has been circulating online purporting to show Delaware County election staff fraudulently filling in blank ballots. The video was taken from the official live stream provided by Delaware County, however, the circulated video is zoomed in to crop out the surrounding area, including the bipartisan observers who were not more than six feet away and does not give the full picture of the process.
The statement went on to describe exactly what was happening in the video, which showed two poll workers sitting across from each other at a table. One of the workers appeared to be using a pen to bubble in ballots. The statement read:
During the processing of ballots, a machine extractor opens the ballots. Some ballots were damaged by the extractor during this process in such a way that the ballots could not be scanned successfully. According to the scanner manufacturer, Hart, the best practice to deal with damaged ballots that cannot be scanned is to transcribe the votes on each ballot to a clean ballot and scan the clean ballot. In accordance with that guidance, the Chief Clerk of the Delaware County Bureau of Elections instructed elections staff to manually transcribe the damaged ballots. As ballots were being transcribed, the original damaged ballots were directly beside the new ballots and bipartisan observers witnessed the process at close range. Damaged ballots have been preserved.
Other examples of the video can be seen here and here. And here are screenshots from other videos: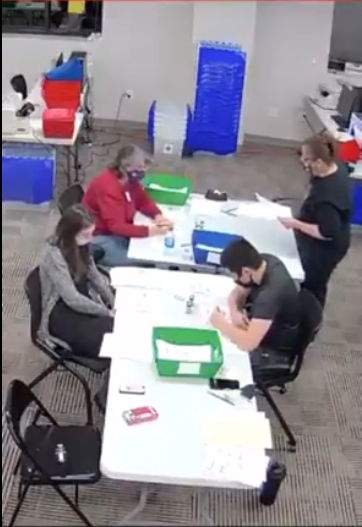 Long story short, election workers were transferring information from damaged ballots onto clean ones so that the ballots could be scanned. This work was done under the watch of bipartisan observers. The poll workers were not committing fraud.