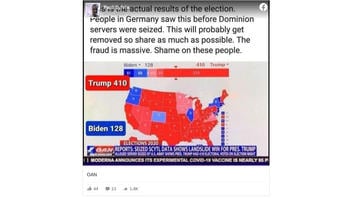 Do "actual results of the election" show Donald Trump winning the Electoral College with 410 electoral votes to Joe Biden's 128 votes? No, that's not true: December 8, 2020, was the deadline for states to certify their 2020, election results. Based on those official tallies, Biden is projected to win with 306 electoral votes to Trump's 232 when the Electoral College meets December 14, 2020. A candidate must receive at least 270 electoral votes to win the presidency.
The claim was made in a Facebook post (archived here) published, December 8, 2020, which began "This is the actual results of the election." It continued.
People in Germany saw this before Dominion servers were seized. This will probably get removed so share as much as possible. The fraud is massive. Shame on these people.
This is what the post looked like on Facebook at the time of writing:
(Source: Facebook screenshot taken on Wed Dec 9 20:05:08 2020 UTC)
The Facebook post includes a map of the United States, purportedly showing the states that Biden and Trump each won and includes the logo of One America News Network, a conservative cable news outlet. The map is mostly colored red, depicting what would have been a Republican landslide. Most of the key battleground states in the 2020 presidential election, including Pennsylvania, Georgia and Arizona, are shaded red. However, Biden won each of these states, according to the Certificates of Ascertainment that Pennsylvania, Georgia and Arizona have filed. Held in the National Archives, they include the final count candidates received, measured in Electoral College votes.
Though the Electoral College vote won't occur until December 14, 2020, the deadline for states to file Certificates of Ascertainment is at least six days before. This is often referred to as the "safe harbor" deadline. The "Electoral College Timeline of Events" section of the National Archives and Records Administration, or NARA, website explains why states must certify their election results days before the electors' actual vote for president. The Office of the Federal Register, or OFR, is part of the National Archives, and "coordinates certain functions of the Electoral College between the States and Congress," but has no role in appointing electors. Here is the reason for December 8, 2020 deadline:
States must make final decisions in any controversies over the appointment of their electors at least six days before the meeting of the electors. This is so their electoral votes will be presumed valid when presented to Congress. Decisions by States' courts are conclusive, if decided under laws enacted before Election Day.
The Facebook post also claims that "people in Germany" saw election results showing that Trump had won the Electoral College before "Dominion Servers were Seized." The reference is to Dominion Voting Systems. A Lead Stories fact check, here, found no basis for the claim tht Dominion operated servers in Germany, nor that they had been seized.