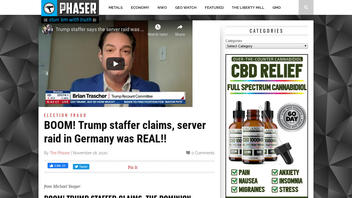 Did a Trump staffer confirm that a computer server belonging to Dominion Voting Systems containing all of the U.S. votes was seized by the U.S. in Germany? No, that's not true. The person who was purportedly a "Trump staffer" who made the claim is a Louisiana lobbyist who has held volunteer posts with the Trump campaign, but was not employed by the campaign or the White House. There was no such raid, according to Dominion, which said it does not even have servers in Germany. U.S. cybersecurity chief Chris Krebs, before he was fired, similarly said that election-related servers were not seized in Europe.
The claim appeared in a post (archived here) published by The Phaser on November 18, 2020. Titled "BOOM! Trump staffer claims, server raid in Germany was REAL!!" the post included a clip from Newsmax that highlighted an interview with Brian Trascher, identified as being with the "Trump Recount Committee." He said:
Now that we have seized the servers for Dominion that were over in Germany and we're starting to get some raw data off of that ... The things that are going to come out are going to shake the globalists to their very core.
Users on social media saw this title, description and thumbnail:
Dominion has said that such a seizure of servers never happened. In a statement on its website, the company said:
There have been no 'raids' of Dominion servers by the U.S. military or otherwise, and Dominion does not have servers in Germany. CISA has refuted this claim on Twitter, and the U.S. Army has also confirmed to the Associated Press that it's false.
CISA is short for the Cybersecurity and Infrastructure Security Agency, which -- until recently -- was led by Krebs. He was fired by President Donald Trump after defending the security of the 2020 presidential election. Before he was let go, Krebs tweeted about the server story. He posted:
Quick Election Security Disinfo Debunker: election-related servers WERE NOT recently seized in Europe by the US Army contrary to #disinfo rapidly spreading across social media. Don't buy it & think 2x before you share. #Protect2020 https://t.co/qfwP6CypXX pic.twitter.com/ikjU1Sls0t

-- Chris Krebs #Protect2020 (@CISAKrebs) November 15, 2020
Lead Stories reached out to Trascher, a New Orleans-based lobbyist, to ask how he knew about the alleged raid. During his interview with Newsmax, Trascher did not provide or cite any source. We will update this story, as needed, if we receive a response.
We also conducted a Google search on "Trump Recount Committee." The pages it turned up were those that mentioned Trascher's Newsmax interview.
A search of the FEC (Federal Election Commission) database of campaign payments in 2019-2020 revealed no payments to Trascher by the campaign or any committee.
Lead Stories has debunked various claims about Dominion since the election. Here are some of our latest stories: