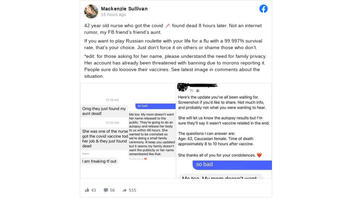 Was a nurse found dead only eight hours after she received the COVID-19 vaccine? This is an unsubstantiated rumor. There are no verified reports of a nurse who received the vaccine dying just hours later. This situation has been complicated by false reporting about the death of another nurse, which has conflated the two situations as one. Jennifer Lee McClung, a nurse from Muscle Shoals, Alabama, who worked at Helen Keller Hospital, died on Monday, December 14, 2020, from complications of COVID-19. The time frame of the two stories does not overlap. The distribution and administering of the first injections of the new Covid-19 vaccine to Alabama health care workers did not begin until the morning of Tuesday, December 15.
The claim appeared as a post (archived here) which included screenshots of other people's posts. Mackenzie Sullivan's December 15, 2020, post was based on what a Facebook friend's friend purportedly shared about the death of her unnamed aunt. The post caption read:
"42 year old nurse who got the covid found dead 8 hours later. Not an internet rumor, my FB friend's friend's aunt.
If you want to play Russian roulette with your life for a flu with a 99.997% survival rate, that's your choice. Just don't force it on others or shame those who don't."
This is what the post looked like on Facebook at the time of writing:
(Source: Facebook screenshot taken on Wed Dec 16 17:44:49 2020 UTC)
The person who originally made the screenshots and shared them on her Facebook timeline goes by Danielle Tyler. She has removed these original posts or changed the privacy so they are not visible to the public anymore. Tyler encouraged other people to copy her posts and share them as screenshots, that's what Sullivan had done here. The screenshots have been reposted by many people with a variety of unique captions.
What is the story here? Danielle Tyler is friends with another unnamed woman. This woman is the niece of a nurse who purportedly died just eight to 10 hours after receiving the new COVID-19 vaccination. From the original screenshot of the messaging conversation between Danielle Tyler and the niece, it was clear that the niece was crossing a boundary of family privacy. Tyler may have also been disregarding the confidential nature of that conversation by taking a screenshot and making it public, even if concealing the niece's name. One screenshot Tyler shared, the niece said:
Me too. My mom doesn't want her name released to the public. They're going to do an autopsy and release her body to us within 48 hours. She wanted to be cremated so we're doing a small family ceremony. I'll keep you updated but it seems my family doesn't...
The screenshot cuts off. Tyler posts the screenshot with this caption:
Here's the update you've all been waiting for. Screenshot if you'd like to share. Not much info, and probably not what you were wanting to hear.

She will let us know the autopsy results but I'm sure they'll say it wasn't vaccine related in the end.

The questions I can answer are:
Age: 42, Caucasian female. Time of death approximately 8 to 10 hours after vaccine.

She thanks all of you for your condolences.
Lead Stories reached out to the Alabama Department of Public Health to learn if they had any information about the situation reported in these secondhand screenshots. They investigated and replied:
Rumors and misinformation can easily circulate within communities during a crisis. There are multiple posts on social media reporting a death in Alabama of a recipient of the COVID-19 vaccine on 12/15/2020. The Alabama Department of Public Health (ADPH) has reached out to all the hospitals which administered the COVID-19 vaccine yesterday and confirmed there have been no deaths. The posts are untrue. No persons who received a COVID-19 vaccine in Alabama have died. Safety standards and post vaccine monitoring procedures are in place to ensure the health and well-being of vaccine recipients. Hospitals in Alabama continue to work diligently to protect the health and well being of frontline healthcare workers in their fight against this deadly virus.

Do your part to the stop the spread of rumors by doing three easy things:

- Find trusted sources of information.
- Share information from trusted sources.
- Discourage others from sharing information from unverified sources.

To find trusted sources, look for information from official public health and safety authorities. Federal, state and local government websites or social media accounts are good sources for instruction and information specific to your community. Visit our COVID-19 Vaccine page: go.usa.gov/x7Vym for information on finding credible, trusted vaccine information.
The Alabama Department of Public Health has updated its Twitter, Instagram and Facebook accounts with a warning about this rumor:
THREAD: Rumors & misinformation can easily circulate within communities during a crisis. Pictured is an example of a rumor or misinformation we have seen recently. There are multiple posts on social media reporting a death in Alabama of a recipient of the COVID-19 vaccine... 1/6 pic.twitter.com/Q3vPI5j8cs

-- Alabama Public Health (@ALPublicHealth) December 16, 2020
On December 15, 2020 a blogger "dxv515", who runs at least 12 blogs, took one of Danielle Tyler's screenshots and a true story from the Alabama news, and rolled the two together into a very confusing and false narrative. The story, titled, "Covid Vaccine Shot Turns Into Killshot: Alabama Nurse Jennifer Lee McClung, 54, of Muscle Shoals, DIES After Taking Covid Vaccine At Helen Keller Hospital" has been posted on two of the blogs. The blogs are titled: Sins That Cry To Heaven For Vengeance (archived here) and The Follies of Distributism (archived here).
This is what the blog looked like at the time of this writing:
(Source: Screenshot 12/16/2020 12:36 EST)
The blog has been updated with a small clarification that reads:
16 DECEMBER 2020 UPDATE:

Looks like the nurse didn't die from a covid-19 vaccine.

The covid-19 vaccine will not be administered at the Helen Keller Hospital until 17 DECEMBER 2020
A nurse who worked for 21 years at Helen Keller Hospital in Sheffield has died from complications of COVID-19.

Jennifer Lee McClung, 54, of Muscle Shoals, died on Monday.

One friend on social media said she would be missed "indescribably." Another paid tribute to her, saying she "absolutely lit up ANY room when she walked in, but you would hear her before you saw her (that laugh)."

A memorial service is scheduled for 4 p.m. Wednesday at Morrison Funeral Home in Tuscumbia.