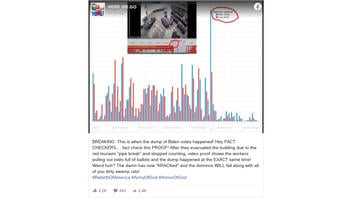 Did a "pipe break" on Election Day force evacuation of the Fulton County, Georgia, vote-counting center at the same time that "totes full of ballots" were "dumped"? No, that's not true. A pipe leak in Atlanta's State Farm Arena happened "around 6 a.m." on Tuesday, November 3, 2020, and delayed the start of absentee ballot counting for about two hours, according to election officials. But the ballot counting Donald Trump's campaign alleged was conducted without monitors present happened more than 16 hours later, after 10:30 p.m. Lead Stories has previously debunked the claim that there was an illegal ballot dump that night.
The claim appeared in a post (archived here) shared on Facebook on December 4, 2020, featuring a graph that purportedly showed a spike in votes for Joe Biden in the first minutes of the next day. The text read:
BREAKING: This is when the dump of Biden votes happened! Hey FACT CHECKERS.....fact check this PROOF! After they evacuated the building due to the red tsunami "pipe break" and stopped counting, video proof shows the workers pulling out totes full of ballots and the dump happened at the EXACT same time! Weird huh? The damn has now "KRACKed" and the dominos WILL fall along with all of you dirty swamp rats!
#RebirthOfAmerica #ArmyOfGod #ArmorOfGod
This is what the post looked like on Facebook at the time of writing:
(Source: Facebook screenshot taken on Sat Dec 5 17:57:58 2020 UTC)
Georgia law allowed county election workers to start counting absentee ballots the morning of Election Day as polling places opened around the state. Fulton County located its counting operation in a suite at the State Farm Arena in downtown Atlanta. The first work of cutting open mailed-in ballot envelopes and verifying them was delayed by two hours because of a pipe leak near the counting center. The plumbing issue got a lot of media attention, some of it inaccurate. This led the Fulton County elections office to tweet a "clarification":
Clarification Regarding a plumbing incident affecting absentee ballot processing: Around 6 am on Nov 3, a pipe burst in the room at State Farm Arena where absentee ballots were processed. Arena staff swiftly completed repairs. Work resumed in approx 2 hours. Most importantly: No ballots or equipment were damaged during this incident.
-- FultonCountyGeorgia (@FultonInfo) November 6, 2020
The lead raised suspicions among Trump supporters, especially when it appeared Biden was winning the state by just a few thouands votes. The "evacuation" of the vote-counting center was eventually conflated with the evening dismissal of election workers and the simultaneous departure of the media and campaign observers at about 10:30 p.m. that Tuesday night. The two events were separated by at least 16 hours.
Lead Stories debunked the claims that something illegal happened when election workers continued scanning ballots in the late hours of Tuesday and early morning of Wednesday. Our article titled Fact Check: Video From Georgia Does NOT Show Suitcases Filled With Ballots Suspiciously Pulled From Under A Table; Poll Watchers Were NOT Told To Leave included an interview with the chief investigator for the Georgia secretary of state. Frances Watson said her investigation did not find evidence that Trump observers were told to leave the vote center, nor were they prevented from returning:
Nobody told them to stay. Nobody told them to leave. Nobody gave them any advice on what they should do. And It was still open for them or the public to come back in to view at whatever time they wanted to, as long as they were still working.