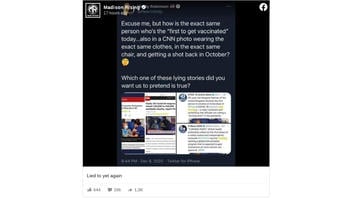 Was the first person to get the Pfizer/BioNTech vaccine in Britain also pictured getting a COVID vaccine back in October? No, that's not true: The prior date appears near an image of the historic vaccination because of the way CNN's website surrounds each article with related content, whether new or old. The first person to get the Pfizer vaccine in Britain as a part of the nationwide inoculation campaign was 91-year-old Margaret Keenan and she received the shot on December 8, 2020. There is no October report on her receiving the vaccine.
The claim appeared in a Facebook post (archived here) where it was published by "Madison Rising" on December 9, 2020 with the caption "Lied to yet again." The screenshot included in the Facebook post opened:
Excuse me, but how is this the exact same person who's the "first to get vaccinated" today...also in a CNN photo wearing the same exact clothes, in the exact same chair, and getting a shot back in October?
This is what the post looked like on Facebook at the time of writing:
(Source: Facebook screenshot taken on Thu Dec 10 14:13:18 2020 UTC)
Keenan is pictured on December 8, 2020 in the blue shirt in the Facebook post. So why did that same video of Keenan appear with an October date above it? This is a feature of CNN's website, but it does not mean that the video of Keenan is from October. When users find an article or video on CNN's site, related articles or video clips from months ago or today are automatically displayed nearby and that is exactly what happened here.
The Facebook post features an October 22, 2020 article by CNN's Maggie Fox with the headline "Faulty US Covid-19 response meant 130,000 to 210,000 avoidable deaths, report finds" which can be partially seen in the Facebook post. Below Fox's byline and the date, there is a series of other video clips users can toggle through.
You can test it out on your own device and see that there is nothing nefarious going on with Keenan and the COVID vaccine. First, click here to read Fox's article. Then scroll down a little bit to where the series of video clips appear. Click through those clips until you reach the clip titled "William Shakespeare among first Britons to receive coronavirus vaccine." (William Shakespeare is the actual name of the 81-year-old man who was second to get the vaccine on December 8, 2020.) Once you start that video, a clip recorded on December 8 of Keenan in her blue "Merry Christmas" shirt will start. Lead Stories reproduced the same screenshot that is featured in the Facebook post: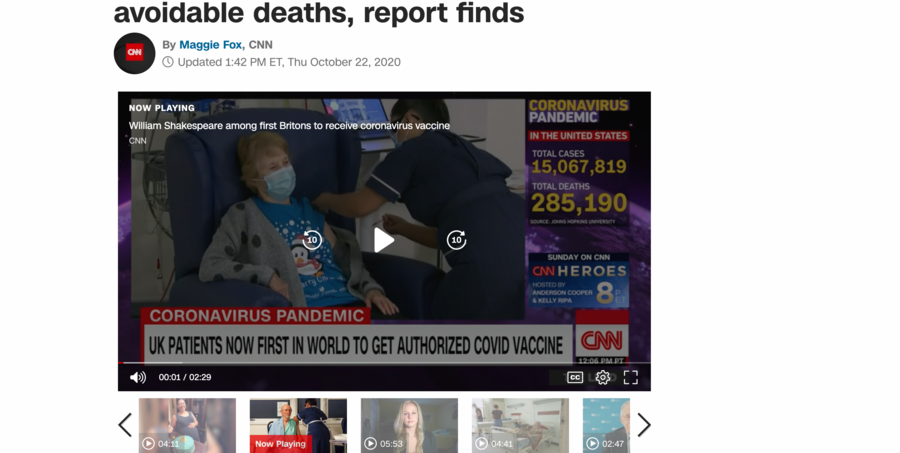 Additionally, there were not 285,00 coronavirus deaths in the U.S. on October 22, further proving that this video is not from October, but from December.