STORY UPDATED: check for updates below.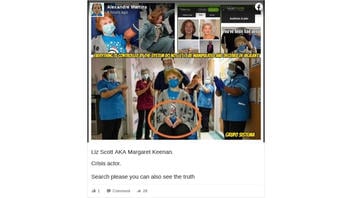 Did the United Kingdom's National Health Service hire a "crisis actor" to play the part of the first person to receive Pfizer's approved COVID-19 vaccine? No, that's not true: A visual comparison of the Irish granny who got a needle in the arm at University Hospital in Coventry, England, on December 8, 2020, and the person conspiracy theorists say was hired to play the part reveals few similarities other than gender and hair color. Both Yandex and Google's image search tool, whose algorithm takes measurements of prominent features, background details and context to search billions of images from the internet, did not match the two faces. Matron May Parsons, who administered the vaccine confirmed Keenan is how she was said to be. And a UK journalist whose paper covered the event said journalists verified Margaret Keenan's authenticity by talking to her, talking to her family and neighbors and by visiting her home.
The claim originated in a meme tweeted on December 9, 2020 (archived here). It opened "Liz Scott AKA Margaret Keenan"
It continued:
Crisis actor.
Search please you can also see the truth. You've been had people
This is what the post looked like on Facebook at the time of writing:
(Source: Facebook screenshot taken on Wed Dec 9 23:09:15 2020 UTC)
The meme includes a headline: "EVERYTHING IS CONTROLLED BY THE SYSTEM DO NOT LET IT BE MANIPULATED AND DECEIVED BY DE VIGILANT!
Matron May Parsons, who is identified in Associated Press reports as the nurse giving the vaccine, responded to a Lead Stories inquiry via LinkedIn as follows: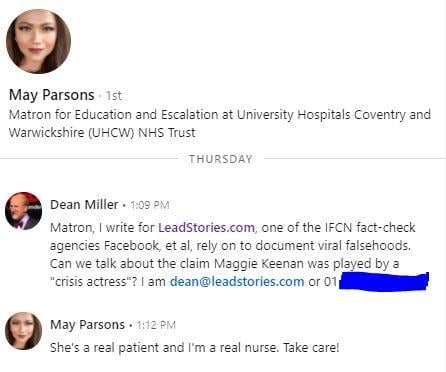 If a social media user searches, as directed in the claim, to "see the truth" as predicted, it is impossible to conclude there is enough evidence to support the claim that it was Liz Scott posing for cameras when the first shot was given, not 90-year-old. Margaret Keenan
Here is a photo, seen in several UK newspapers, of the Keenan, the elderly woman given the vaccination on camera as part of the National Health Service push to encourage people to get vaccinated.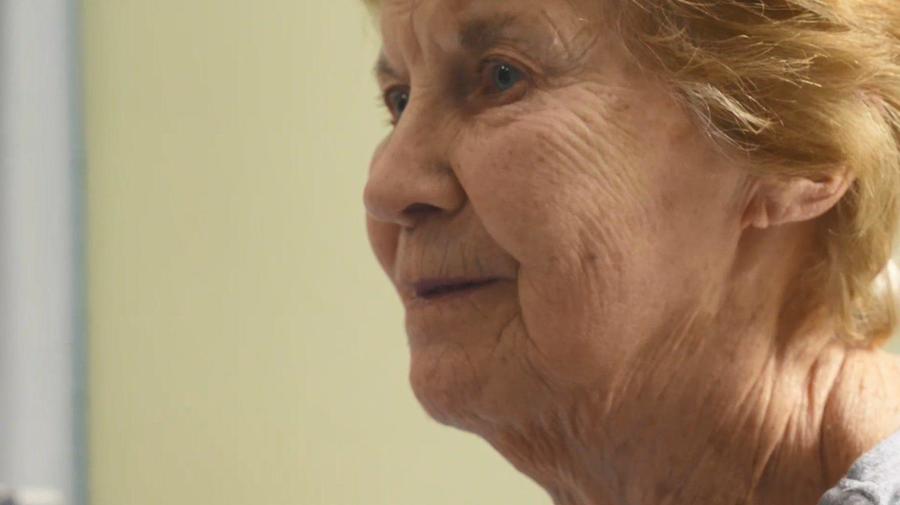 (Source: India.com screengrab Tue Dec. 10 02:45 UTC 2020)
And here is a photo of Keenan, who lives in England with her family, receiving her shot.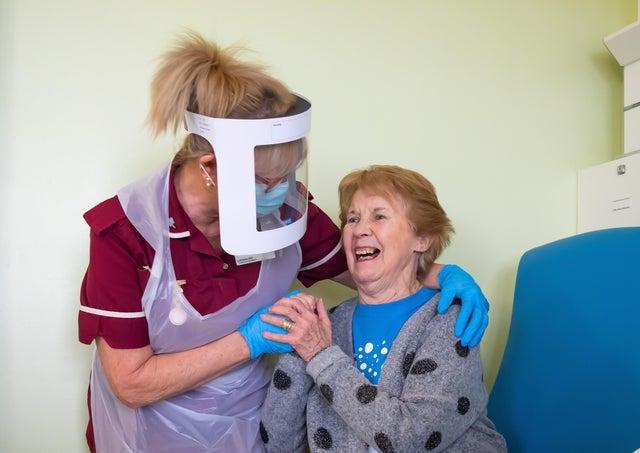 (Source: Belfast News Letter screengrab Tue Dec. 12:00 UTC 2020)
Scott lists no experience whatsoever, even "crisis actor" experience playing parts for first-responder disaster training. Keenan's ears don't appear to be pierced. The two women's jaws are not the same shape. Keenan's nasolabial folds are pronounced, while Scott's are not. Keenan has pronounced wrinkles under her jaw and on her neck. Scott does not and her windpipe is pronounced while Keenan's is not.
There is also a dramatic difference in the teeth, shown in this close-up: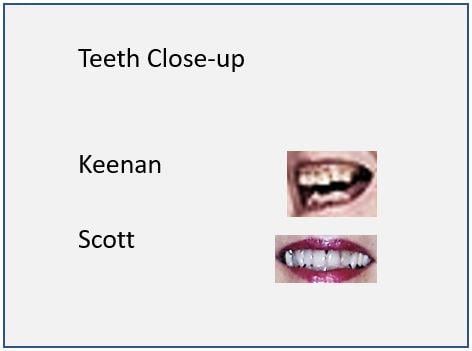 Following is a photo, from would-be actor Liz Scott's portfolio on StarNow.com, a talent service for extras, actors and other performers who do not have an agent.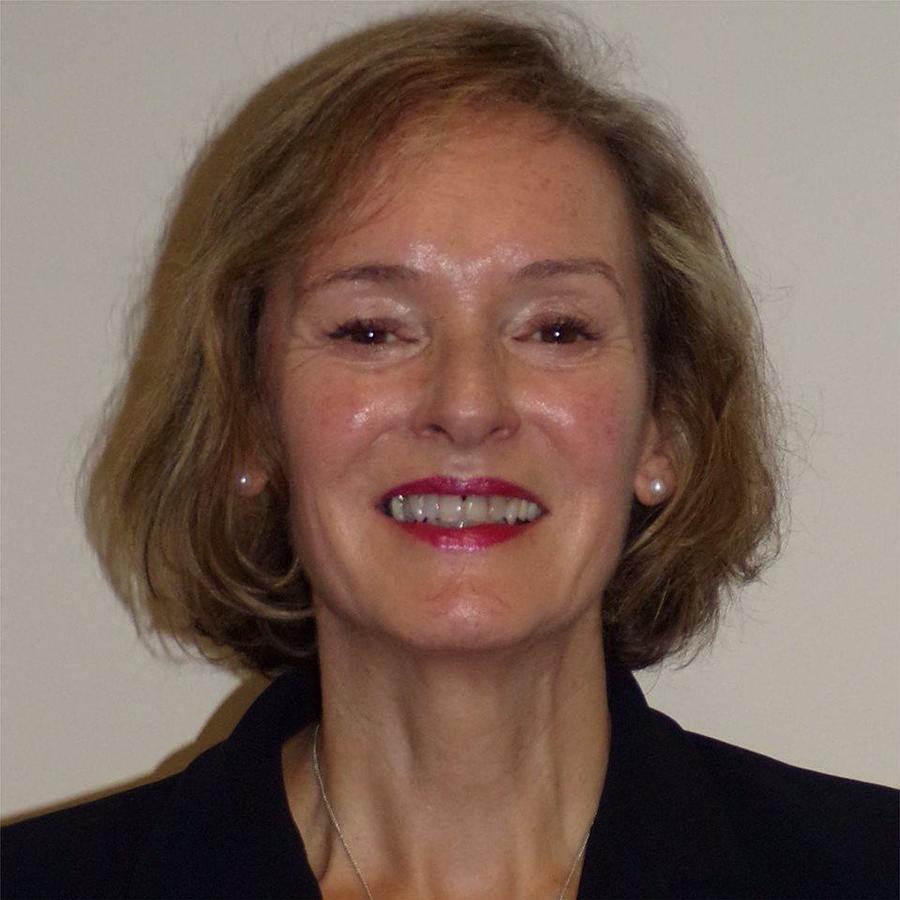 (Source: India.com screengrab Tue Dec. 10 02:45 UTC 2020)
Lead Stories uploaded the photo of Scott to Google Image Search and found no images that match the many photos taken at the University Hospital event, of which there are several in Google's image database. It should be noted the related images found seemed more related by context than by facial recognition elements.
The collage of "related images" returned from the Scott search did include images of several famous screen actresses. Here is that collage: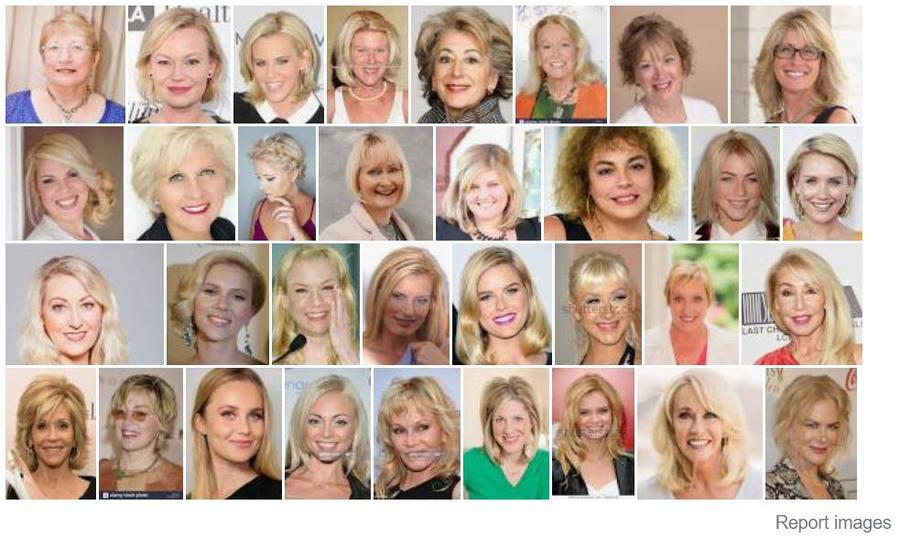 Lead Stories uploaded the photo of Keenan to Google Image Search and found no photos of Scott, of which there are several on the world wide web.The collage of "related images" returned from the Keenan search includes two of the photos of her from news coverage and no crisis scenes nor any image related to Scott's efforts to find work as a film extra or model through StarNow. Here is that collage: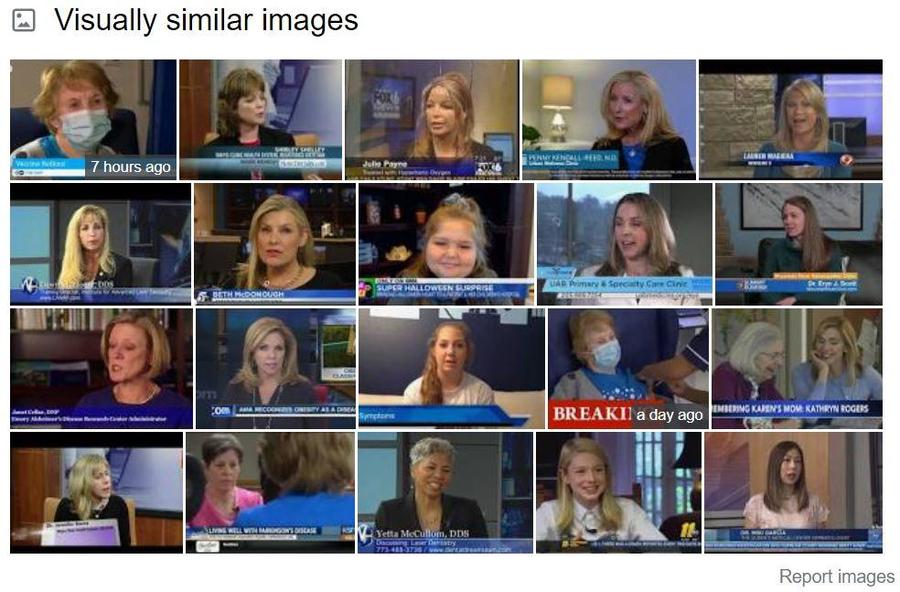 Lead Stories uploaded the images to Tin Eye, another photo search service, and found no match between the two faces.
Contacted by email, a journalist at The Sun, which covered the Keenan vaccination, declined to be quoted by name, citing his newspapers policy of leaving that to its PR team, but said the volume of coverage by radio, TV, print and online reporters was enormous and clearly established her authenticity:
She is 100 percent a real person. She and her family have spoken to various media outlets and there are loads of pics of her out there if you Google. Journalists have also been to her home. The whole theory is batshit crazy.
Video of the ballyhooed event, in which one would be unlikely to mistake the 90-year-old grandmother, looked like this on the website of The Guardian newspaper:
Lead Stories will update this fact-check, if appropriate, when we hear back from any of the following, all of whom we reached out to on December 9, 2020, using email, LinkedIn, Twitter, Facebook or website contact forms:
StarNow online talent agency and its client, Liz Scott;
Guardian reporter Jessica Murray, who covered the event;
Associated Press photographer Steve Parsons, who photographed the event;
University Hospital in Coventry;
The U.K. National Health Service;
University Hospital Matron (nurse educator) May Parsons, who administered the vaccine.
2020-12-17T00:10:23Z

2020-12-17T00:10:23Z

Updated to include verification of Keenan's authenticity by vaccine nurse.

2020-12-10T18:26:56Z

2020-12-10T18:26:56Z

Updated to add close-up comparison of Margaret Keenan and Liz Scott's teeth.