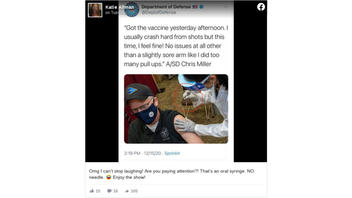 Is the Department of Defense photo of Acting Secretary of Defense Chris Miller getting a COVID-19 vaccination faked with a blunt oral syringe instead of a needle-tipped syringe? No, that's not true: Although the needle on the syringe is difficult to see against the background in the photo the Department of Defense posted on Twitter, a needle is clearly visible in other images of the moment captured from other angles.
The screenshot of the Department of Defense tweet appeared in a post (archived here) on Facebook on December 15, 2020, with the caption, "Omg I can't stop laughing! Are you paying attention?! That's an oral syringe. NO needle.
Enjoy the show!"
This is what the post looked like on Facebook at the time of writing:
(Source: Facebook screenshot taken on Thu Dec 17 20:15:23 2020 UTC)
The text of the original Department of Defense tweet used in the post read:
"Got the vaccine yesterday afternoon. I usually crash hard from shots but this time, I feel fine! No issues at all other than a slightly sore arm like I did too many pull ups." A/SD Chris Miller
The caption added in the Facebook post implies that the vaccination was faked.
But this December 15, 2020, Bloomberg Quicktake video, "U.S. Defense Chief Chris Miller Receives Pfizer's Covid-19 Vaccine" shows another angle of the injection. At the :20 mark in the video, the needle on the syringe is clearly visible, as seen in the screenshot below.
(Source: video screenshot Bloomberg Quicktake: Now)