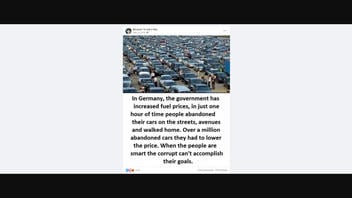 Did people in Germany protest against higher gas prices by abandoning their cars in the streets? No, that's not true: The photograph supporting the claim shows a traffic jam in Shenzhen in the Guangdong Province of China in 2012, and not a protest in Germany. While gas prices in Germany increased significantly on January 1, 2021, due to a newly introduced carbon tax, there are no reports that the price hike has led to protests.
The claim has been circulating for over two years and has reappeared in a Facebook post (archived here) originally published on May 25, 2018. The post consists of a photo showing a highway with at least 12 lanes visible full of stopped cars and people leaving their vehicles. The text reads:
In Germany, the government has increased fuel prices, in just one hour of time, people abandoned their cars on the streets, avenues and walked home. Over a million abandoned cars they had to lower the price. When the people are smart the corrupt can't accomplish their goals.
This is what the post looked like on Facebook at the time of writing:
(Source: Facebook screenshot taken on Mon Jan 4 17:54:28 2021 UTC)
The number of highway lanes in the photograph indicates that the picture was not taken in Germany. Most German highways have three lanes per direction; roads with more than 12 lanes as shown in the picture do not exist in Germany.
The photo was first used in 2012 in the British newspaper The Telegraph to document a massive traffic jam in the Chinese city of Shenzhen on October 1, 2012. The gridlock occurred when highways were made toll-free at the beginning of China's "Golden Week" holiday and thousands of travelers took advantage of the free road travel.
The last time Germans blocked the roads to protest an increase in gas prices was in 2000, when the so-called Eco-Tax was introduced by the Social Democratic government under Gerhard Schröder. At the time, thousands (not a million, as the post claims) of farmers and truck drivers blocked the roads in the capital Berlin with their vehicles. This did not, however, result in any policy changes, and the tax remained in place.