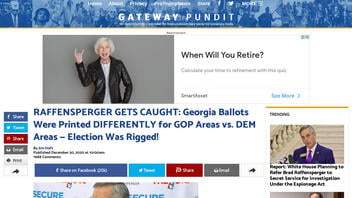 Were ballots used in Republican areas of Georgia different from ballots used in Democratic areas of the state, resulting in a rigged election? No, that's not true: A purported elections expert -- who the Georgia secretary of state's office described as a "failed treasure hunter" -- claimed that since ballots have a unique bar code for each precinct, that "caused GOP votes to get kicked out" by voting machines. There is no logic to this considering voting machines do not count ballots. The Fulton County elections chief, whose county was used as an example in the claim, said of course each precinct has a different bar code to identify it. Ballots for each precinct are different since the slates of candidates in local races are unique to each area, but there is no way for a machine to know if a voter is a Republican or a Democrat.
The claim appeared in an article (archived here) published by The Gateway Pundit on December 30, 2020, under the title "RAFFENSPERGER GETS CAUGHT: Georgia Ballots Were Printed DIFFERENTLY for GOP Areas vs. DEM Areas -- Election Was Rigged!". It opened:
Members of Georgia's Senate Judiciary Subcommittee on Elections and members of the Senate Judiciary Committee held a hearing to study Georgia's Election Laws, and the numerous voting irregularities in the 2020 presidential election.

The hearing comes after a Senate subcommittee held a hearing last week at the capitol to discuss perceived voting irregularities in November's presidential election. During the hearing witness Jovan Pulitzer was invited to testify on the irregularities in the November 3rd election.
This is what social media users saw at the time of writing:
The article continued:
Jovan Pulitzer is a brilliant inventor and author best known for creating and patenting CRQ and has founded companies that included seed investment rounds ranging from $1.6m to over $250m.

Joe Hoft wrote about this brilliant man first here at The Gateway Pundit.
While the Gateway Pundit author characterized Pulitzer as "a brilliant inventor," the Georgia secretary of state's office issued a statement calling him "failed inventor and failed treasure hunter J. Hutton Pulitzer" and noting that he changed his name from J. Jovan Philylaw to Pulitzer:
Hutton Pulitzer was the inventor of CueCat, a cat shaped device that, when connected to the computer, allowed users to scan barcodes on ads that would bring up the website where they could purchase the advertised product. The device attracted $185 million in investment before becoming "an anathema of the tech industry and a cautionary tale for investors." In 2006, is was listed as one of the "25 worst tech products of all time" by PC World magazine.

Hutton Pulitzer later became a treasure hunter, searching unsuccessfully for the Ark of the Covenant and later claiming that a sword, that was likely a fake, not only had "'magical' magnetic properties" but was also a sign that ancient Romans had visited North America by 200 A.D.

His published work is comprised largely of "Commanders Lost Treasures" books, a separate one for many states in the U.S., and includes "How to Cut Off Your Arm and Eat Your Dog."
The Gateway Pundit reported:
On Tuesday Jovan Pulitzer revealed the differences between ballots printed for Democrat precincts versus Republican precincts.
The Republican precincts had a barcode up in the right-hand corner.

The votes from two different areas are printed differently. This caused GOP votes to get kicked out by the Dominion machines.
This is the image of the bar codes that Pulitzer said proved voter fraud: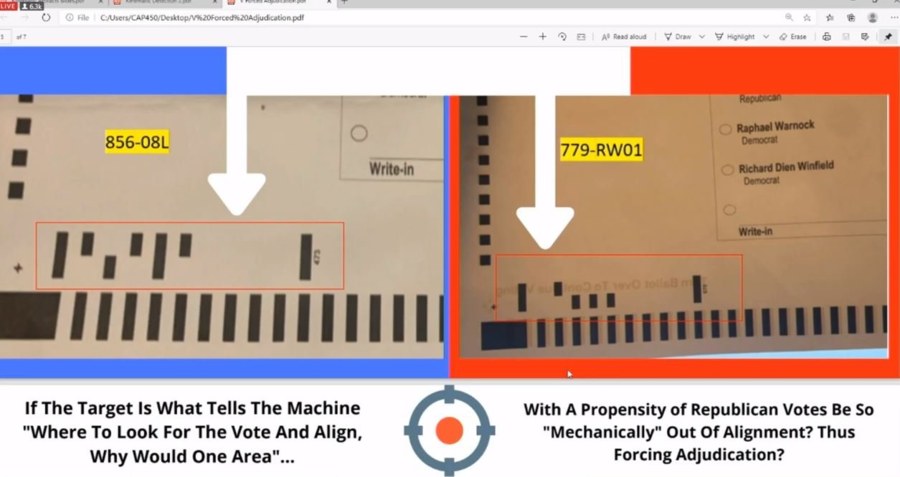 Rick Barron, who is the election director in Fulton County, said the image only shows the expected:
It's going to be different marks because they are different precincts.
Bar codes are inherently different, since they identify the precinct. It is not a system for rigging the election so Republican ballots are rejected:
There is no way for the machines to know that one is a Republican voter versus a Democratic voter.
NewsGuard, a company that uses trained journalist to rank the reliability of websites, describes thegatewaypundit.com as:
A partisan conservative website that regularly publishes hoaxes, conspiracy theories, and unsubstantiated claims, including those related to the COVID-19 pandemic.
According to NewsGuard the site does not maintain basic standards of accuracy and accountability. Read their full assessment here.