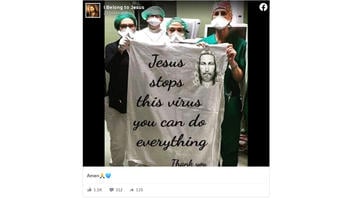 Did a viral photo of doctors and nurses in Italy, who were treating COVID-19 patients, show them holding up a sign, which begins "Jesus Stops this Virus"? No, that's not true: The sign doctors and nurses are holding in the original photo, on which this altered version is based, begins "Help us Stay at home," according to Google Translate.
The claim appeared in a Facebook post (archived here) published January 17, 2021, under the title "Amen
". The post shows a small group of medical workers wearing masks, who appear to be in a hospital, holding up a bed sheet, on which is written:
Jesus stops this virus

you can do everything

Thank you
This is what the post looked like on Facebook at the time of writing:
(Source: Facebook screenshot taken on Mon Jan 18 18:00:11 2021 UTC)
The Facebook post offers no context for the photo. However, the photo in the post is clearly an alteration of the photo that ran March 15, 2020, with an article on the Italian news website inews24.it The message on the bed sheet the medical professionals are holding says in Italian, "Help us Stay at home. We can't," according to Google Translate. The Italian news story focuses on doctors, nurses and other medical staff appealing for people to abide by stay-at-home orders in an effort to stem the spread of the virus that causes COVID-19. At that time, infection rates were very high in Italy. This is what a paragraph of the story says, according to Google Translate:
[T]he viral photo of doctors and nurses is also the image of Italy at the moment. Only if everyone manages to row on the same side will we be able to get out of the worst crisis of the last seventy years. And for this it is necessary that health professionals do their job. But also that citizens respect prohibitions and advice.
This is a very different message than the one being given in the altered photo in the Facebook post.