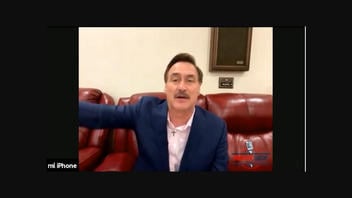 Does Mike Lindell's interview on alleged election fraud contain only factual and proven statements? No, that's not true: The interview with the MyPillow CEO is based almost entirely on a discredited report. As Lead Stories has already debunked that report, this fact-check does not focus on its content. Rather, we look at what Lindell said about the report -- namely that it is thousands of pages, includes latitude and longitude coordinates and was erased from the internet. There's no evidence any of those statements is true.
The interview between Lindell and Brian Glenn, with Right Side Broadcasting, was published as part of a Facebook post (archived here) on January 16, 2021. The post read:
Watch LIVE: My Pillow CEO Mike Lindell talks with our own Brian Glenn on what REALLY happened yesterday at his meeting at the White House with President Trump.
This is what the post looked like on Facebook at the time of writing:
The interview runs a little less than 30 minutes. It was recorded after Lindell visited the White House on January 15, 2021, and met briefly with President Donald Trump.
Lindell said he met Trump to share information about purported fraud in the 2020 election. He said at the start:
This proof came out, 100%, footprints from the machines of the machine fraud ... This media outlet released it.
Although he didn't specify what outlet he was referring to, it was clear from the interview that Lindell was talking about an article, published by The American Report, which claimed it had evidence China, Russia and others "hacked" the vote. The article appears to rely on screenshots from an anonymously registered website that appears to feature a crude forgery of election hacking data sheets.
Lead Stories has debunked that article. See our reporting here.
As we've already debunked the report, this fact-check does not focus on its content. Rather, we look at what Lindell said about it, starting with the statement that the report was erased from the internet. Lindell said:
This stuff got deleted off the internet.
While it's true that, as of January 18, 2021, theamericanreport.org is no longer an active link, copies of the article still can be found online. In fact, at the time writing, a screenshot of the article can be seen on Lindell's Twitter page.
Here are the pages of the machine voter fraud evidence that came out last week and the media including Twitter has tried to bury it! This is an attack on our country! pic.twitter.com/FhpNgNSda7

-- Mike Lindell (@realMikeLindell) January 16, 2021
During the interview, Lindell claimed that the report was "thousands of pages." The article published by The American Report included one page of purported data, showing dates, IP addresses and owners. It was the same page that Lindell later tweeted, along with a message that claimed it was "one page of hundreds."
There is no proof the report contains hundreds or thousands of pages. The evidence offered would support a statement that it's just one page.
Lindell also claimed that the report included coordinates pointing to China. He said:
It also has the latitude and longitude, like over in China, where this went over there, came back and it shows the number of votes flipped.
That's not true. The one page of purported data published by The American Report and retweeted by Lindell included IP addresses but no Graticule System geographic coordinates, as can be seen below.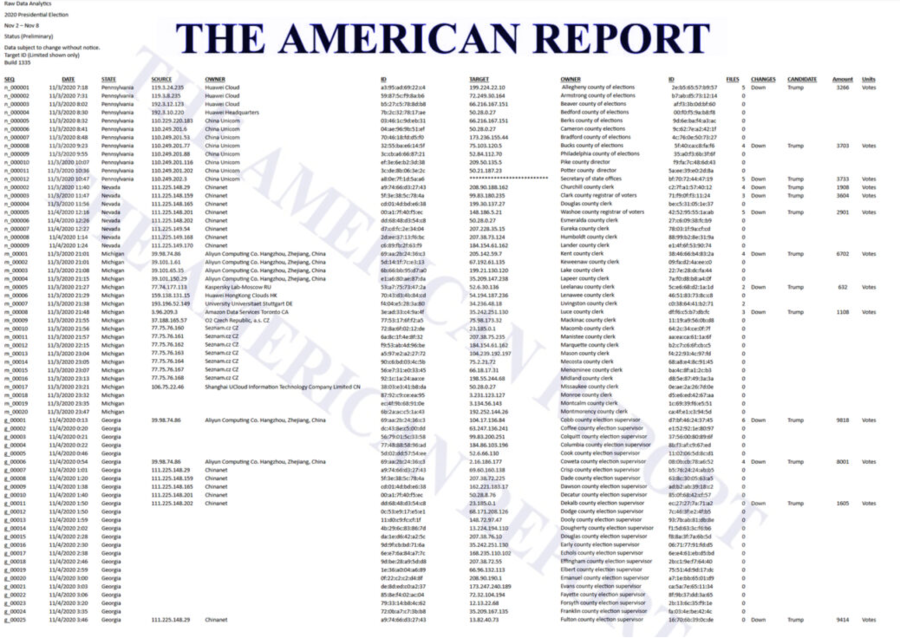 Although Lindell presented his claims as though they proved election fraud, they do not. His "proof" was based on a discredited report. At one point, Lindell said:
It's not like I'm some guy going out there and going, oh, you know what, I read something on the internet. No, I have spent millions of dollars, my time from November 4, every single day, going out, supporting experts to go dig up evidence, supporting lawyers that are out there.
The latter claim that he has spent millions and weeks on his effort to discredit the election may very well be true. But his claim that he's not a person who "read something on the internet," will have to be determined if something more than one page of likely-forged "data" is brought forward.
Lead Stories reached out to representatives of Lindell to seek comment for this story. We received a one-line reply, directing us to theamericanreport.org. As mentioned above, that site is no longer active.