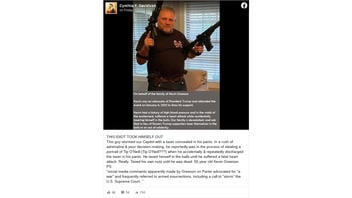 Did Alabama man Kevin Greeson die after accidentally tasing himself inside the U.S. Capitol during the January 6, 2021, insurrection? No, this claim is based on a fake statement purported to be from Greeson's family. The real family statement said he suffered a heart attack, and did not say it was triggered when he accidentally tasered "himself in the balls."
The claim appeared in a post (archived here) shared on Facebook on January 8, 2021. It featured a meme with the fake family statement and a text introduction that read:
THIS IDIOT TOOK HIMSELF OUT
This guy stormed our Capitol with a taser concealed in his pants. In a rush of adrenaline & poor decision-making, he reportedly was in the process of stealing a portrait of Tip O'Neill (Tip O'Neill???) when he accidentally & repeatedly discharged the taser in his pants. He tased himself in the balls until he suffered a fatal heart attack. Really. Tased his own nuts until he was dead. 55 year old Kevin Greeson.
This is what the post looked like on Facebook at the time of writing:
(Source: Facebook screenshot taken on Sat Jan 9 20:26:38 2021 UTC)
The text of the fake Greeson family statement read:
On behalf of the family of Kevin Greeson:
Kevin was an advocate of President Trump and attended the event on January 6, 2021 to show his support.
Kevin had a history of high blood pressure and in the midst of the excitement, suffered a heart attack while accidentally tasering himself in the balls. Our family is devastated, and ask that in lieu of flowers Trump supporters taser themselves in the balls in an act of solidarity.
The Greeson family did not issue that statement, but his wife did talk to the New York Times:
In an interview on Thursday, his wife, Kristi Greeson, said authorities contacted her afterward to say that her husband had died of a heart attack. Ms. Greeson said her husband, who was a father of five, had left home on Tuesday, spending the night in Virginia with a friend. She said her husband, who had high blood pressure, was excited to attend the rally, believing the election had been stolen.

"He felt like it was a monumental event in his mind," she said. "I didn't want him to go. I didn't feel like it was safe."
The same article said a New York Times reporter was on the scene as Greeson collapsed outside of the Capitol while talking on a cellphone with his wife, not inside the building while trying to steal a portrait of former House Speaker Tip O'Neill:
Mr. Greeson had been talking to his wife on his phone when he fell to the sidewalk. A New York Times reporter watched as emergency personnel rushed to help, furiously performing chest compressions, but were unable to revive him.