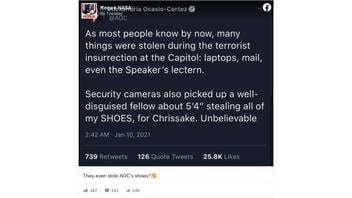 Did Rep. Alexandria Ocasio-Cortez, D-NY tweet that her shoes were stolen when the U.S. Capitol was invaded by rioters on January 6, 2021? No, that's not true: Ocasio-Cortez tweeted on her verified account that the Facebook post, was fake.The spoofer who created the image of a Tweet failed to include in it Twitter's blue checkmark that denotes verified accounts that are prone to hoaxes like this one.
The claim appeared in a post (archived here) published on Facebook January 12, 2021, sharing a January 10, 2021 Facebook post, which read:
As most people know by now, many things were stolen during the terrorist insurrection at the Capitol: laptops, mail, even the Speaker's lectern. Security cameras also picked up a well-disguised fellow about 5'4" stealing all of my SHOES, for Chrissake. Unbelievable.
This is what the post looked like on Facebook at the time of writing:
(Source: Facebook screenshot taken on Fri Jan 15 17:32:37 2021 UTC)
Rep. Ocasio-Cortez tweeted about the fake post on January 14, making it clear that her shoes weren't stolen when the U.S. Capitol was stormed. It read:
On a lighter note there was also another viral photoshopped tweet about my shoes () but also now ppl are asking if I need shoes no thanks. That was fake too!
On a lighter note there was also another viral photoshopped tweet about my shoes (😬) but also now ppl are asking if I need shoes 😭 no thanks. That was fake too!

Sometimes when people call me "extreme" I wonder how many fake Facebook stories/posts they've been exposed to

-- Alexandria Ocasio-Cortez (@AOC) January 14, 2021