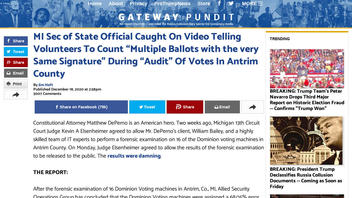 Were Michigan election officials caught on video forcing audit volunteers to count multiple ballots with the same signature and to count dubious ballots without asking questions? No, that's not true: In U.S. elections, ballots are not signed. The videos in question show Michigan elections staff insisting volunteers finish their task -- the audit that checks numbers of ballots against numbers of votes -- before raising non-arithmetic questions. Michigan officials note that none of the volunteers' questions were turned into formal challenges to the election results.
The claims appear in an article (archived here) published December 18, 2020 under the title "MI Sec of State Official Caught On Video Telling Volunteers To Count 'Multiple Ballots with the very Same Signature' During 'Audit' Of Votes In Antrim County." It read:
Constitutional Attorney Matthew DePerno is an American hero. Two weeks ago, Michigan 13th Circuit Court Judge Kevin A Elsenheimer agreed to allow Mr. DePerno's client, William Bailey, and a highly skilled team of IT experts to perform a forensic examination on 16 of the Dominion voting machines in Antrim County. On Monday, Judge Elsenheimer agreed to allow the results of the forensic examination to be released to the public. The results were damning.
This is what the post looked like on Facebook at the time of writing:
(Source: Facebook screenshot taken on Tue Dec 22 23:32:32 2020 UTC)
Gateway Pundit's article reported an attorney named Matt DePerno observed the audit of Antrim County's 15,718 votes on December 17, 2020 in the Kearney Township Hall in Bellaire, Michigan, "where 6 officials from the Secretary of State continuously walked around the room observing and correcting the counters who dared to stray from their objectives." The article embeds four videos attributed to DePerno. The Secretary of State's audit report showed the hand recount differed from the Election Week machine count by 12 votes, or less than a tenth of a percent.
In response to a query from Lead Stories, the Michigan Secretary of State's office said some ballots from military, overseas and disabled voters have to be copied onto clean forms by hand by poll workers to be readable in vote tabulating machines, which may be what amateur volunteers saw. The videos show volunteers being told the audit has to be finished before they can conduct investigations into other issues.
Jake Rollow, spokesperson for the Michigan Department of State, responded to the videos in a Dec. 22 email to Lead Stories by challenging DePerno to make his claims in a sworn statement:
The truth is that voting machines counted ballots accurately, as the full hand tally of all presidential election ballots cast in Antrim County proved...Staff offered that if anyone thought something illegal had occurred, they could report it to the law enforcement officers on site. DePerno chose not to do so, perhaps because he is aware that falsely reporting criminal activity to law enforcement is illegal, but lying on the internet is not.
Rollow said the DePerno videos and Gateway Pundit report leave out important information.
The claims in DePerno's videos are absurd on their face, and further evidence of his complete and willful lack of knowledge of election administration. There are blank ballots in ballot containers because that is where poll workers are instructed to place the unused ballots. There are no 'spoiled ballot bags' in polling places and there was no such bag at the audit.
Gateway Pundit's story repeated DePerno's claims, using his videos to illustrate. What follows is a summary of those claims followed by Michigan Secretary of State officials' replies.
Video #1:
Gateway Pundit:
Inside the bin, tabulated ballots were mixed in with ballots that were never tabulated, and several blank ballots were mixed in as well. Mr. DePerno referred to the bin of ballots as 'an absolute mess!'
Rollow:
This is the process of opening a ballot container, that had been sealed since election day or since the county canvass ended on Nov. 17, to find the ballots that need to be hand-counted. It is expected that there would be blank, unused ballots stored in the ballot container with completed ballots, because election workers are trained to place the unused ballots in the container. At times there may also be other items such as absentee ballot envelopes from which ballots have already been retrieved (the half-green documents that are stacked on the floor behind the container) in the container. The process of separating the voted ballots to be hand tallied from other materials in the ballot container is typical. There is nothing illegitimate occurring in this video.
Video #2

Gateway Pundit:
description of Video #2 does not match the clear portion of the audio of what's said, other than a volunteer identifying the spoiled ballot bag.
Rollow:
As stated above, risk-limiting-audits determine the accuracy of the machine tabulators. The purpose of the audit is to count the votes cast in the presidential election and that process needed to be completed. These audits involve counting votes, and that's all. If there are concerns about other issues, the ballots remain available for further investigation for 22 months after the election, but such an investigation is not part of the audit that was to be conducted that day. (In all, more than 200 audits of this election will be conducted by state and local elected officials, and as of right now only two will be RLAs.)
Lead Stories asked Rollow to explain why the Secretary of State staffer seemed not to want to address volunteers' questions about multiple ballots with the same handwriting on them.
Rollow:
First, they aren't signatures, as ballots don't get signed. They were votes for write-in candidates that were written in the same handwriting. This occurs when ballots with write-in votes are duplicated by pollworkers. This happens with military/overseas and voters with disabilities who have ballots duplicated, and when this is done by the same pollworker and includes write-in candidates, those write-ins will all appear in the same handwriting. That is the likely explanation for what occurred, but again, if there is any further concern the ballots are preserved and the issue could be reviewed later. Once it was determined that these were duplicated ballots with write in candidates written by the same poll worker, this was explained to the people conducting the audit and there were no further issues. Those conducting the audit were even given the opportunity to report the issue to law enforcement officers on site, which they did not do. However, the video omits this information.
Video #3
Gateway Pundit:
In the video below, the SOS official can be seen demanding that the counters ignore what they believe is voter fraud and count the ballots. 'We need to do the counts because if we don't have the counts, then we can't move forward. And we understand that there is a concern with this precinct--but this is not a time for you to be investigating right now.'

'Did you find something else?' the male counter asks. 'No,' she replies, adding, 'So, you need to move forward with the audit, so we can get the numbers, so we can see how many ballots are here.' The female counter asks, 'So when we're done with the audit, there's still the opportunity to challenge the fact that we have multiple ballots with the very same signature?' she asks. 'I don't know if 'challenge' is the right word,' the SOS official says.
Rollow, in his email to Lead Stories, said no complaints or challenges were filed as a result of the audit that day:
Likely because after explanation there were no additional concerns, and the person who posted the videos knows that it is illegal to knowingly report false crimes to law enforcement but not illegal to spread false information on the internet.
(Linked rather than embedded, due to issues with embed code.)