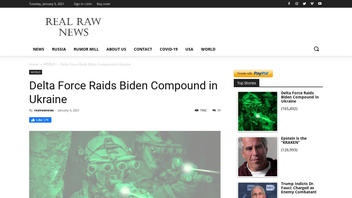 Did Delta Force raid a "Biden compound" in Ukraine and did they recover gold bullion, drugs and weapons? No, that's not true: the story was put out by an anonymously operated website that had only been active for about a week, it quoted no named sources and it used the exact same details as an earlier, 2017 fake story about Delta Force raiding an "Obama stronghold" in Thailand that was published by a (now defunct) conspiracy website that featured articles about aliens and other conspiracies.
The story appeared as an article published by Real Raw News on January 4, 2021 titled "Delta Force Raids Biden Compound in Ukraine - Real Raw News" (archived here) which opened:
During the predawn hours on New Year's Day, Delta Force operators infiltrated a Biden-controlled stronghold in southeast Ukraine near the port city of Mariupol, according to an anonymous White House Source who said President Trump greenlit the operation following a series of telephone calls to US military commanders and to Ukrainian President Volodymyr Zelensky.

A Delta detachment, known as 1-SFOD in the Special Operations community, flew from Okinawa Japan to the US Embassy in Kyiv and held position there until Trump cleared the incursion with his Ukrainian counterparts.

Reliable sources said the Trump administration had obtained "credible evidence" that the Biden family, by proxy, owned a 200-acre estate and office building 50km northwest of Mariupol. On paper the property was owned by Paradigm Global Advisors, a hedge fund firm in which the Bidens have controlling interest.
This is what the article looked like: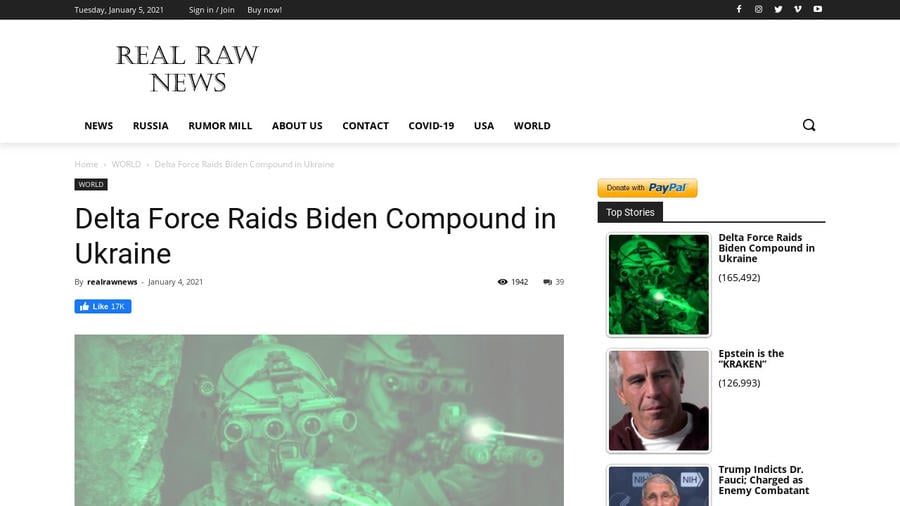 (Source: Lead Stories screenshot taken on January 5, 2021)
Compare the opening of that story to this one published by Someonenesbones.com on December 27, 2017 and titled "DELTA FORCE RAIDS OBAMA STRONGHOLD IN THAILAND"
During the pre-dawn hours on Christmas Day, Delta Force operators launched a precision strike against an Obama-controlled stronghold in Thailand, says an active Secret Service agent who claims President Trump green lit the operation following a series of telephone calls to United States military commanders and to Thailand Prime Minister Prayut Chan-o-cha.

A Delta detachment, known as 1-SFOD in the Special Operations community, flew from Okinawa, Japan to the United States Embassy in Bangkok, and held position while Trump cleared the insurgency with his Thai counterparts.

According to our source, the Trump administration learned that Obama, by proxy, owned a mansion and a 400-acre estate on the outskirts of the city of Si Sa Ket, approximately 500 km from Bangkok. On paper, the land was owned by the allegedly defunct Solyndra Corporation, a startup solar company to which Obama gave 2.2 billion taxpayer dollars in 2009.
Both stories also end in remarkably similar ways.
The Biden version, which oddly includes the word "hacienda," an architectural and economic term that is local to the central and south American colonies of Spain:
Although the building was long deserted, Delta found evidence of recent activity within the hacienda attached to the compound. In a kitchen were freshly chopped vegetables and a percolator of lukewarm coffee. Outside, fresh tire impressions led away from the compound. It was as if someone had tipped off the occupants.

But in the hacienda Delta hit paydirt. They seized several laptops and 300 million dollars in gold bullion. They also found crates of Chinese-manufactured Type 56 assault rifles and tens of thousands of rounds of ammunition. Even more disturbing, they found beneath the hacienda a maze of chambers and tunnels that ran for miles in every direction. Ankle and wrist shackles, bolted to the walls in various locations, held bits of necrotic flesh, and in an antechamber, they discovered twelve duffel bags filled with black tar heroin.
The Obama version:
At 3:00 am (local time), a pair of helicopters, including decoy craft, airlifted Delta to its destination. They found the mansion deserted; however, according to our source, the dwelling had been recently occupied. The unit commander discovered freshly chopped vegetables and lukewarm coffee in the kitchen; outside fresh tire impressions lead away from the compound. Someone, our source said, must have tipped off the occupants shortly before Delta arrived on scene.

Still, Delta did not leave the location empty-handed. They seized several encrypted laptops and over 200 million dollars in gold bullion, in addition to dozens of crates containing Chinese manufactured firearms and explosives. Moreover, and perhaps most disturbing, a maze of underground tunnels, ostensibly used for human trafficking, ran for miles in every direction beneath the surface. Having gathered all available evidence, they requested exfiltration and handed-off control to Thai law enforcement.
PolitiFact debunked the Thailand story in 2017, writing:
The story had green and black images of what appeared to be military officers in night vision goggles. We searched the photos on Google images and one appeared to be similar to an image used in a 2013 story about the movie Zero Dark Thirty, which was about the hunt for Osama Bin Laden.

The photo of the fictitious Obama compound in Thailand is actually Villa Rak Tawan, a luxurious estate in Phuket used for vacations and weddings.
The Ukraine story used the same green and black image but swapped out the luxury estate picture with a photo of the IQ Business Center, an office building in Kiev, which is more than 600 km (372 miles) northwest of Mariupol.
Lead Stories was also able to confirm that Someonesbones.com and Realrawnews.com use the same Google AdSense account, making it likely it is being run by the same person or persons. According to the Internet Archive Someonesbones.com ceased publishing around April 2019 and Realrawnews.com started on or around December 30, 2020.
We reached out the U.S. Army for comment and will update this story when we receive a reply.