STORY UPDATED: check for updates below.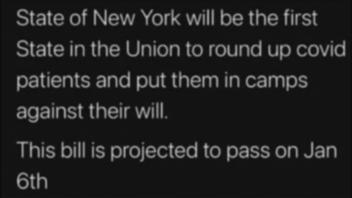 Is there a bill projected to pass on January 6, 2021, that will allow the state of New York to round up COVID patients and put them in camps? No, that's not true: The hype surrounding this bill is not supported by evidence. The New York State Assembly's Health Committee, where presumably the bill would first be discussed, will not meet on January 6, 2021. In fact, according to the office of Assemblyman Dick Gottfried, Health Committee members and the committee chair have not even been appointed yet, committee meetings have not been scheduled, the first meeting will probably not happen for a few weeks and there is no plan to put this bill on the agenda.
The bill, introduced by Assemblyman Nick Perry in 2015, was a response to a situation involving a nurse who refused to quarantine when she returned to the United States after working with Ebola patients in Sierra Leone. Perry's bill has never had a co-sponsor and has never gone to committee, which would be the first step in it getting anywhere. Perry said, "The bill hasn't been actively pushed for passage because the Ebola threat was ended, thanks to a vaccine."
The claim surfaced on Instagram in a post (archived here) published by theinformedmama209 on Jan 3, 2021, with the caption, "Organized and take back your Capitol. If this happens, the entire nation will follow. New York ... we are praying for you. Start connecting with your local health activist like Rita Palma. She is on Facebook Twitter and Instagram." It opened:
State of New York will be the first State in the Union to round up covid patients and put them in camps against their will.

This bill is projected to pass on Jan 6th
Below that prediction is a screenshot of text from New York State Senate Assembly Bill A416, with a portion of the text highlighted:
2. UPON DETERMINING BY CLEAR AND CONVINCING EVIDENCE THAT THE HEALTH OF OTHERS IS OR MAY BE ENDANGERED BY A CASE, CONTACT OR CARRIER, OR SUSPECTED CASE, CONTACT OR CARRIER OF A CONTAGIOUS DISEASE THAT, IN THE OPINION OF THE GOVERNOR, AFTER CONSULTATION WITH THE COMMISSIONER, MAY POSE AN IMMINENT AND SIGNIFICANT THREAT TO THE PUBLIC HEALTH RESULTING IN SEVERE MORBIDITY OR HIGH MORTALITY, THE GOVERNOR OR HIS OR HER DELEGEE, INCLUDING, BUT NOT LIMITED TO THE COMMISSIONER OR THE HEADS OF LOCAL HEALTH DEPARTMENTS, MAY ORDER THE REMOVAL AND/OR DETENTION OF SUCH A PERSON OR OF A GROUP OF SUCH PERSONS BY ISSUING A SINGLE ORDER, IDENTIFYING SUCH PERSONS EITHER BY NAME OR BY A REASONABLY SPECIFIC DESCRIPTION OF THE INDIVIDUALS OR GROUP BEING DETAINED. SUCH PERSON OR GROUP OF PERSONS SHALL BE DETAINED IN A MEDICAL FACILITY OR OTHER APPROPRIATE FACILITY OR PREMISES DESIGNATED BY THE GOVERNOR OR HIS OR HER DELEGEE AND COMPLYING WITH SUBDIVISION FIVE OF THIS SECTION.
This is how the post appeared on Instagram at the time of writing: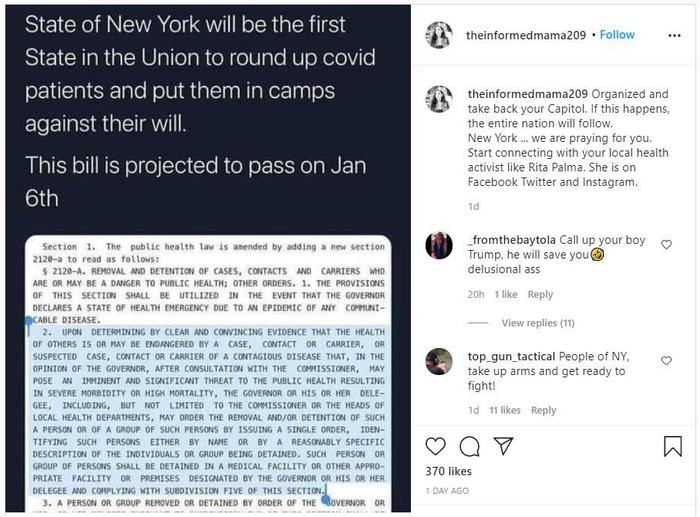 (Source: Instagram Screenshot 1/5/21 11:15 AM EST)
Lead Stories reached out by email to the office of Assemblyman Gottfried, who served as the chair of the Health Committee during the last session. Matt Tighe, director of community affairs in Gottfried's office, was able to answer Lead Stories' questions regarding the January 6, 2021, date on what is now known as Bill A.416:
The members and chair of the Health Committee for the new session have not even been appointed yet. That's expected soon. When a bill is introduced before the session officially convenes for the start of a 2-year session, the system lists it as "Jan. 6, 2021 -- Referred to the Committee on (insert name of appropriate committee)." That has nothing to do with when or whether it will be taken up by the committee.

Committee meetings have not begun to be scheduled yet. The Health Committee will likely first meet in the next couple of weeks. There is no plan to put the bill on a Health Committee agenda. The bill has been referred to the Committee every year since 2015 and it has not been on a committee agenda in that time. Committee agendas are public, typically posted on the Friday before the week of a Committee meeting, under the "agenda" tab here: http://public.leginfo.state.ny.us
As for Assemblyman Gottfried's position on this bill, he said through Tighe:
I do not support this bill. For well over a century, New York State and City have had laws on confining patients who have a communicable disease that endangers public health. The current state law provides a variety of due process rights and protections for patients, including a right to a court hearing before a patient can be confined.
The bill, first introduced in 2015 as A.6891, in 2017 A.680, and A.99 in 2019, has never gone to committee and has never had a co-sponsor. Now in 2021 it is A.416 under the Assembly's procedures for numbering proposed legislation. Using an online text comparison tool, Lead Stories compared the text of the bill from 2015 to the 2021 edition. Other than some slight changes in the phrasing and order of the final sentences the bill is unchanged.
(Source: Screenshot of a text comparison of Bills A.6891 and A.416 from countwordsfree.com)
On January 3, 2021, Assemblyman Perry posted a statement to Twitter regarding what he called, "grossly misinformed and misrepresented interpretations of this bill." The statement reads:
ASSEMBLYMAN NICK PERRY STATEMENT ON A.416

To all those concerned about bill A.416, who do not have the background information, this bill was initially introduced to address public health concerns related to the containment of the Ebola virus after it was discovered that Ebola infected persons had entered the United States. I am an American who understands our Constitution is sacred, and provides us with the right to or disagree, and hold different positions on issues that may relate to our civil and constitutional rights. There is no intent, no plan, or provisions in my bill to take away. or violate any rights, or liberties that all Americans are entitled to under our constitution, either state or federal. A proper reading of the bill would find that significant attention was paid to protect individual rights which could be affected by exercising the authority granted in this bill.

I urge you all to read the bill carefully, and not accept grossly misinformed and misrepresented interpretations of this bill, even though some provisions in this bill may be applicable to the Current COVID-19 pandemic. Bear in mind that the Virus raged through many African countries before it was contained, and meant almost certain death to anyone who contracted the virus (death rate of up to 90%- World Health Organization)

I am convinced that most Smart Americans, faced With the deadly consequences of having a person who is a carrier or a Very deadly Virus roaming freely through any community, would support public action to contain such a person from contaminating and potentially bringing certain death to persons they have Contact With. The bill hasn't been actively pushed for passage because the Ebola threat was ended thanks to a vaccine. However, many learned scientists believe that the likelihood of such a deadly pandemic is still real, and somewhere in the future there may be the need for people to be protected from a person or persons carrying a Very deadly and transmittable Virus, and this bill is designed to ensure that our government could lawfully act to protect all the people.

I am open to amendments that would address real concerns raised by critics and will quite happily accept suggestions that will improve the bill in regard to concerns to constitutional rights. I also pray for who have called me names, including racial ones, made threats, and used words towards me which I would never use to describe any person. I ask God to bless them all and keep them safe. - Assemblyman Nick Perry
My statement on A.416. pic.twitter.com/0bIyGp9xFo
-- N Nick Perry (@NNickPerry) January 3, 2021
On that same day Perry also tweeted a Politico article, "Long dormant Assembly bill becomes subject of conspiracy theories." This article contains a quote from Rich Azzopardi, the senior adviser to New York Gov. Andrew Cuomo. He said:
We didn't even know about this bill -- which has no sponsor in the Senate -- until today. It apparently never left the first step of the committee process and everyone's crazy uncle needs to close Parler and take a walk or something. We have real things to do.
Another version of the claim is in a video shared on Facebook. While some of what the host shares is factual, it includes the false claim that "NY WANTS TO SEND 'CASES, CONTACTS & CARRIERS' TO DETENTION FACILITIES." As we have shown, this is a 5-year-old proposal with no expectation of being approved by the New York legislature. New York does NOT want to do this: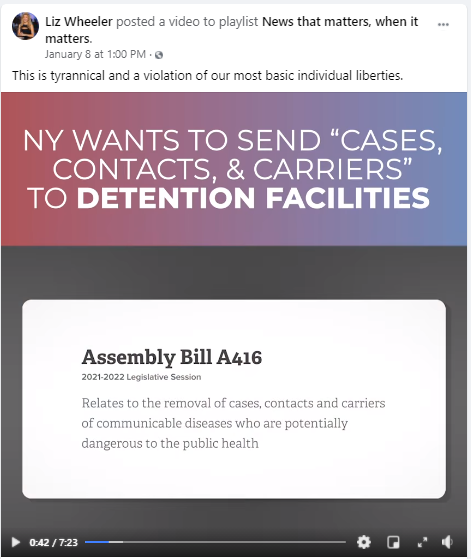 Lead Stories has written about this bill in the past when it was claimed that NY State Assembly Bill A99 aimed to take children from their homes as a preventive step during the COVID-19 pandemic.
2021-01-23T17:56:53Z

2021-01-23T17:56:53Z

Adds details about why Liz Wheeler video was rated partly false.