STORY UPDATED: check for updates below.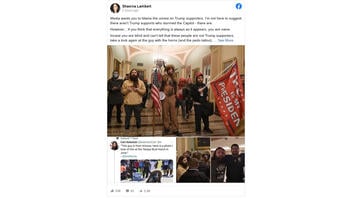 Is this man photographed storming the U.S. Capitol in fur and horns an antifa activist working to make supporters of President Donald Trump look bad? No, that's not true: The man in the photo is a well-known QAnon supporter who has been identified as Jake Angeli, nicknamed "QAnon Shaman" for his face paint, bare chest and tattoos. Angeli has given interviews to the press about his support of President Trump. The U.S. Justice Department, in a statement announcing his arrest on charges relating to the invasion, said his legal name is Jacob Anthony Chansley.
An example of the claim can be seen in a post (archived here) where it was published by Shawna Lambert on Facebook on January 6, 2021. It opened:
Media wants you to blame the unrest on Trump supporters. I'm not here to suggest there aren't Trump supports who stormed the Capitol - there are.
This is what the post looked like on Facebook at the time of writing:
(Source: Facebook screenshot taken on Wed Jan 6 23:57:48 2021 UTC)
The entire post read:
Media wants you to blame the unrest on Trump supporters. I'm not here to suggest there aren't Trump supports who stormed the Capitol - there are.
However... if you think that everything is always as it appears, you are naive.
Incase you are blind and can't tell that these people are not Trump supporters, take a look again at the guy with the horns (and the pedo tattoo).
This is all political theater to cause division.
**Edit: yellow sweatshirt guy is Philly Antifa"
Chansley, a.k.a Angeli, was taken into federal custody, according to a news release from prosecutors on January 9, 2021:
Jacob Anthony Chansley, a.k.a. Jake Angeli, of Arizona, was charged with knowingly entering or remaining in any restricted building or grounds without lawful authority, and with violent entry and disorderly conduct on Capitol grounds. Chansley was taken into custody today.

It is alleged that Chansley was identified as the man seen in media coverage who entered the Capitol building dressed in horns, a bearskin headdress, red, white and blue face paint, shirtless, and tan pants. This individual carried a spear, approximately 6 feet in length, with an American flag tied just below the blade.
Photographs by news photographers and by rioters carrying smartphones show Trump supporters storming the United States Capitol building while Congress was in joint session to conduct the ceremonial counting of Electoral College votes on January 6, 2021. Several social media posts claimed the man in the picture was an antifascist activist with a pedophile tattoo and not an actual Trump supporter.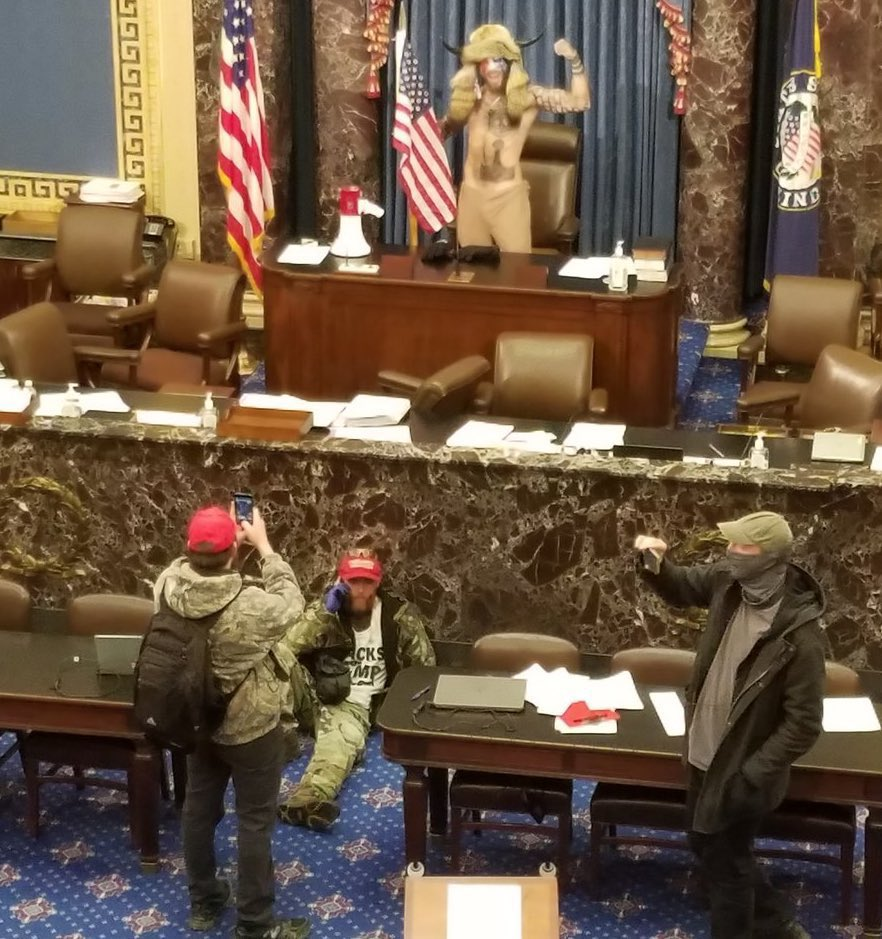 There is ample evidence that Angeli is a QAnon supporter.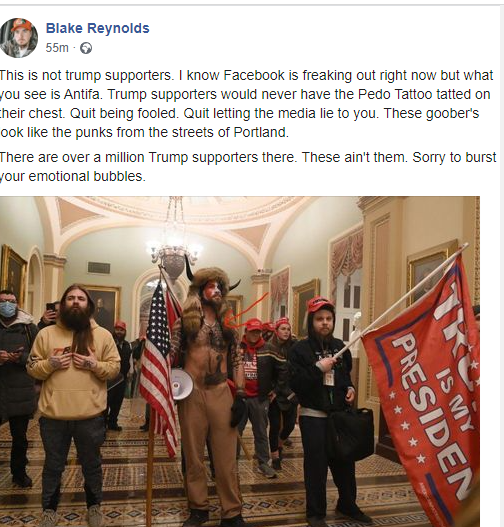 Pro Trump attorney L. Lin Wood tweeted about Angeli storming the capitol, claiming he was not a Trump supporter.
Indisputable photographic evidence that antifa violently broke into Congress today to inflict harm & do damage. NOT @realDonaldTrump supporters.

Do not be fooled. Trump supporters are peaceful. It was antifa that created the violence in our cities over the past several months. pic.twitter.com/eGJmJwJvNq

-- Lin Wood (@LLinWood) January 6, 2021
However, Angeli gave an interview to BrieAnna Frank, a reporter for Arizona Central, in May 2020, where he spoke of his beliefs:
"I think it is important that the president of the United States knows that his people support him."
Frank posted the interview on Twitter:
I'm seeing false tweets that Jake Angeli (aka "QAnon Shaman") who was part of the group that stormed the Capitol and made it into the chamber, is Antifa.

He is very much a @realDonaldTrump and QAnon supporter, per my interview with him last year 👇@azcentral https://t.co/S8luSxeHiO

-- BrieAnna J. Frank 🌵 (@brieannafrank) January 6, 2021

Yahoo News published an article on January 6, 2021 that identified Angeli. Titled, "QAnon supporter from Arizona dressed in fur and horns joins storming of US Capitol," it called Angeli, "a QAnon supporter who has been a fixture at Arizona right-wing political rallies over the past year."

Arizona Central published an article in October 2020 titled, "QAnon, false flags and baby-eating liberals: How Arizona Patriots build community around conspiracy theories," where Angeli was identified as a QAnon supporter.
U.S. correspondent for Canadian newspaper Globe and Mail reporter Adrian Morrow claimed he interviewed Angeli after he stormed the Capitol.
I spoke with Jake Angeli, the QAnon guy who got inside the Senate chamber. He said police eventually gave up trying to stop him and other Trump supporters, and let them in. After a while, he said police politely asked him to leave and let him go without arrest

-- Adrian Morrow (@AdrianMorrow) January 6, 2021
Angeli's "pedo tattoo" appears to be a triple triangle Germanic valknut tattoo. The meaning is up for discussion but SF Critic identified the tattoo as having a connection to white nationalist groups.

Whether you're planning to get this as a memento mori or use it as a symbol for paganism, beware that because of its vague origins, you may be subject to misinterpretation which can cause anger and confusion from people who mistake your valknut for something else...some white nationalist groups have used the valknut to represent their heritage. And because of its vague symbolism, the German government does not treat their use of the valknut the same way some Nazis sport the swastika in public."


Another set of images from the January 6, 2021, insurrection, a pair of images presented together, were being offered as proof that the people who stormed inside the capitol building included people associated with antifa. But the images don't prove anything.
One image from inside the capitol shows a bearded man with long hair wearing a yellow sweatshirt. In other photos his tattooed hands can be seen. The other image, apparently taken at another time and place, shows two men posing together, one man who has a similar appearance to the man in the yellow sweatshirt, is wearing an "Exile Fitness" T-Shirt. This second photo is a screen-grab that shows the URL 'phillyantifa.org' and the image dimension 618 x 340.
The URL for phillyantifa.org in one photo and the long beards of the men pictured seems to be the only connection offered that the man in the yellow sweatshirt is affiliated with antifa. The two men may not be the same person. Although the image did originate from phillyantifa.org (archived here), this is from a collection of photos they published identifying people associated with a white nationalist group called Keystone United. The man wearing the Exile Fitness shirt is identified in multiple photos on the phillyantifa.org website as Jason Tankersley.
The man in the yellow sweatshirt with the tattooed hands has not yet been identified but does not appear to be Jason Tankersley, based on comparison of the arch of his eyebrows and the growth pattern of his facial hair. Lead Stories was unable to locate any recent photos of Jason Tankersley's hands.
Below are three images of Jason Tankersley, and outlined in red is the unidentified man who was inside the Capitol.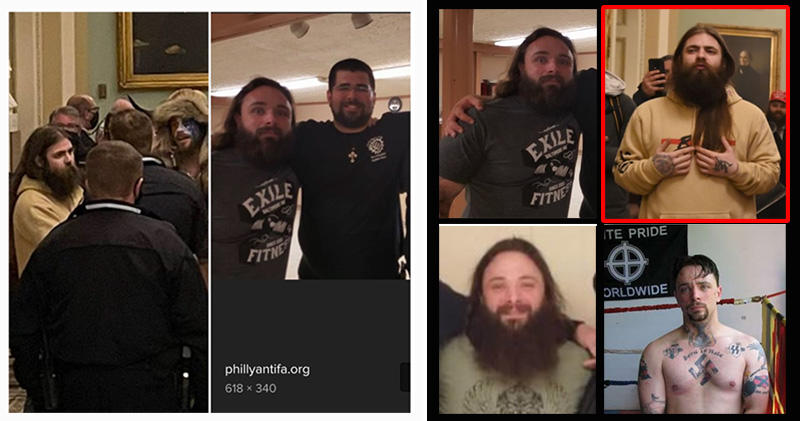 The tattoo on the hand of the man in the yellow sweatshirt does not appear to be a hammer and sickle either, as several online posts are claiming, including this tweet from Rep. Louie Gohmert, R-Texas:
Please people; no violence. That only hurts our cause. Those leading the charge like the guy in yellow with the communist hammer & sickle tattoo: stopping the violence applies to you too. pic.twitter.com/XLKU9Y2y4x

-- Louie Gohmert (@replouiegohmert) January 6, 2021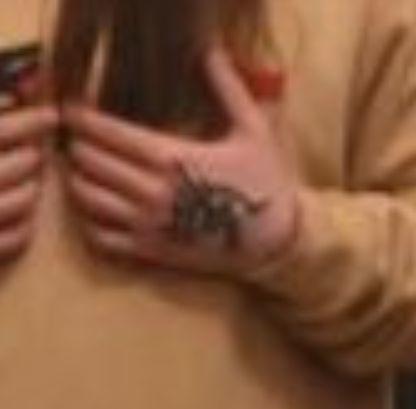 Instead it looks more like the "Outsider's Mark", a tattoo design that appears in the video game series Dishonored.

(Source: Dishonored wiki)
Tankersley posted a message on Facebook late on January 6, 2021.
2021-01-09T17:41:20Z

2021-01-09T17:41:20Z

Adding US Justice Dept statement announcing charges and arrest of Angeli.