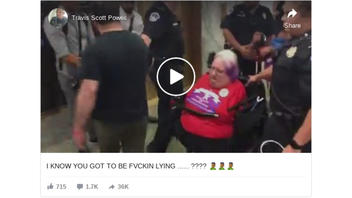 Does a viral video show disabled people being forcibly removed from the Capitol by police and/or security during the January 6, 2021, breach? No, that's not true: the video dates back to 2017 and shows people protesting against Medicaid cuts being removed from a hallway in front of Senate Majority Leader Mitch McConnell's office. You can hear them yelling "No cuts to Medicaid" throughout the video.
The video reappeared in a viral Facebook post (archived here) published on January 6, 2021, by someone who captioned it with:
I KNOW YOU GOT TO BE FVCKIN LYING ...... ???? 🤦🏾‍♂️🤦🏾‍♂️🤦🏾‍♂️
This is what the post looked like on Facebook at the time of writing:
(Source: Facebook screenshot taken on Thu Jan 7 13:42:00 2021 UTC)
The post racked up thousands of shares and reactions, many from people who seemed to assume it was footage taken earlier that day when mobs of protesters had breached Capitol security.
However here is some AP footage from the event, which took place in June of 2017 according to this Vox report:
As Vox reported at the time:
About 50 disabled people, many in wheelchairs, were arrested at Senate Majority Leader Mitch McConnell's office in the Capitol on Thursday for protesting Republicans' health care bill, according to a spokesperson with a disability rights group.

The members of ADAPT, a disability rights group, are now being held by Capitol Police after staging a protest to decry the Medicaid overhaul proposed in the bill made public by McConnell on Thursday.

"We are a nonviolent group, and luckily no one got hurt today," said Marilee Adamski-Smith, the spokesperson. "But AHCA will take away our freedom to live in our own homes."

Video captured by Mic's Will Drabold and other reporters shows protesters screaming, "No cuts to Medicaid!" as they were dragged out by Capitol Police. Capitol Police did not immediately confirm a report of the number of arrests.
Here's a contemporary tweet with more video that makes it easier to hear what the protesters were shouting:
More screaming "no cuts to Medicaid!" pic.twitter.com/atZXVYOIGs

-- Will Drabold (@WillDrabold) June 22, 2017