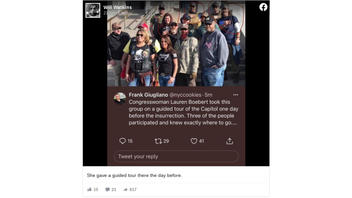 Does a photo show U.S. Rep. Lauren Boebert on a group tour in Washington, D.C., in January 2021? No, that's not true: The photo was taken more than a year earlier, at a 2019 rally in Colorado.
The claim appeared in a Facebook post (archived here) published by "Will Watkins" on January 13, 2021. The post included a short introductory message -- "She gave a guided tour there the day before" -- as well as a screenshot of a tweet that had the photo and the following text:
Congresswoman Lauren Boebert took this group on a guided tour of the Capitol one day before the insurrection. Three of the people participated and knew exactly where to go....
This is what the post looked like on Facebook at the time of writing:
(Source: Facebook screenshot taken on Thu Jan 14 14:41:07 2021 UTC)
Contrary to the post's claims, the photo is not from 2021. It was taken at a 2019 rally in Denver, Colorado. The Colorado Times Recorder reported on the rally and published the photo. Both the image and the article, dated December 9, 2019, can be seen here.
Boebert, a Colorado Republican, attended the "We Will Not Comply" rally, which was organized against a state law that allows judges to temporarily take someone's firearms if they are believed to be a threat to themselves or others. Among the other reported attendees, according to the Colorado Times Recorder, were members of the Three Percenters, an antigovernment militia group, and Proud Boys, which the Southern Poverty Law Center designates as a hate group.
It's unclear whether anyone in the 2019 photo participated in the riots that took place at the U.S. Capitol on January 6, 2021. This fact-check does not include an examination of that claim.
Lead Stories reached out to Boebert's office for comment. She responded on January 14, 2021, in a short statement that read:
Unfortunately, due to COVID-19, I have not given any Capitol tours except to show my children around where I'll be working while I'm away from home.
On January 6, Boebert's office released a statement on the riots, thanking the Capitol Police and denouncing the violence. It read, in part:
My staff and I are safe and in an undisclosed location. I support peaceful protests and the rule of law, and denounce all acts of violence. I am grateful to the Capitol Police for their service. Thank you for keeping us safe.