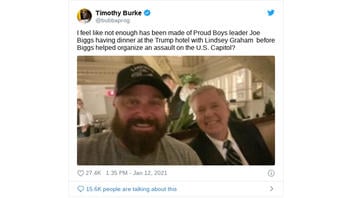 Did Sen. Lindsey Graham and Joe Biggs, a leader of the Proud Boys, which the Southern Poverty Law Center has designated as a hate group, take a photo together shortly before supporters of President Donald Trump stormed the United States Capitol on January 6, 2021? No, that's not true: The photo in question, in which both Graham and Biggs are smiling, was posted on social media at least as far back as October 1, 2020. Additionally, the senior Republican U.S. Senator from South Carolina has publicly denounced the Proud Boys.
The claim appeared in a tweet (archived here) published on January 12, 2021, which opened:
"I feel like not enough has been made of Proud Boys leader Joe Biggs having dinner at the Trump hotel with Lindsey Graham before Biggs helped organize an assault on the U.S. Capitol?"
This is what the post looked like on Twitter at the time of writing:
(Source: Twitter screenshot taken on Wed Jan 13 18:48:29 2021 UTC)
Trump's supporters mounted an insurrection, which was put down, at the U.S. Capitol January 6, 2021 in an attempt to prevent Congress from certifying President-elect Joe Biden's Electoral College win. Biggs and other Proud Boys were among them, according to a January 12, 2021 Vice News article based on the news organization's review of open-source videos taken the day the Capitol was stormed. Biggs' Twitter and other social media accounts, in which he often spoke of protests and other activities he participated in, have been suspended for violating the platforms' rules.
The photo of Graham and Biggs smiling dates back at least to October 1, 2020, when it was posted on Twitter, including in this tweet, which opens:
Lindsey Graham with Proud Boys Joe Biggs:

"Say 'Cheese'!"
Lindsey Graham with Proud Boys Joe Biggs:

"Say 'Cheese'!" pic.twitter.com/KryPb1Z77v

-- Roshan Rinaldi (@Roshan_Rinaldi) October 1, 2020
In an email to Lead Stories, a Graham spokesman said the photo of the senator and Biggs, which the spokesman wrote appears to have been taken in the lobby of the Trump International Hotel in Washington, D.C, "was brought up in Senator Graham's reelection campaign." The spokesman added:
[There is] no record of them dining together.
In a September 30, 2020, tweet, Graham described the Proud Boys as a "racist organization." The tweet included a link to a September 30, 2020, online post from a South Carolina television station, in which Republican Sen. Tim Scott of South Carolina reacted to Trump's comment in the September 29, 2020, presidential debate calling for the Proud Boys to "stand back and stand by."
Scott said he believed "the president misspoke, and he needs to correct it."
Graham's tweet opens:
I agree with @SenatorTimScott statement about President Trump needing to make it clear Proud Boys is a racist organization antithetical to American ideals.
I agree with @SenatorTimScott statement about President Trump needing to make it clear Proud Boys is a racist organization antithetical to American ideals. https://t.co/GsAS8Uz1dx

(1/2)

-- Lindsey Graham (@LindseyGrahamSC) September 30, 2020