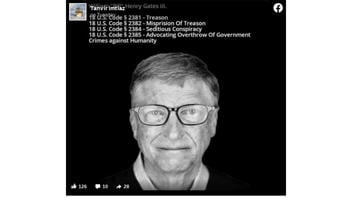 Is Bill Gates guilty of treason, seditious conspiracy, advocating overthrow of the government or crimes against humanity? No, that's not true: There is no such case on file in federal courts. The claim was made without evidence that Gates is guilty of these crimes or should be convicted of them. He has become a frequent target of conspiracies by COVID-19 deniers and anti-vaccine activists, accusing him of the crimes without any evidence. In the United States a person is innocent until proven guilty.
The claim appeared as a post (archived here), published on Facebook on January 12, 2021. It opened:
William "Bill" Henry Gates III
18 U.S. Code § 2381 - Treason
This is what the post looked like on Facebook at the time of writing:
(Source: Facebook screenshot taken on Wed Jan 13 18:06:29 2021 UTC)
There is no evidence that Gates has been formally accused of these crimes or found guilty of them but the implication is clear in the meme.
A search of the federal database PACER, Public Access to Court Electronic Records, showed no cases against Bill Gates for treason nor seditious conspiracy.


A search of the Department of Justice website showed no cases against Bill Gates for treason. (The search brought up several entries referencing "bill," as in legislation, and the Bill of Rights.)
The claims implied against Gates in the meme are included in 18 U.S. Code CHAPTER 115--TREASON, SEDITION, AND SUBVERSIVE ACTIVITIES.
The meme cites 18 U.S. Code § 2382 - Misprision of treason. "Misprison of treason" means anyone who knows of a person who has committed treason must report it immediately to the authorities -- or else they are committing treason themselves.
Whoever, owing allegiance to the United States and having knowledge of the commission of any treason against them, conceals and does not, as soon as may be, disclose and make known the same to the President or to some judge of the United States, or to the governor or to some judge or justice of a particular State, is guilty of misprision of treason and shall be fined under this title or imprisoned not more than seven years, or both."
If you have informed the authorities about Gates' misprision of treason we invite you to share to Lead Stories the evidence submitted and response you received. We will update the fact check as soon as we receive any such messages containing credible claims and evidence.