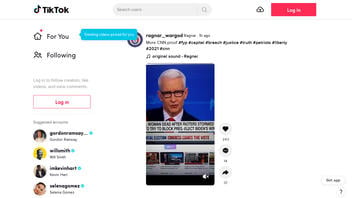 Were two CNN journalists arrested and charged for infiltrating the U.S. Capitol dressed as Trump supporters during the January 6, 2021 insurrection? No, that's not true: The two people identified in a video as being with CNN have no connection to the news network. One of them -- John Sullivan -- has been arrested and charged with federal crimes relating to activities inside the capitol on January 6, but the other -- Jade Sacker -- had not been arrested or charged at the time of this writing on January 15, 2021. Video of Sullivan and Sacker does not show either of them wearing anything that would identify them as a Trump supporter.
The claim appeared in a TikTok video (archived here) posted on January 15, 2021 under the title "More CNN proof #fyp #capital #breach #justice #truth #patriots #liberty #2021 #cnn". The video showed a short clip of CNN host Anderson Cooper interviewing Sacker and Sullivan about video they recorded of the shooting of rioter Ashli Babbitt by a Capitol Police officer hours earlier. The narrator said:
And here's the interview with Anderson Cooper and Jade and Sullivan. Both work for CNN. Both infiltrated the capitol dressed as Trump supporters.
This interview was the same day that it happened. They're both in custody now and supposedly he copped a plea with the feds. Still waiting on the information about her.
She was undercover. So was he.
This is the TikTok post:
The FBI affidavit filed when Sullivan was arrested on January 14, 2021 stated that he was not a credentialed journalist, although he said his purpose for being in the capitol was to record it with his camera.
Read the Justice Department news release on his arrest here. There is no reference to any affiliation with CNN.
Jade Sacker is an independent photojournalist who said she was in the capitol following Sullivan for a documentary she is producing featuring him. Her professional website does not mention any affiliation with CNN. Her list of clients (see it here) does not include CNN. Lead Stories could find no connection between Sacker and CNN.
This is a video posted by Sullivan reviewing his activities inside the capitol that day:
This is a YouTube video that also falsely claims that Sacker worked for CNN. It does highlight an exchange between her and Sullivan in which they were celebrataing being inside the capitol because it would mean they could make a great film.