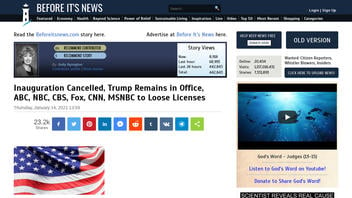 Was the inauguration cancelled; will Donald Trump remain in office; and will ABC, NBC, CBS, Fox, CNN, MSNBC all lose their licenses? No, none of that is true: A made-up story containing those claims and predictions was written by a discredited conspiracy writer and published by 'Before It's News', a news platform that lets anyone write and publish what they want. None of the claims in the headline are backed up by sources in the body of the article, where even more false and nonsensical information is introduced without evidence. For one thing, cable networks such as CNN and MSNBC are not licensed by the government and therefore could not lose their licenses.
The claims originated in an article published by beforeitsnews.com on January 14, 2021 titled "Inauguration Cancelled, Trump Remains in Office, ABC, NBC, CBS, Fox, CNN, MSNBC to Loose [sic] Licenses" (archived here) which opened:
Joe Biden's Inauguration has been cancelled, President Trump would remain in office and the Chinese Communist Party propaganda media outlets of ABC, NBC, CBS, Fox News, CNN and MSNBC would soon be off the airwaves according to President Trump.

"I have invoked the Insurrection Act of 1807 (Section 10 U.S. Code 13 251-255) to address the treasonous rebellion conducted by Democrat and Republican lawmakers, CCP Agents (Chinese Communist Party), FBI, Department of Justice, CIA and others to dismantle the United States of America and it's Constitution," President Trump declared on Thursday 14 Jan. "These entities pose a direct threat to national security. I will remain President indefinitely until all domestic enemies are arrested."

President Trump invoked the Insurrection Act after another assassination attempt on him last Sat. morning 9 Jan. According to his Intel, Chinese Communist Party Agents, the FBI, Department of Justice, CIA and others of the Deep State have - with the help of the Main Stream Media - long been planning to dismantle the US and it's Constitution.

Of course, none of these treasonous acts have been reported by the corrupt Main Stream Media. Trump had evidence that the MSM was "embedded with CIA and Chinese Communist Party agents whose sole purpose was to direct public opinion toward a Deep State agenda.
Users on social media only saw this title, description and thumbnail:
Joe Biden's Inauguration has been cancelled, President Trump would remain in office and the Chinese Communist Party propaganda media outlets of ABC, NBC, CBS, Fox News, CNN and MSNBC would soon be off the airwaves according to President Trump. "I have invoked the Insurrection Act of 1807."
Many conspiracists have been spreading rumors about the Insurrection Act of 1807, but as of this writing, President Donald Trump has not invoked the act. Lead Stories first wrote about that false rumor on January 11, 2020. Picking up where that article left off- the list of presidential actions as of January 15, 2021 published by the White House does not contain any mention of the Insurrection Act being invoked.
(source: screenshot Whitehouse.gov 10:50 AM EST 1/15/21)
There is no evidence that there was an assassination attempt on President Donald Trump the morning of Saturday, January 9, 2021 and there have been no government or news media reports of one.
The author speaks of an alliance of heads of state who are going to save the world from Communism and a satanic deep state cabal:
During President Trump's four years in office he and what has been referred to as the Alliance have been fighting this Cabal - a Satan worshipping force composed of thirteen Satanist Bloodline families out of Italy, the Vatican, UK Monarchy, British M16, Chinese Communist Party, CIA, FBI, Department of Justice, Antifa, Black Lives Matter and certain Republican and Democratic Lawmakers. Another attempt on his life was the last straw.
At the end of the article the members of this alliance are listed., Curiously, the President of the People's Republic of China and General Secretary of the Chinese Communist Party, Xi Jinping, is purported to be working alongside Donald Trump to end communism- along with QAnon Patriots led impossibly, by John F Kennedy Jr., who died more than twenty years ago in a plane crash on July 16, 1999.
The Alliance was composed of President Trump, Russian President Vladimir Putin, Chinese President Xi Jinping, Iraqi Prime Minister Mustafa Al-Kadhimi, India Prime Minister Narendra Modi, White Hats in the Department of Defense headed by Secretary of Defense Chris Miller, Undersecretary of Defense Intel Ezra Cohen Watnick and Gen. Michael T Flynn, Q (composed of around 800 special ops who advise President Trump including Pentagon Generals Chairman Joint Chief Mark Milley, Vice Chief John Hyten, Gen. James McConville, Adm. Michael Gilday, Gen. C.Q. Brown, Gen. Paul Nakasone and Gen. Jay Raymond), QAnons (volunteer Patriots headed by JF Kennedy Jr.), the National Security Agency and various militaries across the globe in SOF Units, including the international force authorized to make arrests in any country, Interpol, plus the US Marines, National Guard and Special Ops Units.
Lead Stories has written about other farcical stories penned by Byington in the past. In 2019 she claimed George Soros had been arrested in Switzerland. In May of 2020 Byington claimed the U.S military rescued 35,000 malnourished children from tunnels under large American cities. In November of 2020 there were two Byington hoaxes stories, one was a David Zublick video which cited an April article where Byington falsely claimed that Dr. Fauci was indicted for treason and conspiring with the enemy. Just after the election, a misleading screenshot featured another fabricated story by Byington on Before It's News, about a recount of watermarked blockchain ballots, appeared to have been published by Judicial Watch.
Here how "Before It's News", a site where anyone can sign up and publish whatever they want, describes their approach. From their FAQ:
What kind of stories can I post at Before It's News?

We publish almost any story by almost anybody, as long as it's news, commentary, analysis or opinion. The other criteria is that the stories can't be commercially motivated in the news area. We do accept commercial stories in our promotional area only. You can post event notices, press releases and promotional stories, but we ask that those are placed in their respective areas.
NewsGuard, a company that uses trained journalist to rank the reliability of websites, describes beforeitsnews.com as:
A website that hosts user-submitted content and regularly publishes false information and conspiracy theories.
According to NewsGuard the site does not maintain basic standards of accuracy and accountability. Read their full assessment here.