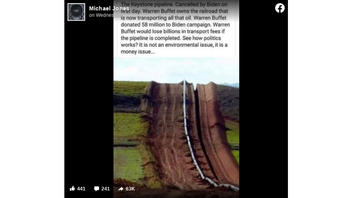 Did Warren Buffett make a $58 million political contribution to Joe Biden's presidential campaign because a railroad the billionaire owns would have financially suffered if Biden allowed the Keystone XL pipeline to be completed? No, that's not true: Federal political contributions records show that Buffett gave no money to the Biden campaign. For years Buffett has supported the pipeline, even saying so in this 2014 CNBC interview. Lead Stories finds no publicly available evidence that he has since changed this position. Keystone XL would have transported crude oil from Alberta, Canada to refineries on the Gulf of Mexico. President Joe Biden on his first day in office, January 20, 2021, rescinded the construction permit needed to complete the pipeline as part of his effort to address climate change.
The claim appeared in a Facebook post (archived here) published January 27, 2021, which opened:
The Keystone pipeline. Cancelled by Biden on first day. Warren Buffet[t] owns the railroad that is now transporting all that oil. Warren Buffet[t] donated 58 million to Biden campaign. Warren Buffet[t] would lose billions in transport fees if the pipeline is completed. See how politics works? It is not an environmental issue, it is a money issue...
This is what the post looked like on Facebook at the time of writing:
(Source: Facebook screenshot taken on Fri Jan 29 20:13:36 2021 UTC)
Biden served as vice president to Barack Obama, who had rejected the pipeline. Donald Trump brought the project back to life very early in his presidency. The claim does not name a railroad, but is most likely referring to BNSF Railway, a subsidiary of Buffett's company, Berkshire Hathaway, Inc. Lead Stories has contacted both BNSF and Buffett's office regarding the claim, and will update this fact check when they respond.
Lead Stories contacted The Center for Responsive Politics, or CRP, the nonpartisan research group that tracks "money in politics and its effect on elections," about Buffett's political contributions for the 2020 presidential race. The organization's tracking of federal elections data shows that he didn't contribute to any presidential campaign during 2019 or 2020. Buffett's largest single political contribution was for $248,500 in 2019, which was made to the Democratic Congressional Campaign Committee. There weren't any large contributions to Biden's campaign made by groups associated with Buffett, according to Alex Baumgart, an individual contributions researcher at CRP.
Baumgart wrote in a January 28, 2021 email to Lead Stories that the size of the political contribution stated in the Facebook post was puzzling.
I'm not sure where that $58 million would be coming from. The maximum amount someone can directly give to the Biden campaign would be $5,600 ($2800 for the primary and $2,800 for the general).
Central to the Facebook post's claim that Buffet made a huge political contribution to the Biden campaign in exchange for stopping Keystone XL is the belief that Buffett does not support the pipeline. This isn't consistent with what Buffett's position has been for several years. Lead Stories asked Buffett's office if he still supports the pipeline. We will update this report to include the response when we receive one. An internet search on the topic doesn't show news articles, formal statements, etc. stating that Buffett has changed position.
BNSF transports crude oil by rail, which would have theoretically made the pipeline a competitor. In the March 3, 2014 CNBC interview, Buffett said the pipeline is "good for the country" and "not that big a competitor" with his businesses. An article, first published November 27, 2017 and then updated September 24, 2019, in Buffett's hometown newspaper, the Omaha World-Herald, says that he has "generally supported the project for years." The article also stated:
Some conservative commentators had suspected Buffett of financing anti-pipeline groups so that BNSF Railway, Berkshire's railroad, would get more oil-related hauling business. Not true, Buffett has said.

His pro-pipeline stance has confounded opponents who think it's out of line with his support of former President Barack Obama, who blocked the project while in office, and his philanthropic support of humanitarian works.

But Berkshire owns pipelines that carry 8 percent of the nation's natural gas flow, and in 2008 Buffett and associate Bill Gates, the Microsoft co-founder, took a trip to Alberta, Canada, to see an oil sand extraction project and learn about the expensive process
An August 20, 2020 article on cnbc.com, "Why Warren Buffett is betting on energy pipelines even as climate fears, and renewables, are rising, focused on Buffett's support of such pipelines, in general. It mentioned how he had recently spent "near-$10 billion to buy gas pipeline assets and related debt."