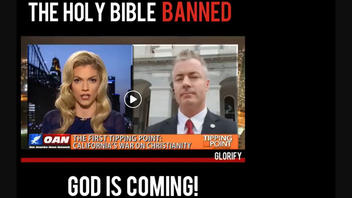 Did California pass a law that bans the Holy Bible? No, that's not true: A video posted in late 2020 recycles 2018 video clips of One America News host Liz Wheeler claiming a law in the Golden State would outlaw the Bible. The bill Wheeler described in the two-year-old clip would have curbed paid "homosexual conversion therapy" but was withdrawn in August 2018 by the State Assembly member who introduced it.
The claim appearedas a video post (archived here) where it was published on Facebook on December 19, 2020 with the title, "The Holy Bible Banned - God Is Coming!" It opened:

If this bill were to pass would this prohibit the sale of the Bible that teaches these things about sexual morality?
This is what the post looked like on Facebook at the time of writing, though the video can be seen here:
(Source: Facebook screenshot taken on Fri Jan 29 18:13:43 2021 UTC)
The video is an edited version of a clip from Wheeler's show in 2018 spliced with video from the Christian Broadcast Network and a 2015 video from RT network, the Russian state-funded international television network.
Wheeler, who left her job as a host of a show on OAN in December 2020, is speaking with CA Assembly member Travis Allen. She posted the clip of the video from her show on her Twitter page on April 24, 2018.
A bill in California could ban Christian books... even potentially the Bible! pic.twitter.com/QOpAxgzVfL

-- Liz Wheeler (@Liz_Wheeler) April 24, 2018
Her original video is 2:20 and is titled, "The First Tipping Point: California's War on Christianity."
Wheeler asks the legislator, "If this bill were to pass would this prohibit the sale of the Bible that teaches these things about sexual morality?"
Assembly bill 2943 was introduced by Evan Low, a Democrat in California, and it had the support of both parties in the assembly and senate. It was intended to designate paid conversion therapy as a fradulent business practice under consumer protection law. However, critics of the bill said it could lead to a banning of religious practices or even a banning of the Bible.
"Conversion therapy" for people under 13 is banned in California and the intention of the Bill was to expand that ban, designating the sale of "conversion therapy" as a "deceptive business practice," the Los Angeles Times reported.
In August 2018 Low pulled the bill and it has not been introduced on the legislative agenda since then.
The RT network video titled, "Bible Ban: UK students vote to eject Holy book out of dorms," aired three years before the bill was introduced in the California legislature -- in May 2015.
CBN News reported in August 2018 that the bill had been "dropped."