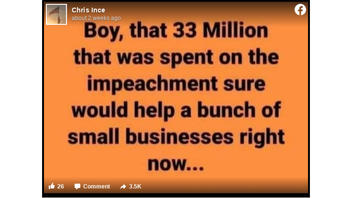 Was $33 million spent on Donald Trump's first impeachment? No, that's not true: No government accounting of what was spent has been released. Independent estimates vary, but all put the cost of the trial at way under $33 million. One was as low as $1.8 million.
The claim appeared in a Facebook post (archived here) published on January 30, 2021.
Boy, that 33 Million that was spent on the impeachment sure would help a lot of small businesses right now...
This is what the post looked like at the time of writing:
(Source: Facebook screenshot taken on Tue Feb 16 17:31:16 2021 UTC)
The date of the claim is important. Although Trump was impeached, for the second time, on January 13, 2021, his second trial did not start until February 9, 2021, which was after the post. Presumably then, the claim refers to Trump's first impeachment trial, which had wrapped up in early 2020. The former president was acquitted both times.
Estimates for the cost of Trump's first impeachment vary widely. Yahoo! Finance, which calculated the cost of compensating lawmakers and staff for their handling of impeachment-related hearings and votes, put the price tag at roughly $11.5 million. Other estimates were much lower, with the Heritage Foundation putting the cost at some $3.06 million and Roll Call tagging it at around $1.83 million.
The post did not provide any sourcing to back up its claim, and it's unclear where the $33 million figure originated from.