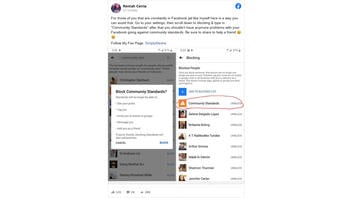 Do these instructions explaining how to block "community standards" give a Facebook user free rein to violate the platform's community standards without being penalized or going to "Facebook Jail"? No, that's not true: These instructions are a sarcastic joke, a nod to a popular long-running false instructional post that tells people how they can block fact-checkers and never be fact-checked again. Neither of these efforts at blocking, either "community standards" or "fact-checking" will result in any effect on community standards violation enforcement or on the application of fact-checks. These instructions result in blocking an individual Facebook account that happens to be named "Community Standards" but that will not allow a Facebook user to bypass the community standards which apply to all users.
The instructions appear in a post (archived here) where it was published on February 21, 2021. It opened:
For those of you that are constantly in Facebook jail like myself here is a way you can avoid that. Go to your settings, then scroll down to blocking & type in "Community Standards" after that you shouldn't have anymore problems with your Facebook going against community standards. Be sure to share to help a friend
This is what the post looked like on Facebook at the time of writing:
(Source: Facebook screenshot taken on Mon Feb 22 18:19:47 2021 UTC)
This post is a joke; it was not intended to be taken seriously. When it is taken seriously, the joke is on the person who follows, and then repeats the instructions to others with the belief that this really does work. This type of practical joke is called a "Fool's Errand."
On a mobile phone the instructions tell a person to "Go to your settings, then scroll down to blocking & type in 'Community Standards.'" The area of the setting control panel this directs them to is for "Blocked People." The heading on that panel describes the blocking this way:
Once you block someone, that person can no longer see things you post on your timeline, tag you, invite you to events or groups, start a conversation with you, or add you as a friend. This doesn't include apps, games or groups you both participate in.
If the user is on a desktop computer- the instructions will take them to a control panel with more options such as:
block users
block messages
block app invites
block event invites
block apps
block pages
Although "Community Standards" is not a person's name, some people have created Facebook accounts bearing the name "Community Standards," as if they had a first name Community, and last name Standards. Likewise others have made Facebook accounts that bear the name "Fact Checker," or first name Fact, last name Checker. These profiles violate Facebook's Terms of Service, specifically section 3.1 because they are not a name that a person uses in everyday life. These profiles are frequently deleted, and new ones pop up in their place. It is common to see comments from people who diligently "block all the 'Fact Checkers' regularly." Below are two screenshots showing an assortment of Facebook profiles that bear the names Community Standards and Fact Checker.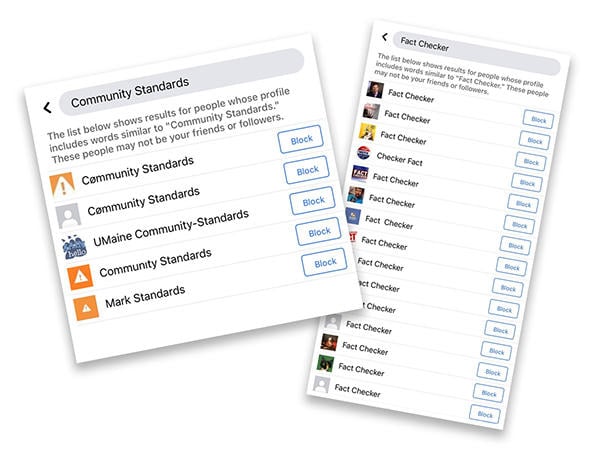 (image source: Facebook screenshots from mobile phone 2/22/2021 4:44 PM)
The take-away is that these account names, "Community Standards" and "Fact Checker," are not a part of Facebook's rule enforcement or part of the third-party fact-checking program. These accounts are rogue profiles. While blocking them will not do any harm, and it could even do some good, it will not do what these prank posts claim.
There are some business pages on Facebook that were made using the name "Community Standards," or some variation on the theme, implying that it is some sort of support or enforcement team. Lead Stories reviewed a collection of these business pages named "Community Standards" that had been made since December 2020 and discovered that many of these pages are impersonating actual enforcement of Facebook's codes and target the owners of other pages with a phishing attack.
These fraud "Community Standards" pages are sharing the profile picture or cover photo of another page onto their own page to make a post, and this post has a message designed to alarm the page owner to perhaps act without thinking. The targeted page owner is told that they need to verify their account at "the link below," a link that is not Facebook. A ruse like this is designed to steal login credentials by tricking the owner of a Facebook page to give their login to a hacker. Some examples of the alarming messages scammers are using on these pages:
W͏e͏ c͏o͏n͏f͏i͏r͏m͏e͏d͏ a͏ v͏i͏o͏l͏a͏t͏i͏o͏n͏ i͏s͏s͏u͏e͏ w͏a͏s͏ a͏l͏r͏e͏a͏d͏y͏ r͏e͏p͏o͏r͏t͏e͏d͏ for this p͏a͏g͏e͏ account.
For your s͏e͏c͏u͏r͏i͏t͏𝚢, we͏'l͏l͏ w͏a͏l͏k͏ y͏o͏u͏ t͏h͏r͏o͏u͏g͏h͏ a͏ f͏e͏w͏ s͏t͏e͏p͏s͏ t͏o͏ confirm your identity and h͏e͏l͏p͏ s͏e͏c͏u͏r͏i͏n͏g͏ your account.
F͏o͏l͏l͏o͏w͏ t͏h͏e͏ l͏i͏n͏k͏ b͏e͏l͏o͏w͏:
www.form-identity-verificatio*******elogin.html
K͏e͏e͏p͏ i͏n͏ m͏i͏n͏d͏ t͏h͏a͏t͏ i͏n͏ s͏o͏m͏e͏ c͏a͏s͏e͏s͏ w͏e͏ m͏a͏y͏ n͏o͏t͏ i͏s͏s͏u͏e͏ a͏ w͏a͏r͏n͏i͏n͏g before disabling yo͏u͏r͏ ac͏c͏o͏u͏n͏t͏. Y͏o͏u͏r͏ a͏c͏c͏o͏u͏n͏t͏ w͏i͏l͏l͏ d͏i͏s͏a͏b͏l͏e͏d͏ i͏f͏ y͏o͏u͏ d͏i͏d͏n͏'t͏ c͏o͏m͏p͏l͏e͏t͏e͏ t͏h͏i͏s͏ p͏r͏o͏c͏e͏ss.
T͏h͏a͏n͏k͏s͏,
T͏h͏e͏ F͏a͏c͏e͏b͏o͏o͏k͏ C͏o͏m͏m͏u͏n͏i͏t͏y͏ S͏t͏a͏n͏d͏a͏r͏d͏s͏

Your page is under review. Please click the link button at the end of this massage to verify your ownership.
For more information click here:
https://protection-and-community-standars-upda*******y.id/
Facebook is committed to helping people and organizations protect their intellectual property rights.
The Facebook Terms of Service do not allow posting content that violates someone else's intellectual property rights, including copyright and trademark.

Hi, Your post goes against our Community Standards on spam.
We don't allow people to get likes, follows, shares or video views in a way that's misleading to others.
We define spam as things like:
• Repeating the same comment
• Getting fake likes, follows, shares or video views
• Coordinating likes and shares to mislead others about the popularity of something
We need уоu to confirm your account by following the lіnk below:
http://copyright-and-trademark-issue-inf*****d
Fасеbооk Copyright Team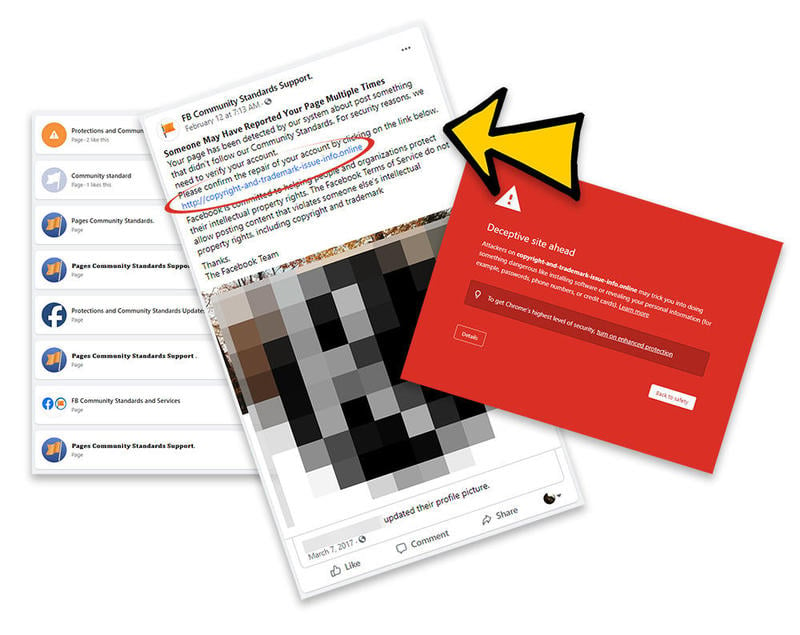 (image source: Facebook screenshots from phishing scam page 2/22/2021 4:50 PM)
Below are examples of earlier versions of this prank post, one from 2019 that gave instructions for how to find "your Facebook snitches" by blocking "Facebook Security" and a 2020 post with instructions that will purportedly block "Zuckerberg's Bots" by blocking "Fact Check" and "Fact Checker."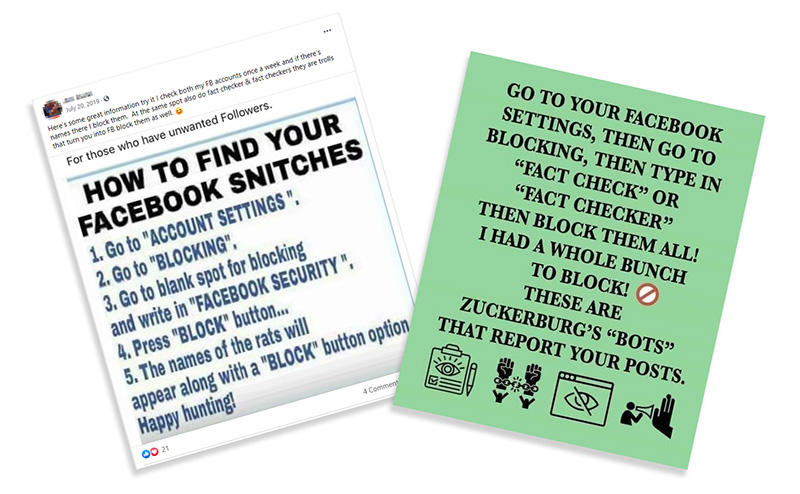 (image source: Facebook screenshots 2/22/2021 3:45 PM)
(Editors' Note: Facebook is a client of Lead Stories, which is a third-party fact checker for the social media platform. On our About page, you will find the following information:
Since February 2019 we are actively part of Facebook's partnership with third party fact checkers. Under the terms of this partnership we get access to listings of content that has been flagged as potentially false by Facebook's systems or its users and we can decide independently if we want to fact check it or not. In addition to this we can enter our fact checks into a tool provided by Facebook and Facebook then uses our data to help slow down the spread of false information on its platform. Facebook pays us to perform this service for them but they have no say or influence over what we fact check or what our conclusions are, nor do they want to.)