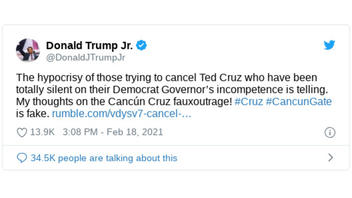 In defending Ted Cruz' ill-timed vacation in Cancun, did Donald Trump Jr. flub it and say Texas' Republican governor is a Democrat? No, that's not true. Trump Jr.'s tweet about Texas Sen. Cruz leaving Texas for Cancun amid a winter storm disaster is the teaser to a video in which Trump Jr. lambastes Cruz critics who aren't equally critical of Democratic governors' recent missteps. He was not referring to Governor Greg Abbott of Texas, who is a Republican.
The claim originated from a post published by Donald Trump Jr. on Twitter on February 18, 2021 (archived here) which opened:
The hypocrisy of those trying to cancel Ted Cruz who have been totally silent on their Democrat Governor's incompetence is telling. My thoughts on the Cancún Cruz fauxoutrage! #Cruz #CancunGate is fake. https://t.co/WnYe1onpIK
This is what the post looked like on Twitter at the time of writing:
(Source: Twitter screenshot taken on Fri Feb 19 17:50:13 2021 UTC)
Trump Jr.'s tweet was quickly misinterpreted to mean that he was calling out the Democratic governor of Texas, which he was not.
Several people on social media accused Trump Jr. of not knowing that Abbott was a Republican.
Hey, Republican Governor of Texas @GregAbbott_TX - @DonaldJTrumpJr is calling you both a democrat and an incompetent. Comment? Or are you just going to say nothing, and leave it that don is as dumb as his dad?

-- Kurt "Masks Save Lives" Eichenwald (@kurteichenwald) February 19, 2021
One poster shared Trump Jr.'s tweet and video and wrote, "By the way, the Governor of Texas, Greg Abbot is Republican."
In the 1:38 video, Trump Jr. does not mention Governor Abbott. He turns the attacks on Cruz onto Democrats he claims are the ones Cruz critics should be focused on.
Guys, we've got to talk Ted Cruz a little bit. I see the news going out there right now, they're trying to cancel him. He took a family vacation. Now, obviously we understand sometimes the optics of that right now isn't ideal, but in the grand scheme of things, he's a senator, he doesn't manage crises in states. That's a governor's job. He's a federal employee. They mostly vote on things. so I'm not going to jump on this bandwagon of trying to cancel the guy for taking his kids on a vacation. Again, maybe it's not the ideal time. Quite certainly it's not but, like, give me a break.

That they are spending more time focusing on this than they are governors just flagrantly disregarding their executive orders shutting down states etc. shows you how ridiculous things are.

Now if I were a Trump, which I am, I'd come up with a nickname for something like this. Maybe, I don't know, Cancun Cruz. it's funny OK? But, like, honestly I can't get on this bandwagon trying to cancel the guy. It's totally ridiculous. It's absolutely absurd. They should focus on the things that matter. They should focus on people in power who could actually affect change in a crisis. Not people who work and legislate from DC. doesn't make sense. it's a double standard rule always have to live up to. But, let's be real, I'm happy to call out someone even the people on our side of their screwup. But, honestly, in my opinion this is not one of those times.