STORY UPDATED: check for updates below.
Did President Biden say the US didn't have a COVID-19 vaccine before he took office? No, that's not true: he said there was no supply of the vaccine in storage awaiting distribution, not that the vaccine didn't exist. The words in quotation marks in the meme are not an accurate verbatim quote and also leave out the rest of what he said.
The claim appeared in a post (archived here) where it was published on Facebook on February 18th, 2021. It read:
We didn't have the vaccine when we came into office - February 16, 2021
This is what the post looked like on Facebook at the time of writing: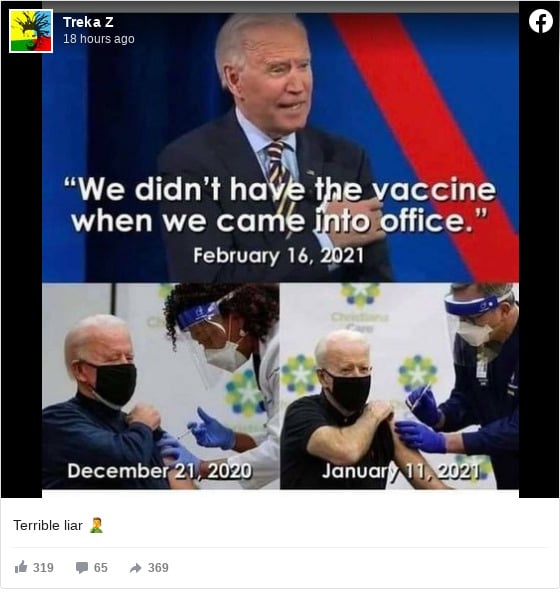 (Source: Facebook screenshot taken on Fri Feb 19 18:17:13 2021 UTC)
The quote and the image in the meme appear to have been taken from a CNN Presidential Town Hall broadcast on Tuesday, February 16th, 2021. The president was asked when the vaccine would be available to all US citizens who wanted it. The White House posted a transcript of the entire town hall, which includes the earlier comment from the president explain the lacking stockpile the government had when he took office (emphasis added):
THE PRESIDENT: Here, look, we -- what we did -- we got into office and found out the supply -- there was no backlog. I mean, there was nothing in the refrigerator, figuratively and literally speaking, and there were 10 million doses a day that were available.

We've upped that, in the first three weeks that we were in office, to significantly more than that. We've moved out -- went to the Pfizer and Moderna, and said, "Can you produce more vaccine and more rapidly?" They not only agreed to go from 200 to 400 -- and they've agreed to go to 600 million doses. And that's -- and they're -- and we got them to move up the time because we used the National Defense Act to be able to help the manufacturing piece of it to get more equipment and so on.

MR. COOPER: So if, end of April -- excuse me, end of July, they're available to actually get them in the arms of people who want them, that will take -- what? -- a couple more months?

THE PRESIDENT: Well, no, a lot will be being vaccinated in the meantime.

MR. COOPER: Okay.

THE PRESIDENT: In other words, it's not all of a sudden 600 million doses are going to appear. And what's going to happen is: It's going to continue to increase as we move along, and we'll have -- we'll have reached 400 million by the end of May and 600 million by the middle of -- by the end of July.

And the biggest thing, though, as you remember when you and I -- no, I shouldn't say it that way, "as you remember" -- but when you and I talked last, we talked about -- it's one thing to have the vaccine, which we didn't have when we came into office, but a vaccinator -- how do you get the vaccine into someone's arm? So you need the paraphernalia. You need the needle, and you need mechanisms to be able to get it in. You have to have people who can inject it into people's arms.
A video of the exchange matches the transcript posted by the White House:
Lead Stories has written about the COVID vaccine in several previous fact-checks.
2021-02-21T10:16:30Z

2021-02-21T10:16:30Z

Updated headline to better refect the conclusion of this fact check: not only that Biden did not use these exact words but also (and more importantly) that they did not mean what the meme implied ("the vaccine did not exist when I came into office").