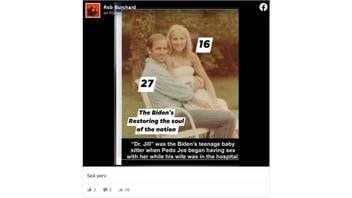 Was "Dr. Jill" the Biden family's teenage babysitter before Joe Biden's first wife Neilia was killed in a car accident? No, that's not true: This meme is readily debunked by checking the timeline of events. The car accident that claimed the lives of Neilia Biden and her baby daughter Naomi occurred in December of 1972. Jill Biden was born Jill Jacobs in June of 1951. She was 21 years old and married to Bill Stevenson at the time of the car accident that killed Joe Biden's first wife and their daughter. Joe Biden began dating his future wife years later, in March of 1975 after her divorce from Stevenson was finalized, when she was 23.
There is a collection of memes using the same photo with a variety of text overlays that appeared in January 2021. One example posted on Facebook appears in a post (archived here) published on January 29, 2021, simply captioned, "Sick perv." Text added onto the photo includes numbers that inaccurately identify the ages of Joe and Jill as 27 and 16, with this text added:
The Biden's Restoring the soul of the nation
"Dr. Jill" was the Biden's teenage baby sitter when Pedo Joe began having sex with her while his wife was in the hospital.
This is what the post looked like on Facebook at the time of writing:
(Source: Facebook screenshot taken on Tue Feb 2 16:02:20 2021 UTC)
Regarding the photo, it appeared in the Philadelphia Inquirer on October 14, 2020, in an article titled "Jill Biden's Philly 'grit'" with the credit line "Courtesy the Biden campaign" and with this caption: "Joe and Jill Biden in 1976, a year before their marriage." As she was born in 1951, according to various biographies including her White House biography, she would have been 25 in what appears to be a summertime photo -- not 16 as the post claims. Joe Biden, who was born in late 1942, would have been 33 in the summer of 1976, not 27.
Now the timeline:
Joe Biden married his first wife, Neilia Hunter, on August 27, 1966.
Jill Jacobs was born on June 3, 1951. In 1966 Jill Jacobs would have been 15.
The first child of Joe and Neilia Biden, Joseph Robinette "Beau" Biden III, was born on February 3, 1969, and a year and a day later, their second son, Robert Hunter Biden was born, on February 4, 1970. Jill Jacobs could not have possibly been a babysitter for the Bidens when she was 16 because the Bidens did not have any children in 1967.
The tragic car accident that claimed the life of Neilia Biden and baby daughter Naomi "Amy" happened on December 18, 1972. A newspaper report about the accident in the Delaware County Daily Times said both mother and 18 month old baby were dead on arrival at a hospital, but the two boys, aged 3 and 4, who were also in the car, were hospitalized. There was no period of time, as the meme implies, when Biden's wife was hospitalized.
Jill Jacobs was married to Bill Stevenson and was 21 years old at the time of that car accident. She had married Bill Stevenson when she was 18 years old in February of 1970. They separated in 1974 and the divorce was finalized in 1975.
Joe Biden and Jill Jacobs began dating in 1975 and were married in 1977.
An excerpt from Jill Biden's autobiography was reproduced as an article on Time.com on April 26, 2019, titled, "Jill Biden: Why Joe Had to Propose 5 Times Before I Said Yes--And What Finally Changed My Mind" She wrote:
The first time Joe proposed, he simply said, "I want us to get married." It wasn't a big deal -- just an ordinary conversation on an ordinary day. I already knew how he felt, so it didn't come as a surprise. I also knew I couldn't say yes. But unbeknownst to me, Joe wasn't just asking on his own accord. Beau and Hunter had recently cornered him in the bathroom one morning while he was shaving. "Beau thinks we should get married," six-year-old Hunter told him. With their father understandably confused by this pronouncement, seven-year-old Beau explained, "We think we should marry Jill."
Jill Biden posted a tweet with this photo on August 18, 2020.
"How did you get this number?"

Those were the first words I spoke to Joe when he called me out of the blue on a Saturday in 1975.

I'll be speaking tonight at the #DemConvention. I hope you'll tune in! pic.twitter.com/t0amDEM2kT

-- Dr. Jill Biden (@DrBiden) August 18, 2020
Jill Biden wrote in her autobiography, "Where Light Enters," about meeting Joe Biden's first wife, Neilia, at a victory party for Biden's Senate win in Wilmington Delaware in 1972. This brief meeting would have been just weeks before the fatal car accident. Jill's husband at the time, Bill Stevenson, was a supporter of Biden's campaign.
Bill Stevenson told his own story to Inside Edition in late 2020 and also revealed that he has plans to publish a book. Stevenson's story differs, claiming that he was friends with Joe Biden and that he and his wife Jill had been in the Biden's kitchen before the election in 1972. Stevenson said he gave Biden a large cash campaign contribution, and that he is the one who finally broke off with Jill and told her to move out in 1974 after her car was purportedly damaged while Joe Biden was driving.

Jill Biden's Spokesman told Inside Edition:
These claims are fictitious, seemingly to sell and promote a book. The relationship of Joe and Jill Biden is well documented. Jill Biden separated from her first husband irreconcilably in the fall of 1974 and moved out of their marital home. Joe and Jill Biden had their first date in March of 1975, and they married in June of 1977.