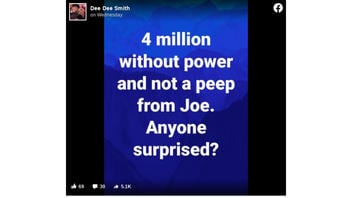 Was Joe Biden silent on the 4 million people without power due to a February 2021 winter storm? No, that's not true. The president did not appear on camera to address the situation, but he made several public statements about the storm and its effects. Biden approved a disaster declaration on February 14, 2021, which was published on the official White House website that day. He also spoke via telephone with the governors of the states impacted by the storm and power outages on February 16, 2021 -- a readout of which was provided by the White House and which was covered by multiple news outlets.
The claim appeared as a post (archived here) where it was published on Facebook on February 17, 2021. It opened:
4 million without power and not a peep from Joe. Anyone surprised?
This is what the post looked like on Facebook at the time of writing:
(Source: Facebook screenshot taken on Fri Feb 19 01:37:47 2021 UTC)
"President Joseph R. Biden, Jr. Approves Texas Emergency Declaration," was the title of the Emergency Declaration of Sunday, February 14, 2021 and posted on the official White House website.
A readout of President Biden's February 16, 2021 call with the governors was released by the White House that day. It was reported on by Oklahoma News 4, WLBT 3 in Mississippi and The Washington Post.
It read:
FOR IMMEDIATE RELEASE
February 16, 2021

Readout of President Joseph R. Biden, Jr. Call with Governors of States Impacted by Severe Winter Weather

President Joseph R. Biden, Jr. spoke this evening with governors of states impacted by severe winter weather, including Texas Governor Greg Abbott, Louisiana Governor John Bel Edwards, Kentucky Governor Andy Beshear, Kansas Governor Laura Kelly, Tennessee Governor Bill Lee, Mississippi Governor Tate Reeves, and Oklahoma Governor Kevin Stitt. The President and the governors discussed the extreme winter weather situation across the central and southern regions of the country that is impacting tens of millions of Americans and leaving millions of homes without power.

President Biden relayed to the governors that he understood the severity of the conditions being felt across the states, and that he and the First Lady were praying for swift recovery from the effects of the storm. President Biden reiterated to all the governors that his Administration is prepared to assist and stands ready to respond to requests for Federal assistance from the governors and will deploy any additional Federal emergency resources available to assist the residents of their states in getting through this historic storm.

President Biden also expressed gratitude for all of the workers on the front lines responding to the storm, especially our road workers, highway patrol officers, and first responders who are taking swift action in horrific conditions to save lives.
Biden posted two message on Twitter on his official @POTUS account and on his personal account @JoeBiden on February 18, 2021, about the storm and people affected, the day after the meme was posted.
Jill and I are keeping Texas, Oklahoma, and other impacted states in our prayers. I've declared states of emergency, authorized FEMA to provide generators and supplies, and am ready to fulfill additional requests. Please heed the instructions of local officials and stay safe.

-- President Biden (@POTUS) February 18, 2021
The Biden Administration's message was echoed by Vice President, Kamala Harris, who addressed the emergency when she appeared on The TODAY Show on February 17, 2021, according to the Guardian:
"I just want to mention all of those folks in Texas and the mid-Atlantic," the vice-president said in a live interview on Wednesday morning on NBC's Today show, her first national network interview since taking office.
"I know they can't see us right now, because they're without electricity, but the president and I are thinking of them, and really hope we can do everything that is possible through the signing of the emergency orders to get federal relief to support them."