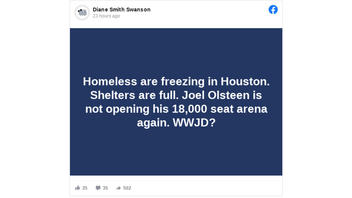 Did megachurch pastor and televangelist Joel Osteen not open his "18,000-seat" Lakewood Church during freezing, icy weather in Houston, declining to help people left without shelter or heat and power? No, that's not true: Lakewood Church opened its facilities to help people left without heat and power. The rare harsh weather has overwhelmed Texas' electrical power system. Houston news media have reported on the church's efforts during the freeze to shelter those in need in the Lakewood Church, which seats about 16,000, not 18,000.
The claim appeared in a Facebook post (archived here) published February 16, 2021, which opened:
Homeless are freezing in Houston.

Shelters are full. Joel Olsteen [sic] is

Not opening his 18,000 seat arena

again. WWJD?
This is what the post looked like on Facebook at the time of writing:
(Source: Facebook screenshot taken on Wed Feb 17 18:20:57 2021 UTC)
The Houston area, like other parts of Texas, has been experiencing rare frigid and icy weather. Many have been left without heat and power. The weather played a role in knocking offline generation plants that create electricity, KPRC 2 television reported February 16, 2021. Nearly 3 million in the Houston area were without electricity, The Texas Tribune reported February 17, 2021.
Lakewood Church -- located in a former sports arena, where the NBA's Houston Rockets used to play -- responded by opening its doors, KPRC 2 television reported February 16, 2021:
HOUSTON - As millions go without electricity during record cold temperatures, Lakewood Church opens its doors as a warming center to help anyone in need of shelter.

The church is working with the Harris County Sheriff's Office and local organizations to be available. Lakewood church is providing beds, blankets and other needed supplies.

Church officials said no one will be turned away and can enter at either the entrance at Edloe or Norfolk streets.
The Houston Chronicle also reported on Lakewood Church's efforts in a February 16, 2021, article, Joel Osteen's Lakewood Church opens doors during bitter-cold weather,:
At bedtime Monday night [February 15, 2021], around 214 people were inside the building, according to Matt Osteen, who serves as the church's attorney and also oversees its relief efforts.

The church has seen as many as 300 people in and out of the building since it opened. These included homeless persons as well as families trying to escape the cold.

Though the Facebook post was not specific about what was meant by its last two words, " again. WWJD [What Would Jesus Do]?" the reference probably points to the criticism Osteen faced about not quickly responding to the needs of people displaced by Hurricane Harvey in 2017. The Houston Chronicle article offers some background:
Lakewood's pastor, Joel Osteen, faced sharp criticism during Hurricane Harvey in 2017 when he didn't immediately offer shelter at his megachurch for displaced hurricane victims.

The church said it ultimately helped more than 1,150 Houston-area families rebuild homes destroyed by the storm, including donating more than $5 million in financial assistance, mobilizing 9,300 volunteers and distributing supplies.