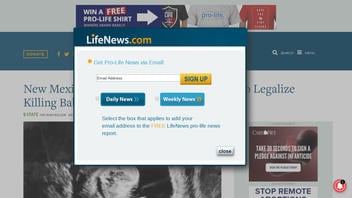 Did a New Mexico House of Representatives committee recently pass a bill that would "legalize killing babies in abortions up to birth"? No, that's not true: A bill that would repeal a 1969 law banning abortion was passed out of the Health and Human Services Committee of the New Mexico House on January 27, 2021. House Bill 7, the piece of legislation in question, seeks to repeal a state law that became unenforceable after the United States Supreme Court legalized abortion with its 1973 Roe v. Wade ruling. The proposed legislation that would repeal the 1969 law says nothing about legalizing abortions "up to birth."
The claim appeared in an article published by LifeNews.com on January 28, 2021, titled "New Mexico House Committee Passes Bill to Legalize Killing Babies in Abortions Up to Birth" (archived here) which opened:
New Mexico lawmakers are swiftly on their way toward legalizing the killing of unborn babies in abortions up to birth for years to come. The Daily Post reports

the state Health and Human Services Committee passed House Bill 7 with bipartisan support on Wednesday.
Users on social media only saw this title, description and thumbnail:
New Mexico lawmakers are swiftly on their way toward legalizing the killing of unborn babies in abortions up to birth for years to come. The Daily Post repor
The 1969 legislation -- still on the books but unenforceable because of Roe v. Wade -- banned abortions in most cases and raised the possibility of criminal prosecution of abortion providers. A January 20, 2021, article in the Santa Fe New Mexican explained the "half-century-old abortion ban":
New Mexico's half-century-old abortion ban allows a woman to get an abortion only if she goes before a "special hospital board" to get permission. The only instances in which the hospital panel could grant permission is if the woman presents "an affidavit that she has been raped and that the rape has been or will be reported" to police; continuation of the pregnancy would put the woman at grave risk; the pregnancy resulted from incest; or "the child probably will have a grave physical or mental defect."
The law states that "whoever commits criminal abortion is guilty of a fourth-degree felony" and that "criminal abortion" resulting in the woman's death is a second-degree felony.
Supporters of repealing the 52-year-old abortion ban say they want the law off the books because they fear the U.S. Supreme Court now may have enough votes to strike down Roe v. Wade.
Speaker of the House Brian Egolf, a Democrat from Santa Fe, sponsored HR 7. In a January 28, 2021, Los Alamos Daily Post article, he said why he believed it is important to repeal the 1969 abortion ban:
The majority of New Mexicans believe that a woman's right to make her own decisions about reproductive health care, including abortion, should be protected. New Mexicans support abortion access and trust each other to make their own decisions. With HB 7, we're making sure that no matter what happens in Washington, DC, New Mexicans will always be able to make their own health care decisions.
A similar bill passed out of a New Mexico Senate committee on January 25, 2021, according to an Associated Press article posted that same day.
For a bill to become law, it needs more than committee approval. The bill must pass the New Mexico House and Senate and then be signed into law by the governor.
NewsGuard, a company that uses trained journalist to rank the reliability of websites, describes lifenews.com as:
A website covering abortion legislation and politics that has published false health claims that advance its anti-abortion perspective, as well as false claims about the COVID-19 pandemic.
According to NewsGuard the site does not maintain basic standards of accuracy and accountability. Read their full assessment here.