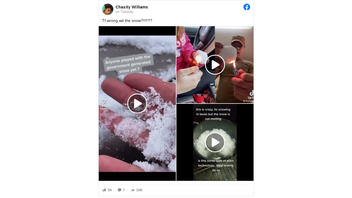 Was the snow that recently fell across a large portion of the world, notably in Texas and Louisiana in mid-February 2021, an unnatural substance that was made in a lab or by the government? Did it not melt away into water the way that normal snow should? Can it be burned? No, none of that is true: Using snow from February's storms, Lead Stories replicated the effects shown in viral videos as proof of something sinister. The claims of being able to 'burn' a snowball or that snow won't melt have been duplicated and circulated for years.
A recent collection of three videos that had been posted on TikTok by different people was posted (archived here) to Facebook on February 17, 2021 under the title "Tf wrong wit the snow?!!!!??". The three videos included captions like:
Anyone played with the government generated snow yet?
Need some explaining...
This is crazy, it's snowing in Texas but the snow is not melting. Is this some type of alien technology they are testing on us?
This is what the post looked like on Facebook at the time of writing:
(Source: Facebook screenshot taken on Fri Feb 19 15:00:28 2021 UTC)
The recent spate of videos showing various snow melting experiments with snowballs and flames are amusing and misleading demonstrations of how normal, natural snow melts- and how incomplete combustion of butane or a candle will leave a soot deposit. This is not the first time that these perplexing snow melting tricks went viral on social media, in 2014 a late January winter storm impacted parts of the U.S. which rarely see snow. Atlanta Georgia was hit particularly hard with 1-3 inches of snow and ice. Two weeks later a record-breaking storm brought an additional 2-4 inches of snow to Georgia and South Carolina. The snow tricks first went viral then.
There are many other videos. One posted to Youtube on February 17, 2021 titled "Texas Snow sure seems odd," features a woman's experiment holding a votive candle to a snowball. She claims that the snowball is burning, that "it's just disappearing." She concludes by holding the blackened snowball up and declaring:
That's not real snow. Nope. Not sure what this is, but not snow.
Lead Stories conducted our own snow melting experiments using snow which fell in Indiana. Several identical snow cylinders were packed using a 300 ml glass tumbler.
We were able to replicate the flame experiment using a standard butane lighter. This left a black soot deposit without the snowball dripping.
Another 300 ml packed snow cylinder took 90 seconds to melt completely in a microwave safe container in the microwave. This yielded approximately 110 ml of water. This packed snow was roughly 1/3 water and 2/3 air.
Placing the packed snow cylinder in a cold metal pan on a hot stove burner took three minutes to melt, slightly longer than the microwave.
Placing the glass tumbler full of packed snow in a bowl of warm water resulted in an air-gap developing between the snow and the tumbler, the packed snow cylinder became denser and smaller- but after 20 minutes had not become soggy or left a puddle at the bottom of the glass. (This experiment was ended before the snow melted completely)

An article from Popular Science on February 4, 2014 addressed the viral hype "Why 'Fake' Snow 'Doesn't Melt'--Because It's Real" includes a YouTube video made by Phil Plait, an Astronomer and science writer who lives in snowy Boulder, Colorado. The main lesson Plait demonstrates is:
...when snow melts, the water is absorbed by the remaining loosely packed snow. This is how snow cones hold onto their delicious sugary water, and explains why they are so delicious. And the black char marks are traces of soot from the lighter fluid.
This video's dramatic finish 04:27 minutes in, shows a time lapse of a snowball in a hot pan- shrinking down without any melted snow-water puddling. When the snowball is almost gone and can't absorb any more, it suddenly liquifies, demonstrating the amazing absorbency and wicking power of packed snow. Even when the heat is under the snowball, the wicking action pulls the melted liquid up into the snowball until it cannot absorb any more water.
The black mark left on the snowballs is soot, it is not burnt snow. Soot is the carbon released as a result of the incomplete combustion of a fuel, including fuels like candle wax, lamp oil or butane.
One of the TikTok videos features a man claiming that the snow looked like it has been made in a lab. Indeed, the snow he handled had an unusual pelleted but fluffy texture. This is called graupel or soft hail, and it is the result of rime forming on snowflakes.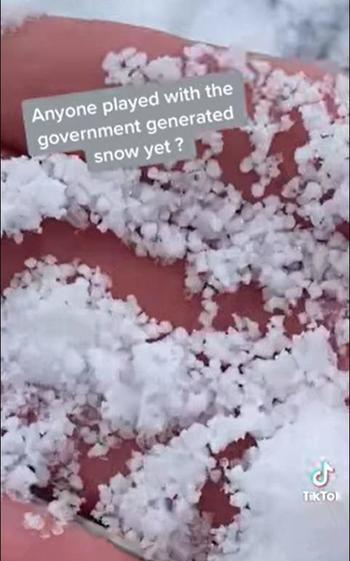 (image source: screenshot of TikTok video posted on Facebook 2/19/2021)