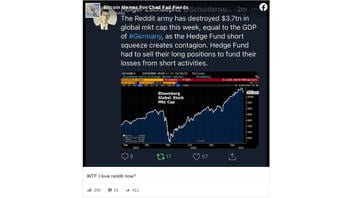 Did the massive and sudden increase in the value of GameStop stock set off by the buying frenzy from the Reddit r/WallStreetBets community the week of January 25, 2021 cause nearly $4 trillion in losses for global market capitalization? Yes, that's likely true: Although it is difficult to determine the total global market capitalization as of a certain day and GameStop alone did not suffer such a tremendous loss, some financial experts say other market results indicate that the Reddit/GameStop disruption may have affected the total values worldwide by nearly $4 trillion.
The claim originated in a post (archived here) published on Twitter on January 31, 2021. It said:
The Reddit army has destroyed $3.7tn in global mkt cap this week, equal to the GDP of #Germany, as the Hedge Fund short squeeze creates contagion. Hedge Fund had to sell their long positions to fund their losses from short activities.
This is what the post looked like on Facebook at the time of writing:
(Source: Facebook screenshot taken on Fri Feb 5 19:37:07 2021 UTC)
The January 31, 2021 Tweet by Holger Zschaepitz, senior editor of the economic and financial desk at the German national daily newspaper Die Welt, does not explain how he reached the $3.7 trillion figure for losses in world market capitalization. And he has not answered a February 3, 2021 email from Lead Stories seeking clarification.
From what he wrote, logic would seem to question the validity of that figure. That raises questions as to how Zschaepitz reached his conclusion. To wit:
GameStop currently has a market capitalization of about $7.4 billion. Even when it was worth four times as much the week of January 25, 2021, that still is only billions of dollars.

Even when a hedge fund is forced to buy all of it at that higher price, even two or three times over, how would that knock trillions of dollars from GameStop's market cap? Or whose market cap?
Where does the trillions figure come from? That's three orders of magnitude.
Financial experts contacted by Lead Stories offered possible explanations. The losses, they said, were not incurred solely by GameStop, but the buying frenzy and huge price spike affected the global economy across the board.
Larry C. Finch, CPA, is a wealth manager with the G5 Financial Group in Foxfield, CO. He offered this explanation in an email to Lead Stories:
It is not easy finding the total global market capitalization as of a certain day. It is not a fact that I need or use on a regular basis.

However, Google searches will show that the total global market capitalization is approximately $90 trillion. You are correct that the market capitalization of GameStop is in the billions. So GameStop alone did not result in the loss of $3.7 trillion in the total global stock market capitalization, as he states.

I can only assume that he is looking at the total drop (all markets and all stocks in the world) in the total global market capitalization during the week ending January 29, 2021.

I do not have data to show what that drop was, but I know the S&P 500 dropped approximately 3.8% from January 26th to the 29th. His $3.7 trillion drop was approximately 4%. So his numbers seem plausible.
Derek Hostmeyer, a professor of finance and director of financial planning and wealth management at George Mason University in Fairfax, VA., offered a similar explanation in an email to Lead Stories:
I believe the Tweet is referring to the fact that the markets went overall down a lot on Monday and Tuesday to the tune of a few trillion.

This is extrapolation based on the part of Holger.

We cannot attribute the full multi trillion drop in markets just due to Reddit, but that is what he is doing here.
GameStop stock values and trading activity fluctuated wildly over a 10-day span. Here are some highlights, as reported by
GameStop
:
On December 31, 2020, GameStop finished the year with stock closing at $18.84 per share on volume of 6.9 million shares.
That closing price held until January 13, 2021, when it jumped to $31.40 on volume of more than 144 million shares, an increase of $11 a share and more than twice the trading volume from the previous day.
The closing price climbed to nearly $40 a share the next day.
On January 21, 2021, the closing price climbed modestly to $43.03.
The next day, the closing price was $65.01, a more than 50 percent increase in 24 hours. Trading volume more than tripled, to more than 197 million shares.
The closing price climbed modestly to $76.79 on January 25, 2021, then exploded to nearly twice as much the next day, closing at nearly $148.
The race was on, with the price doubling again January 27, 2021, to $347.51. It had reached a high of $380 earlier the day.
January 28, 2021 was a tumultous day with the price reaching $483 at one point before tumbling rapidly and closing at $193.60.
The closing price recovered January 29, 2021, ending at $325. It had reached nearly $414 earlier that day.
The markets were closed Saturday and Sunday, January 30 and 31, 2021. That might have started to put the brakes on the steep climb.
On Monday, February 1, 2021, GameStop closed at $225 after having peaked at $322 earlier in the day. Trading volume also fell, from 50.5 million shares on Friday to nearly 37.4 million on Monday.
The apparent skid continued February 2, 2021, with the stock closing at $90. The high that day had been $158, which was considerably less than the previous day's closing.
The closing price remained steady February 3, 2021, but then tumbled to $53.50 on February 4, 2021.
GameStop stock price recovered modestly when markets closed for the week on Friday, February 4, 2021, closing at $63.77. Trading volume also increased significantly Friday, ending the day at 79.8 million shares, compared with 42.7 million the previous day.
An analyst at
Seeking Alpha
, which labels itself as the world's largest investment community, said Friday's closing price seems about right. The analysis, titled "Examining The Fundamental Value of GameStop," concluded:
The point is that under no reasonable set of assumptions is it worth more than $60 per share.

The two lessons we should draw from this analysis are:

(1) when the stock was trading at less than $10 per share in 2019 and early 2020, the early investors from WallStreetBets had a reasonable argument that the stock was a fundamentally good bargain.

(2) at a triple-digit stock price, an investment seems extraordinarily unwise. Markets can remain irrational for a long period, but ultimately, market forces should drive the stock closer to its fundamental value of not more than $60 per share.